Our Autumn 2 Journey
We were all excited to be back at school this week after half term. We noticed that some of our learning areas in the classroom had changed and began predicting what we might be learning about. We found out that this half term we are going to be learning all about MAGIC!!
Magic
The book that we will be focussing our English learning around is called 'Box of Tricks'
The girl in the story is called Eva, she receives and exciting birthday gift of a box of tricks and becomes a magician. Can you see her magician cape and wand? Find out what else happens here...
Here we are exploring some of our new provision resources and making some magic of our own!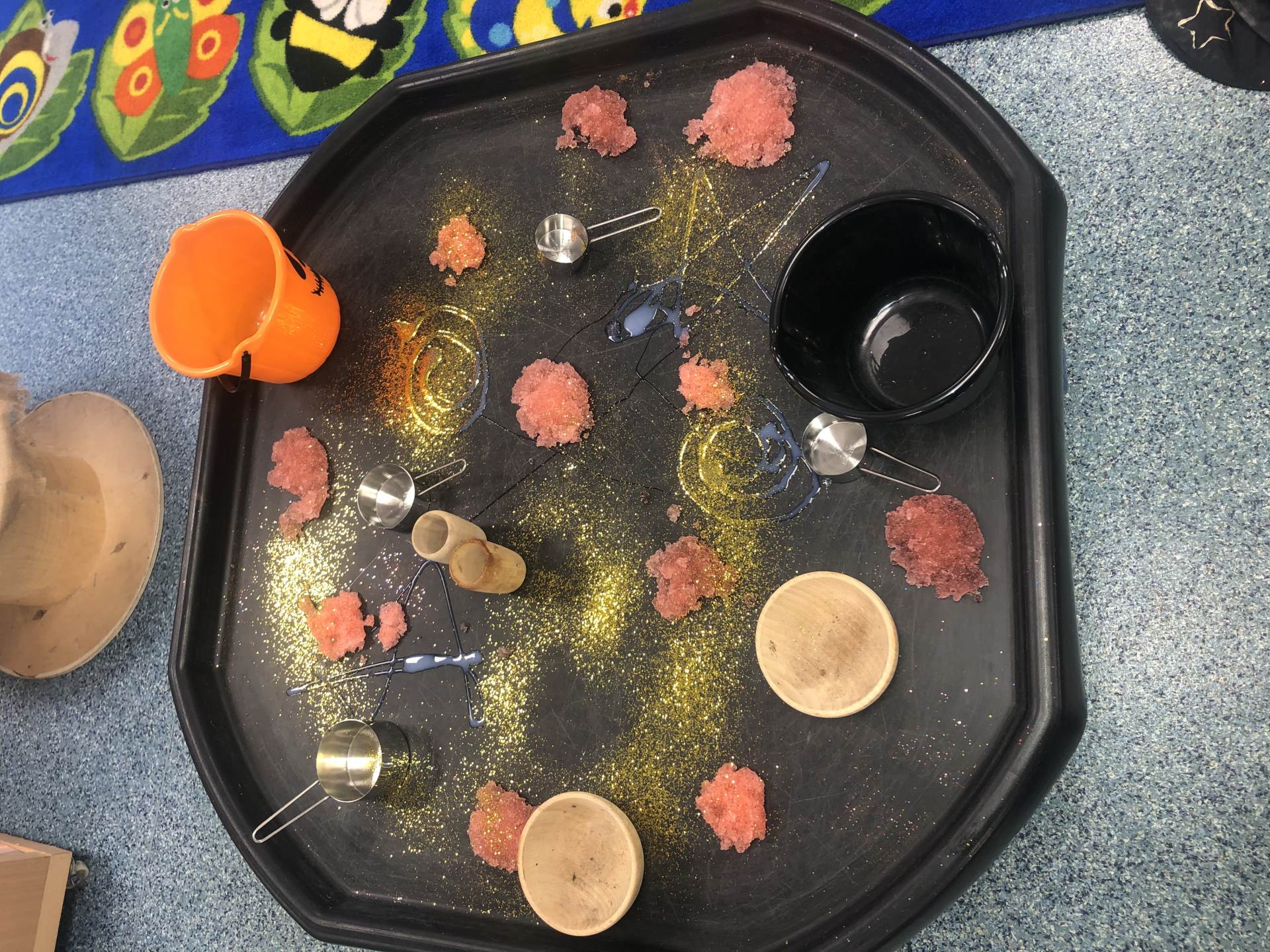 Celebrating Bonfire Night and Diwali
Bonfire Night
We have been celebrating Bonfire Night which is on November 5th. We learnt about how to make sure we know how to stay safe on bonfire night.
We enjoyed using lots of colour, pattern and shape indoors and out to create firework pictures. Have a look at some of our amazing work below.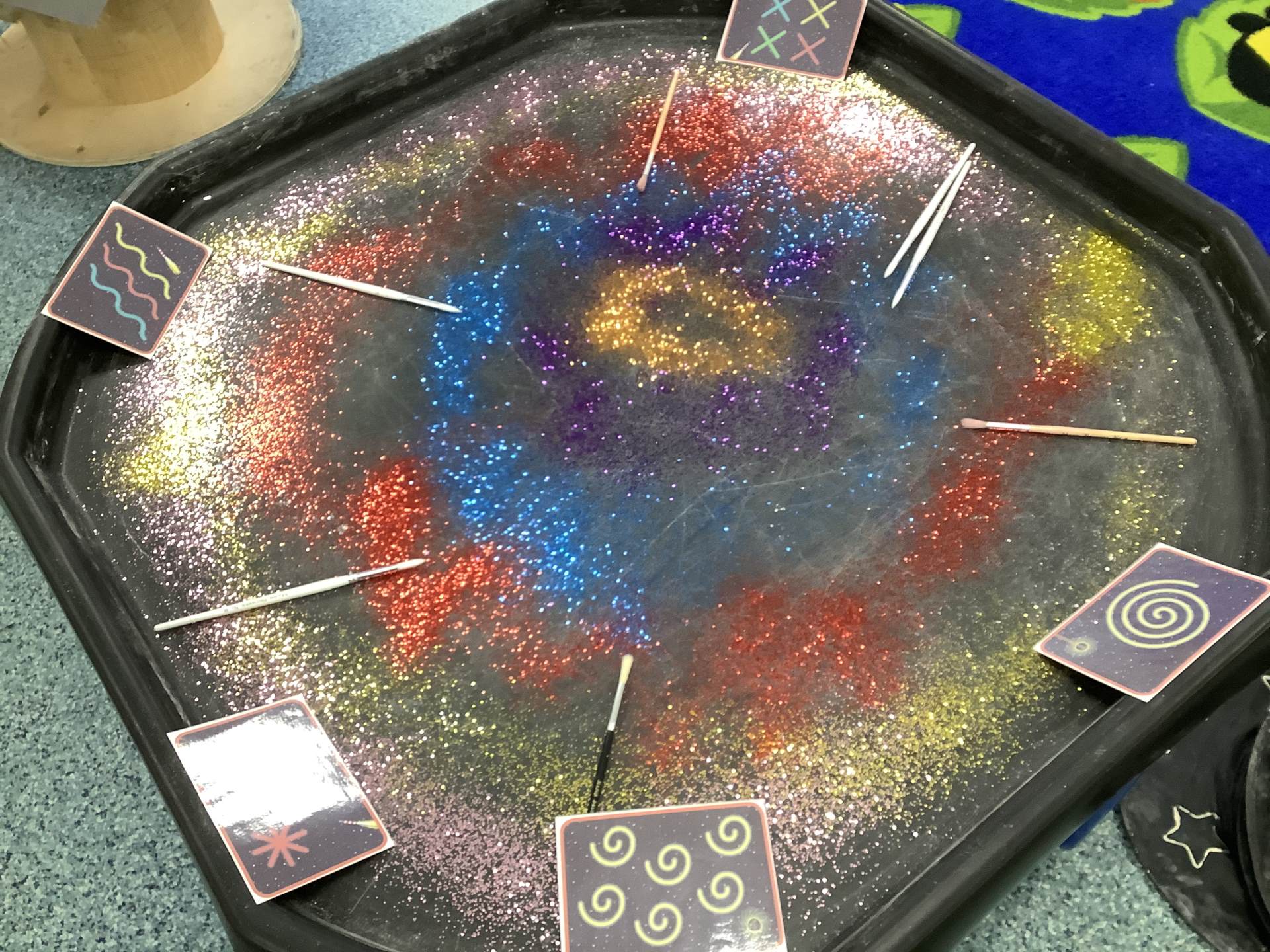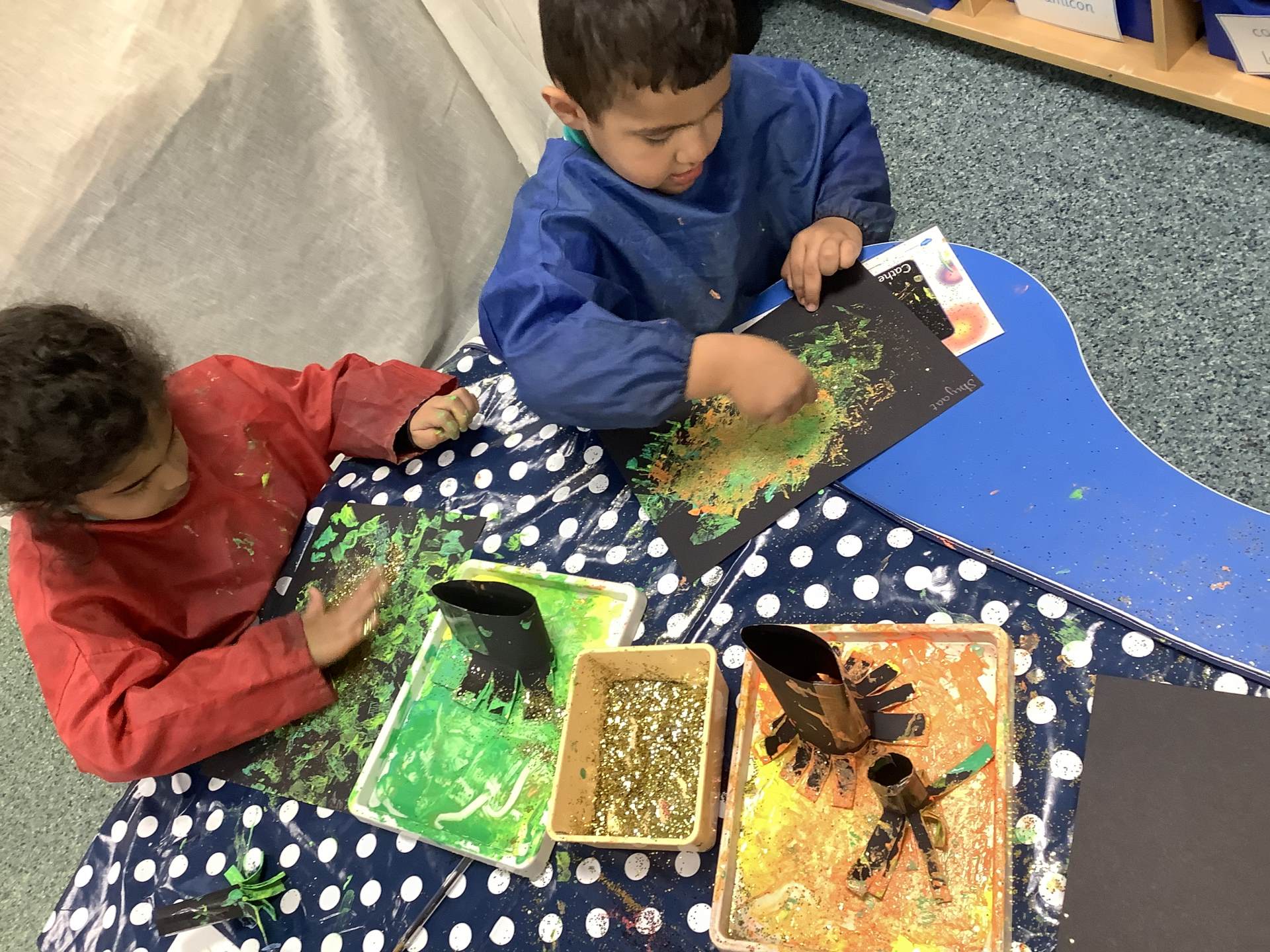 Diwali
We have been learning about the festival Diwali. We learnt who celebrates this festival, how it is celebrated and how it is similar to other festivals that we know about.
We read a story called Dipal's Diwali. You can read the story here:
We looked at photos of some Rangoli patterns and then created our own. We used paint and cotton buds to create small Rangoli patterns and then used powder paint to make an enormous Rangoli pattern outside. This was lots of fun!
Remembrance Day
For Remembrance Day we thought about the brave soldiers who fought in the war. We also had our own 2 minutes of peace while listening to some calming music.
We also used tissue paper, paint, pom poms and playdough to make our own poppy representations.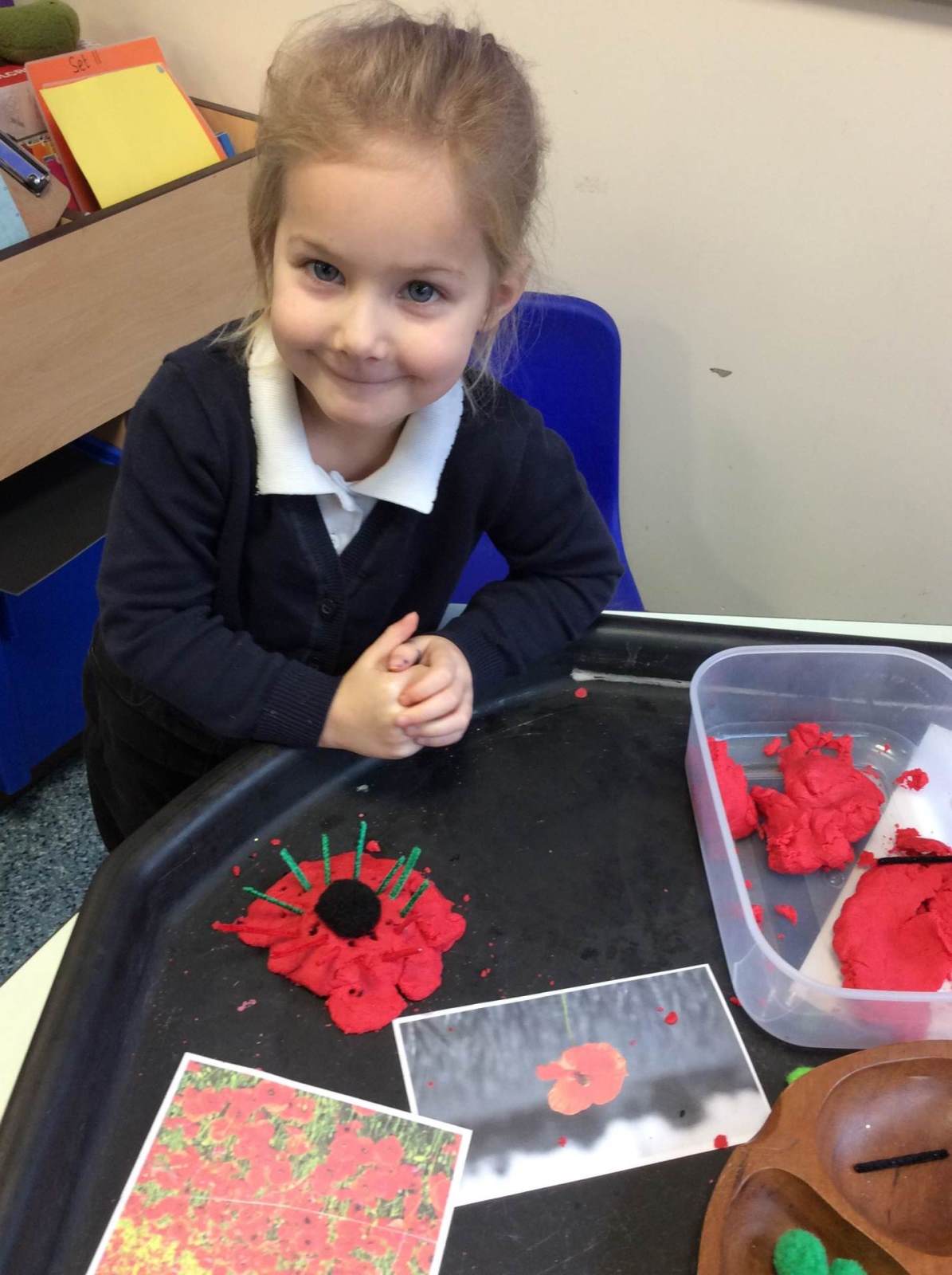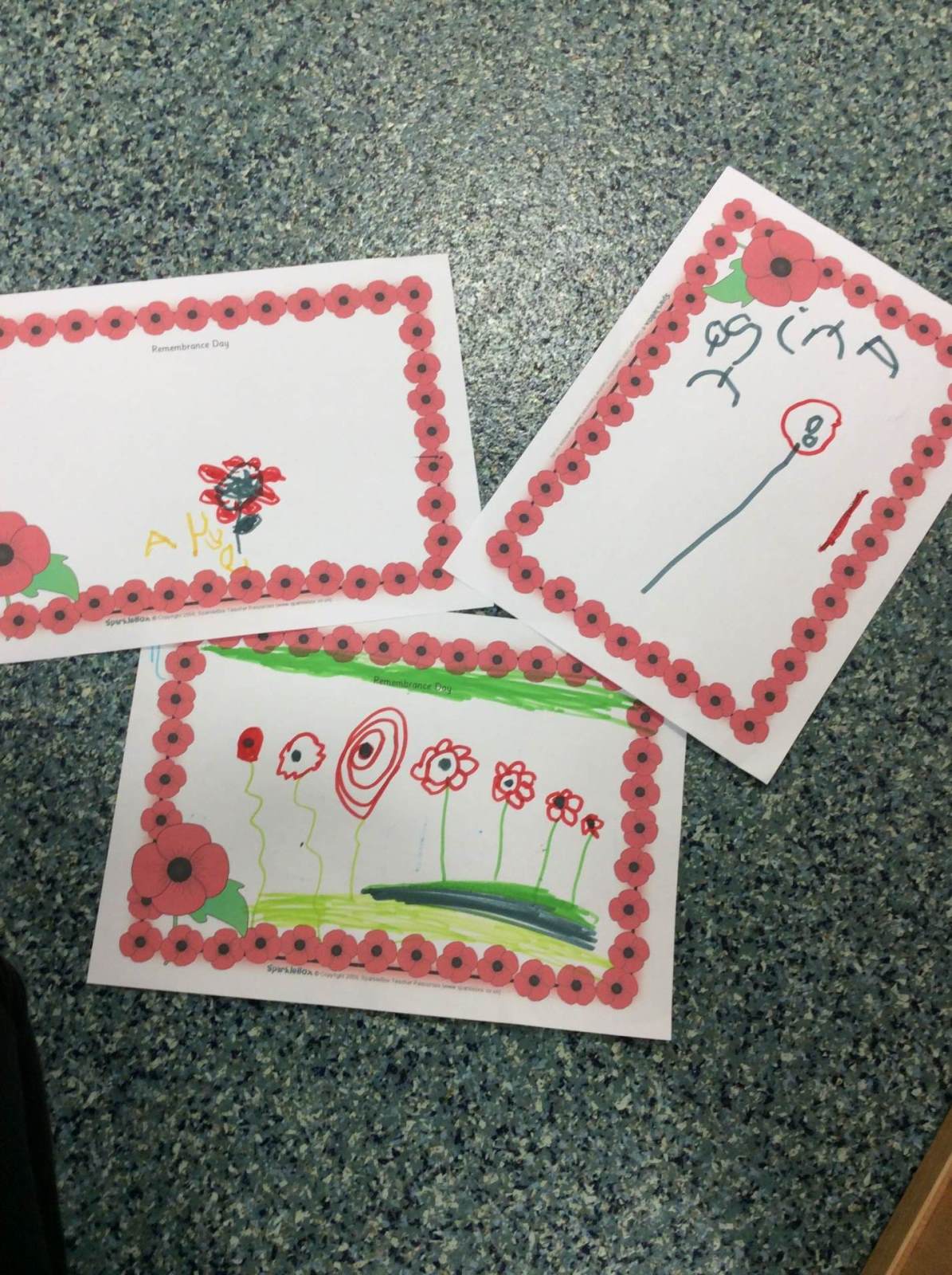 Maths
In Maths we have been focusing on the numbers 4 and 5. We introduced the number 4 using the book 'Pete the Cat and his 4 Groovy Buttons'. He left us lots of daily challenges about the number 4.
Pete the cat needed our help, he had bought some new shirts but needed to match the correct amount of buttons onto each of his shirts. We worked in pairs to place buttons onto his shirts.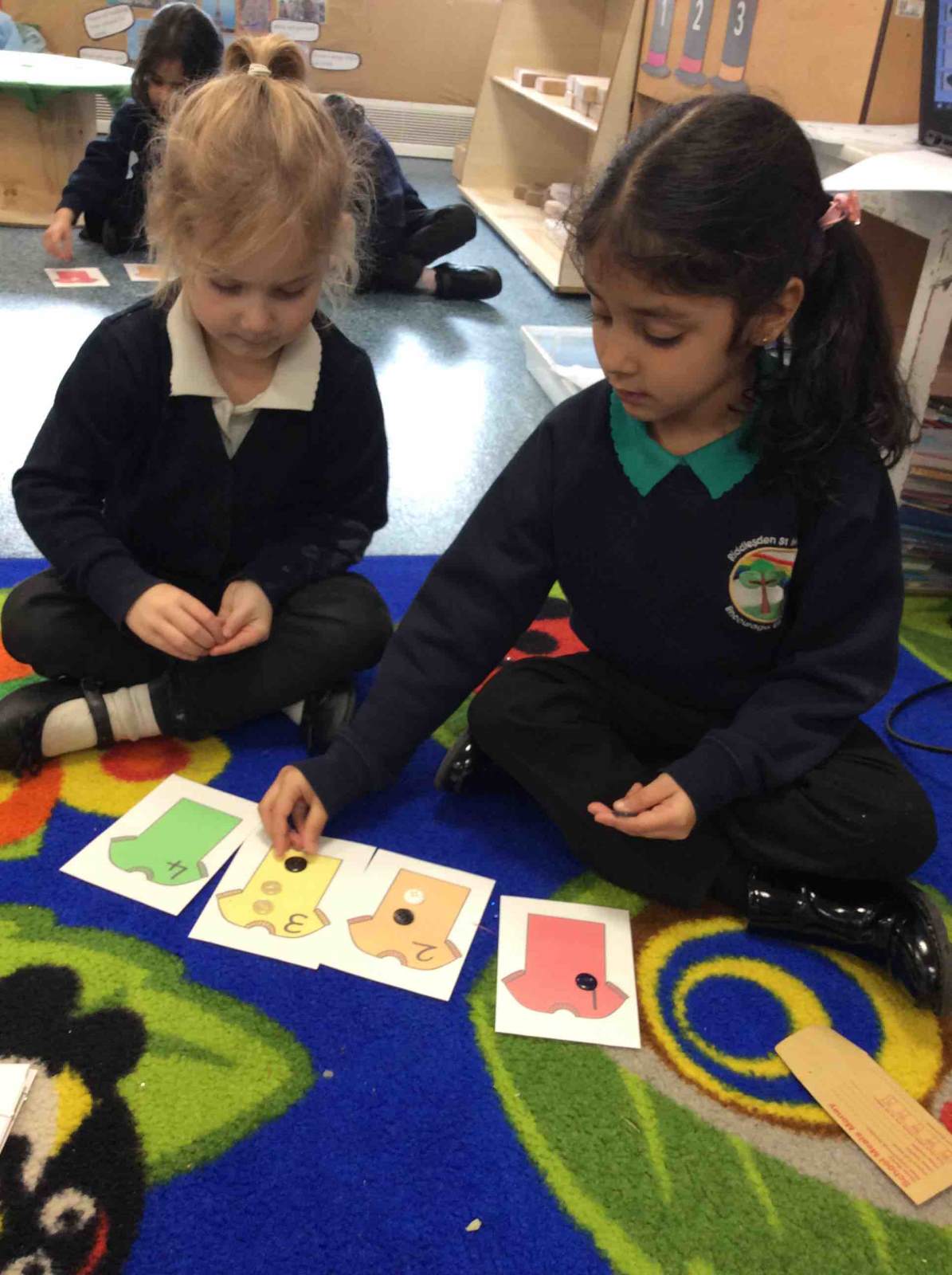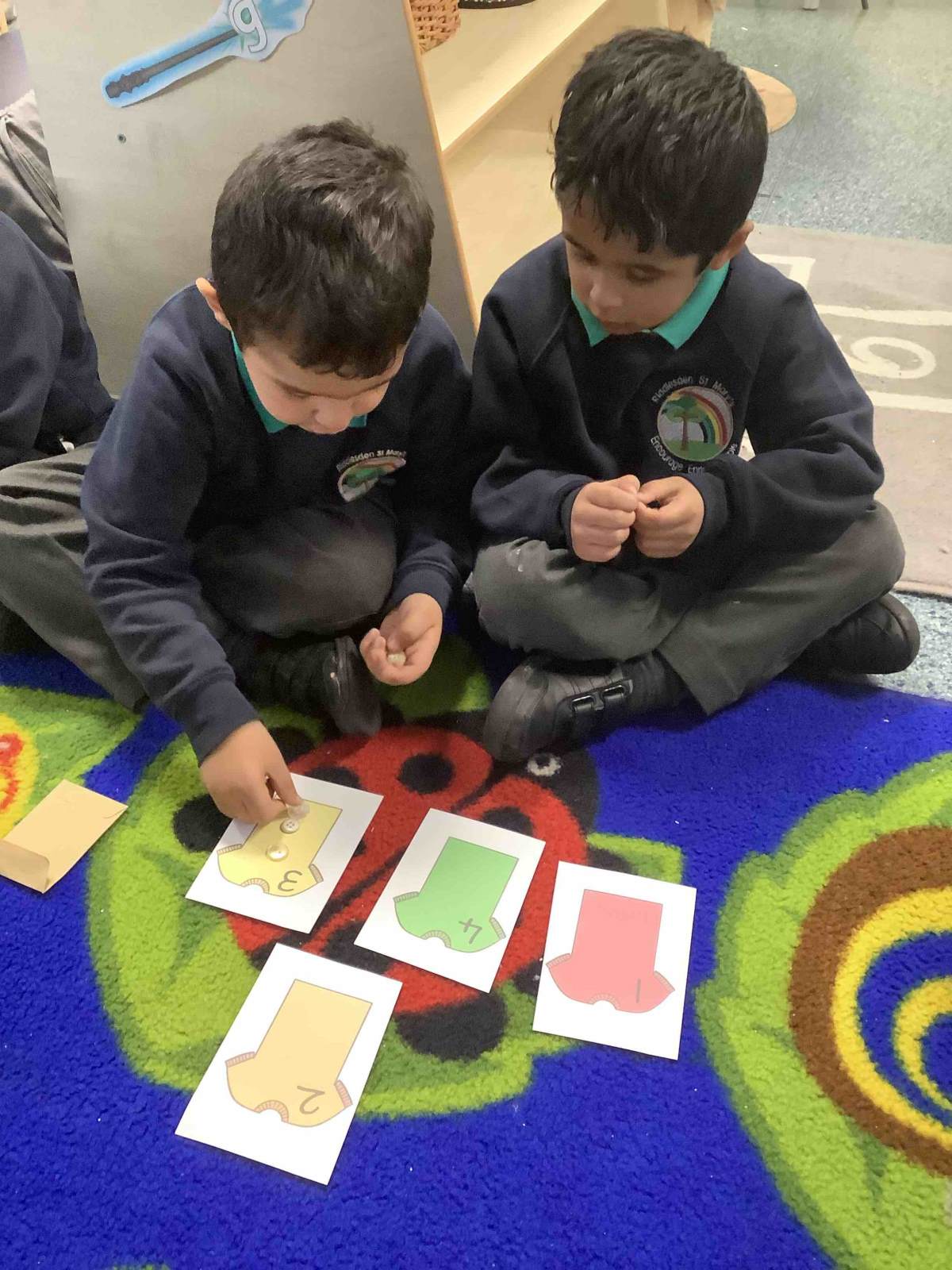 We then had a Powerpoint from Numberblock 5 introducing himself.
Numberblock 5 set us a challenge to work out some subtractions by smashing playdough balls. We started with 5 balls and then smashed some to work out how many were left.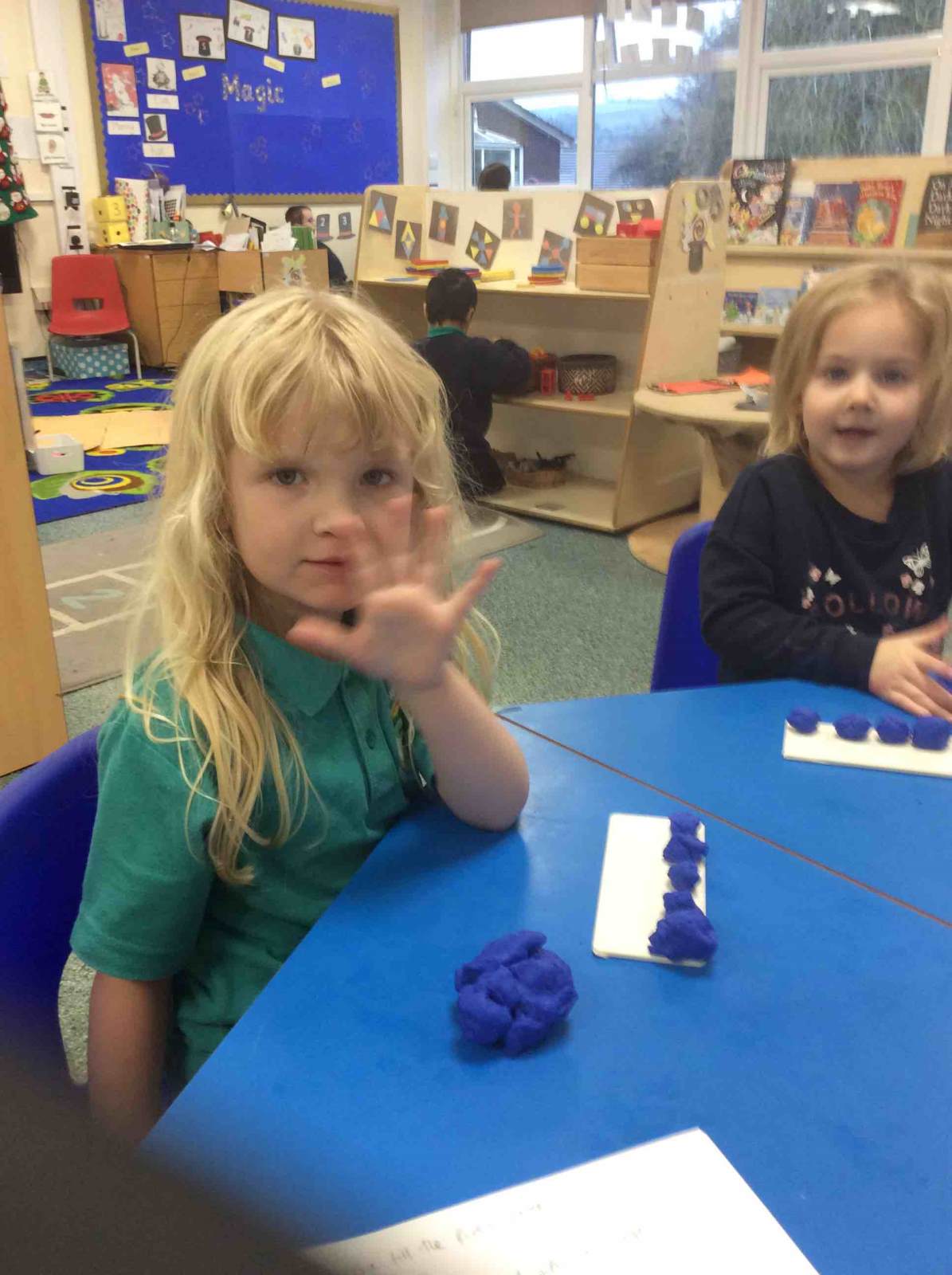 You can watch the episodes for Numberblocks 4 and 5 here:
Christmas
This half term we are learning about Christmas. We began our learning focused on the Nativity story, this is a special story for Christians as it is in the bible. Children enjoyed using the puppets to retell the story.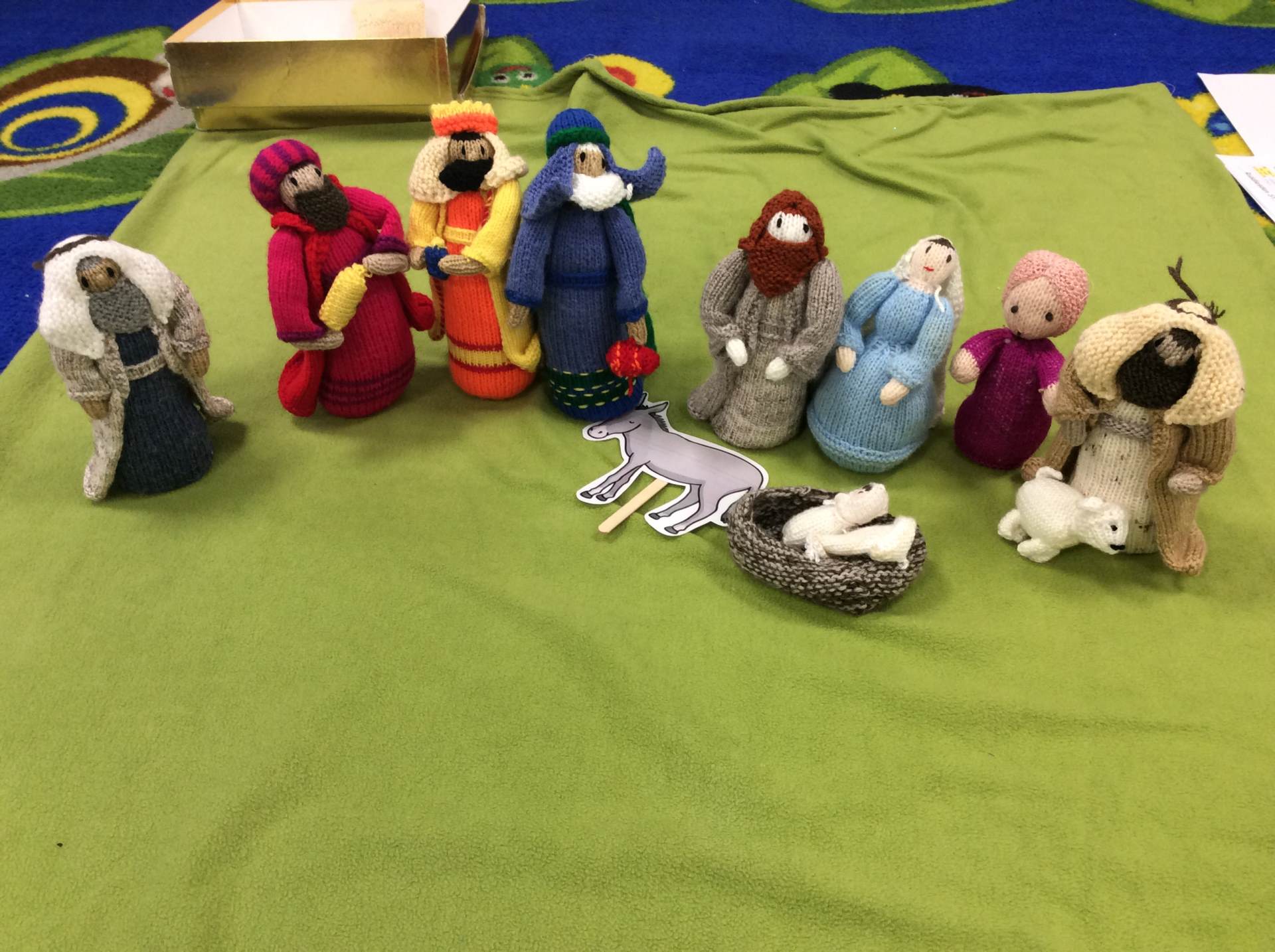 We also labeled the initial sound of some of the characters as our golden challenge.
We have spent some time learning about the season Winter and arctic animals. We have enjoyed reading different winter stories and creating our own winter pictures. Have a look at some of them below.
On 1st December we had a surprise when we came into the classroom, overnight we had a visitor. Two elves had arrived in our classroom with a present bag each, we were very excited to see what was inside! They had also delivered two Christmas trees and some Christmas decorations.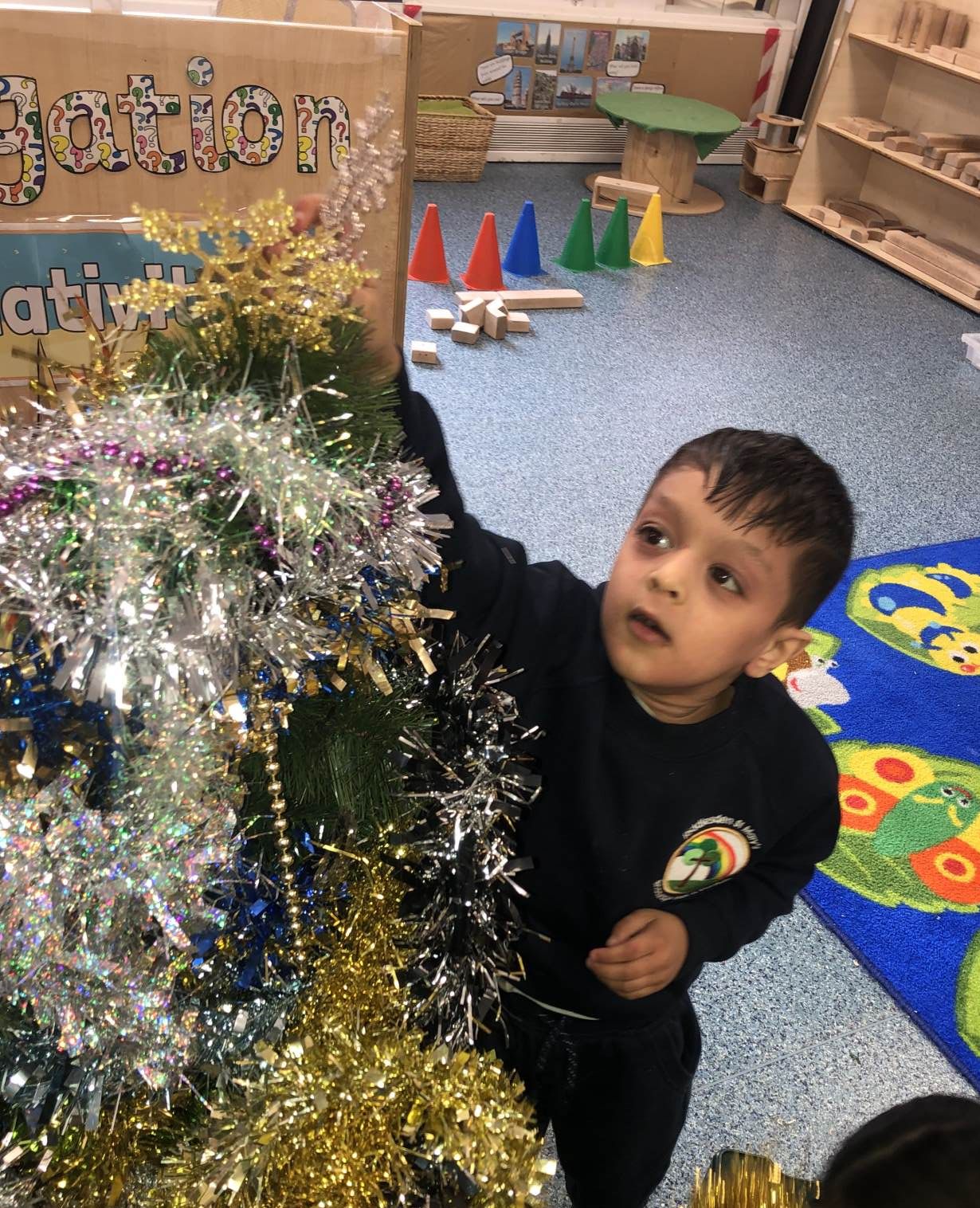 When we opened the bags we found out that the elves had left us a Christmas story to read, we read this story at home time.
The next day the elves had moved and they had a very sparkly letter!