Our Autumn 2 Journey
Click here for Autumn 2 overview
This half term we are learning about Celebrations and our focus book is 'We're Going on a Bear Hunt' by Michael Rosen.
Bonfire Night
This week we have been doing lots of activities linked to Bonfire Night.
We have been making fire work patterns using glitter and chalk.
We have been using cotton buds to paint firework pictures.
We have been getting really messy by making firework patterns in cornflour. We also explored the different textures of the wet and dry cornflour.
Outside we have been mixing powder paint with the rain water - we found that when we mixed all the colours together we could make brown!
We have also had lots of glitter in the water and black sparkly playdough. We have enjoyed using different tools to cut the playdough. We have added star sequins, match sticks and feathers to create our own fireworks.
Remembrance Day and Diwali
This week we have been learning about Remembrance Day and Diwali.
For Remembrance Day we made some poppies. We used paint and apples to print some poppy shapes. We also used red glitter and collage materials to make poppies. The poppies are on display in Nursery so we can look at them and remember all the brave soilders who have died in the wars.
On Remembrance Day we watched a poppy video clip and whilst we did this we were really quite for 2 minutes.
We have also been learning about Diwali 'The Festival of Light'.
Miss Watmough talked to us about Diwali. She told us all about how Diwali is celebrated. We celebrated in Nursery by making mehndi patterns, making rangoli patterns in the playdough, making patterns in the sand with shapes and using chalk and tape to make our own rangoli patterns outside. Nursery has been very colourful this week!
In phonics sessions we have been working really hard on our listening skills. This week we have been listening to and identifying instrumental sounds. We also has chance to play some instruments. We had to listen carefully to the instructions and play the instruments quietly when Miss Watmough said "quietly" and loudly when she said "loud". We love playing with the instruments!
Footprints - Who do they belong to? Where have they been?
At the start of this week we found some footprints in Nursery. The footprints were covered in grass, mud, water, sticks and ice.
We spent lots of time trying to guess what they were, where they had come from and describing what we could see and feel.
We thought that they could be bear or monster footprints! we decided that they were too big to be our footprints, We also talked about the colours we could see and the textures we could feel. We decided the footprints had been in grass, mud, water, the forest and in ice!
Miss Watmough told us about a story she knew about a bear who might have been in grass, mud, water, the forest and ice - the story was 'We're Going on a Bear Hunt'.
We love the story and have been joining in with all the actions, we even know some of the words to the story too!
In the tuff tray this week we have been exploring grass, mud, water, twigs and ice. We have really enjoyed talking about how they feel and saying key phrases from the story.
We have also been practising our cutting skills by using the scissors to cut the 'long, wavy grass'.
We're Going on a Bear Hunt
This week we went on our very own bear hunt! We put on our coats and wellies and set off singing "We're going on a bear hunt, we're going to catch a big one. What a cold day, we're not scared..."
UH OH! Grass...long, way grass
UH OH! A river... a deep, cold river
UH OH! Mud... thick, oozy mud
UH OH! A forest.... a big, dark forest
UH OH! A cave... a narrow, gloomy cave
It's a bear!!!
Christmas
This week has been very exciting!
We started the week by decorating the classroom, we put up the Christmas tree and filled it with brightly coloured baubles and tinsel. We also have been listening and dancing to Christmas music.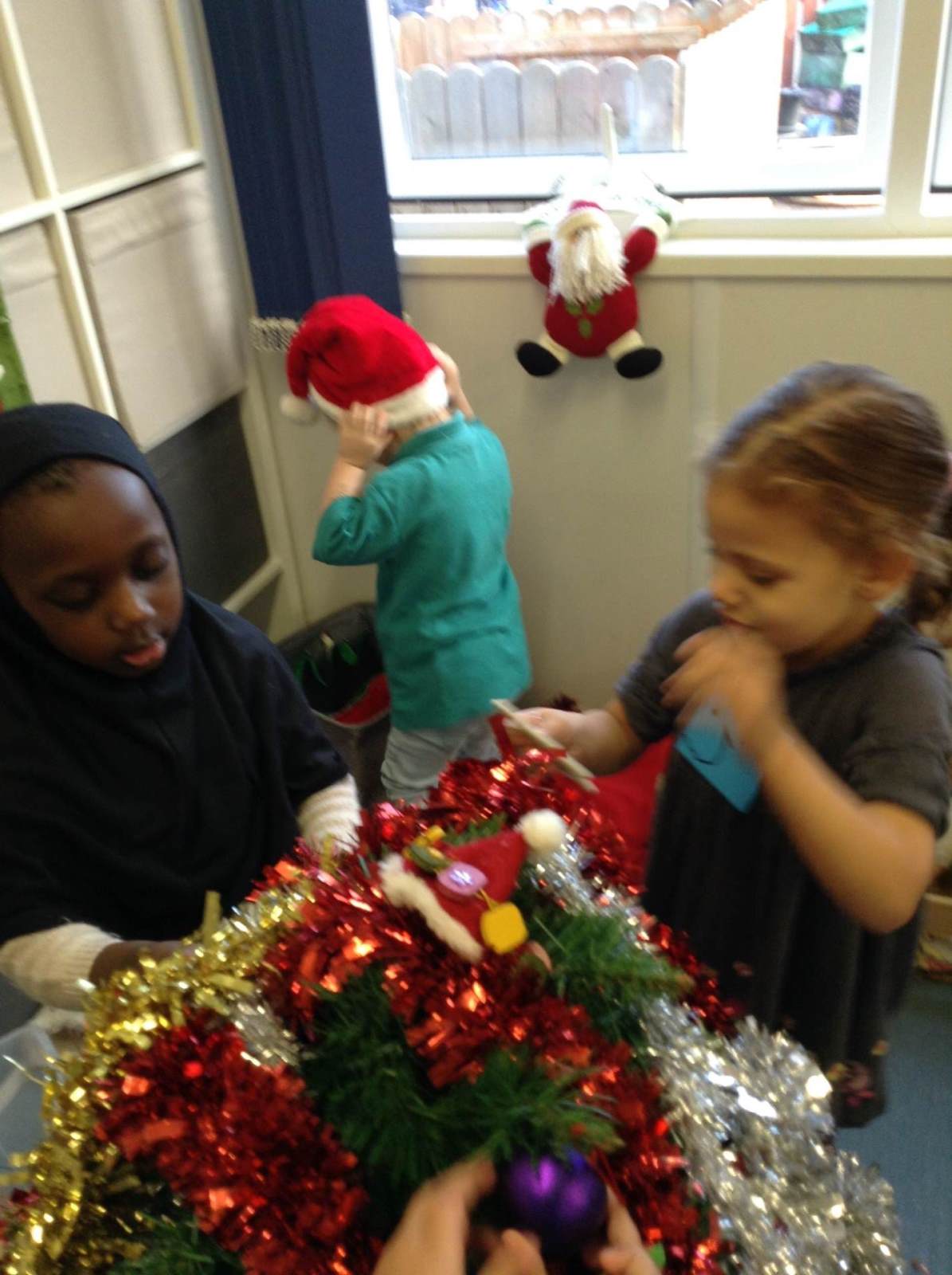 We enjoyed exploring with the Christmas decorations.
We had so much fun jumping in the muddy puddles outside left from the continuous rain and on Friday it snowed, which didn't stop us playing and exploring.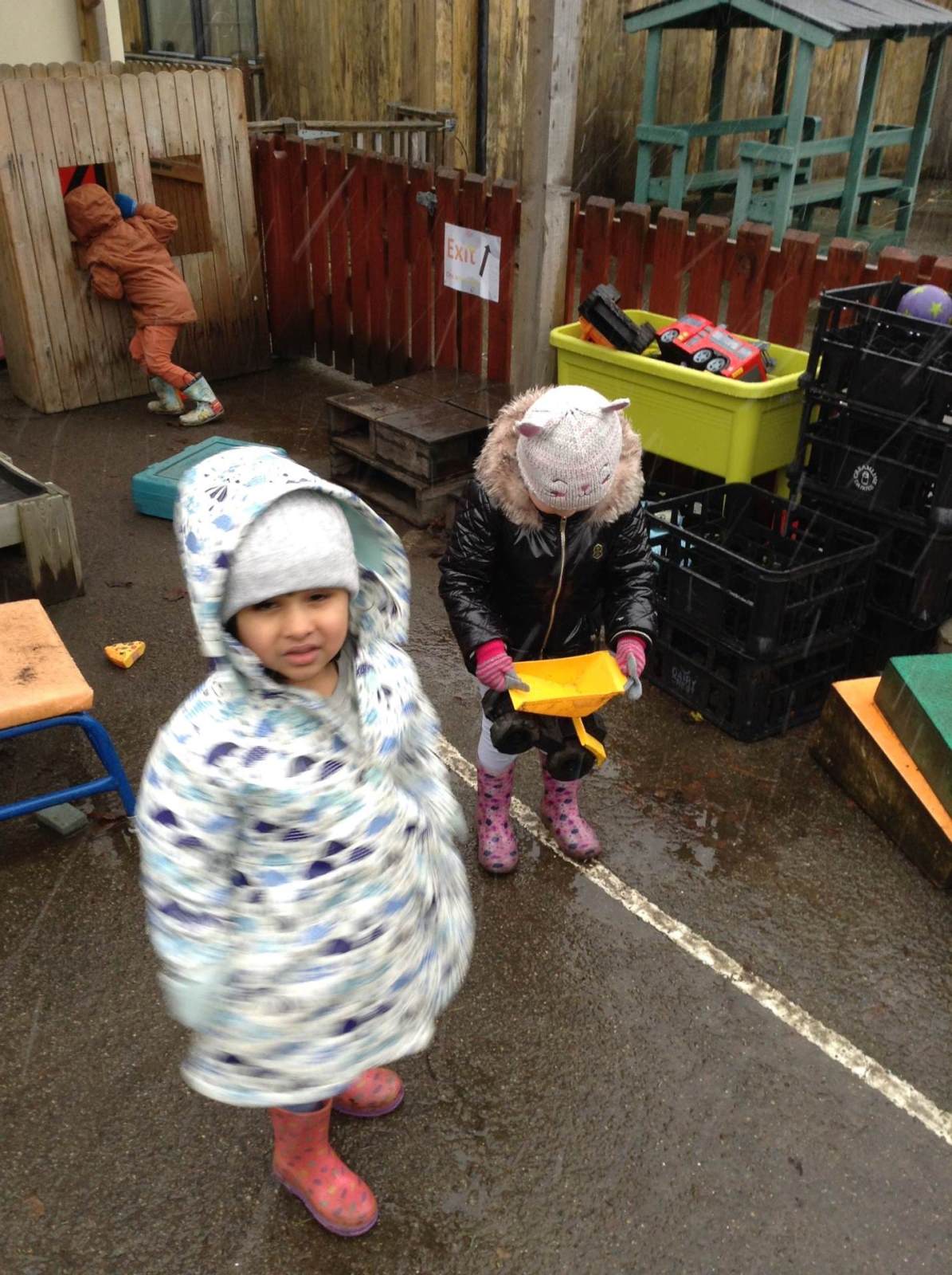 We made lots of Christmas pictures using different materials including paint, glitter and colours as well as playing in our Christmas post office, posting lots of pictures and letters.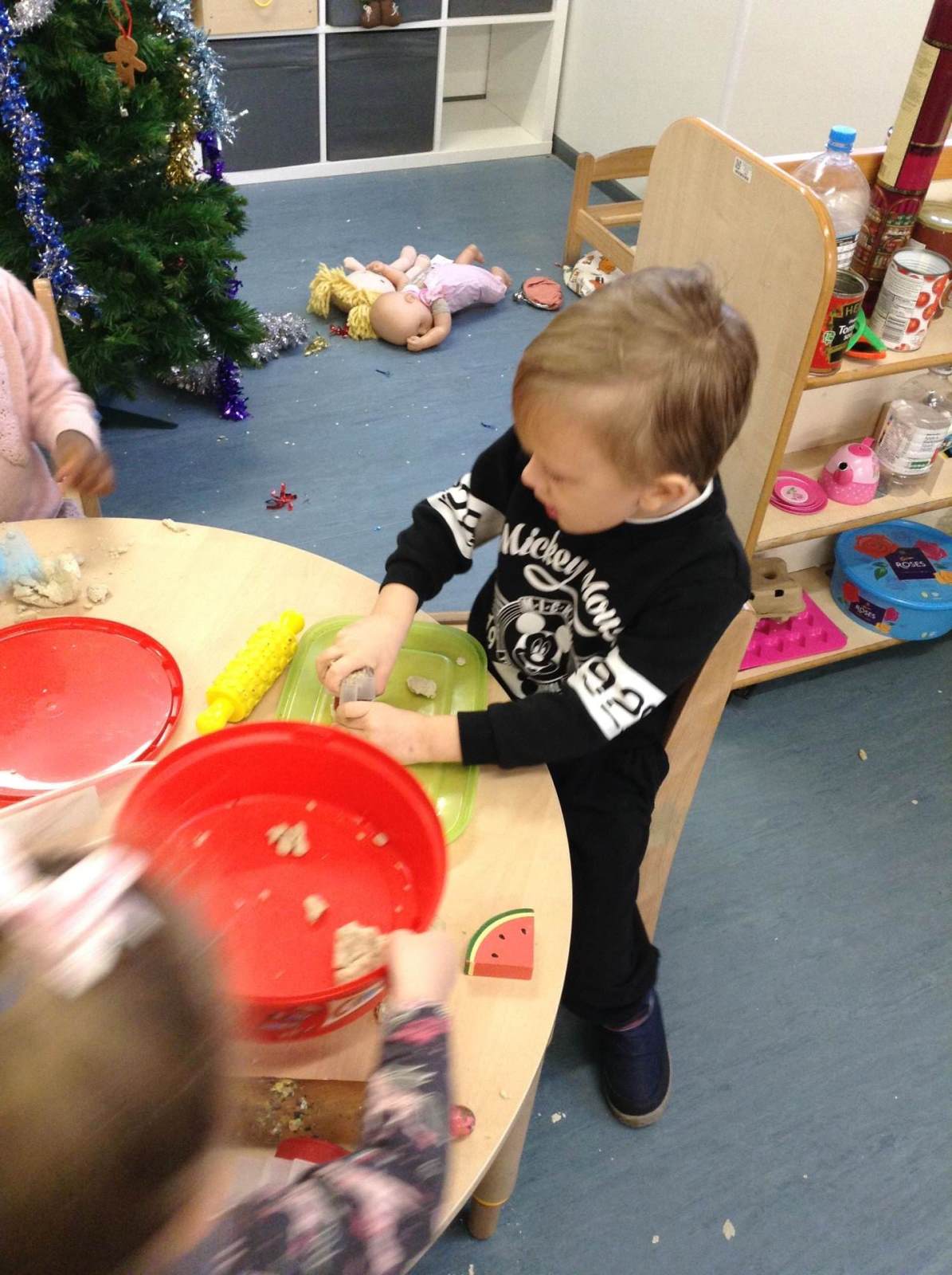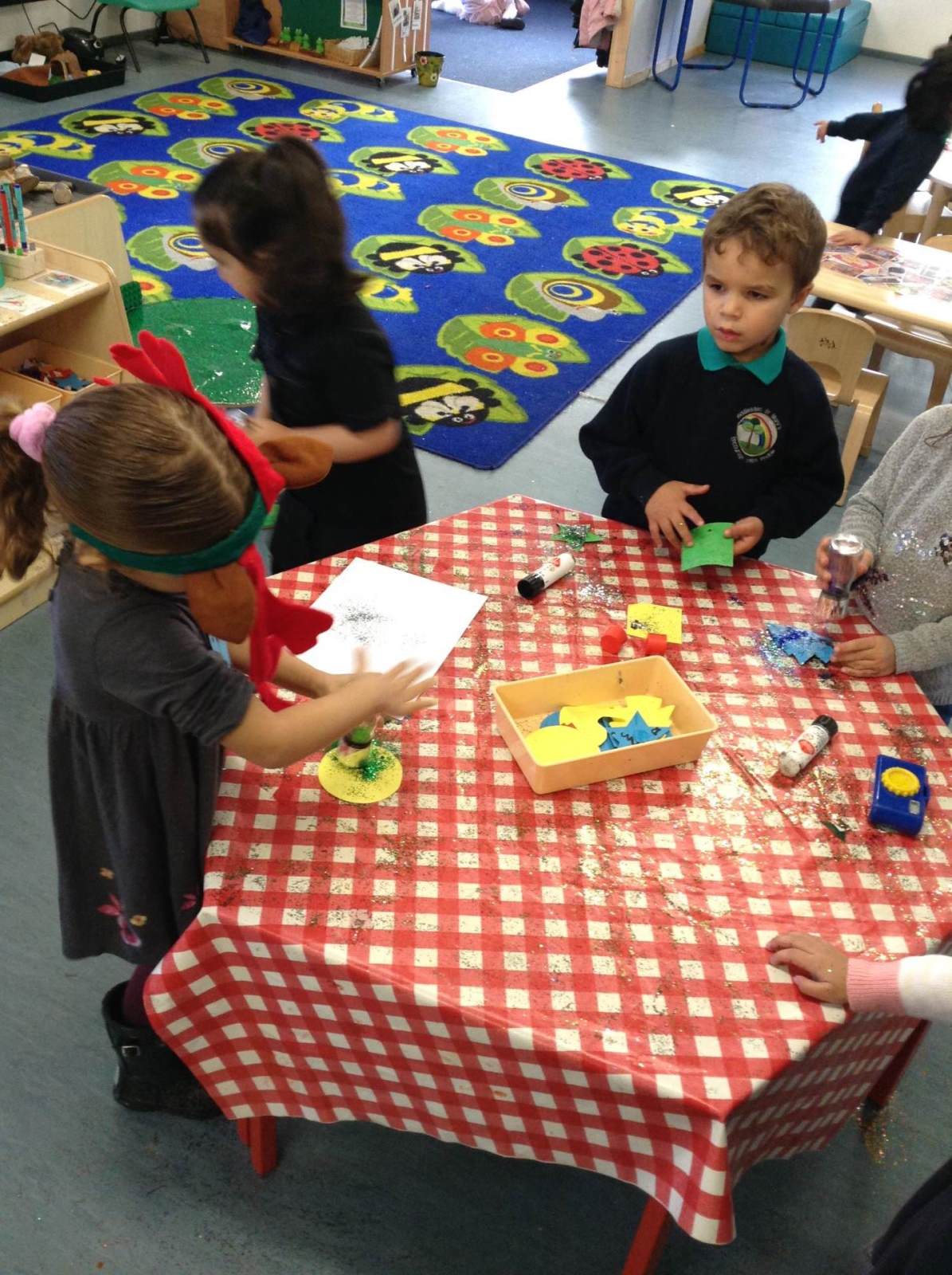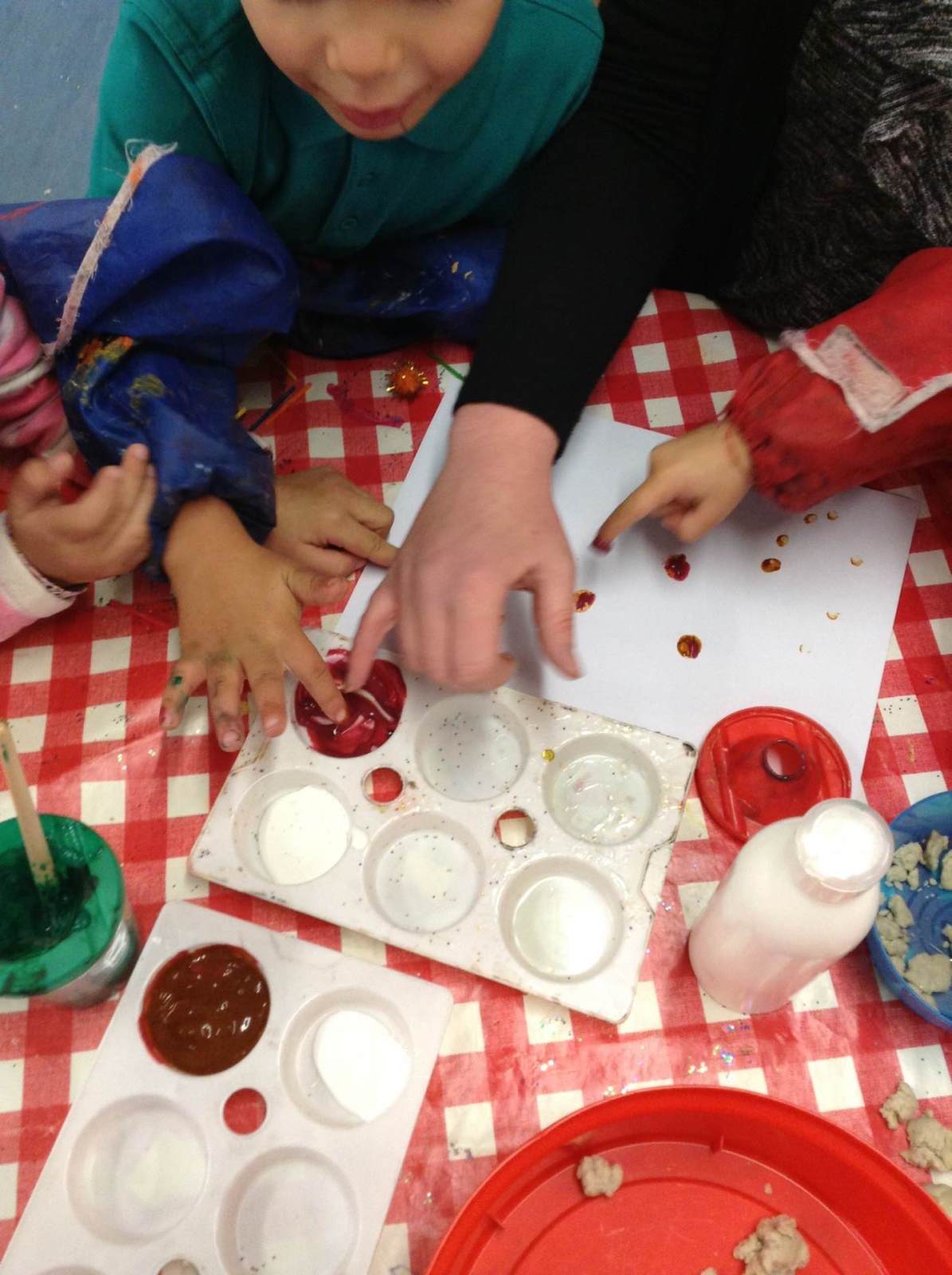 Oh Christmas Tree read by Miss Watmough