Our Autumn Term Journey
Autumn 1
Our Focus story this half term is Goldilocks and the Three Bears and we have been finding out all about Ourselves.
Click here to watch a video of our story Goldilocks and the Three Bears
Children are settling well into school life here at St Mary's.
This half term we have been drawing pictures of ourselves and our families, as well as practising recognising and writing our names. We have been making new friends and getting to know our teachers. We have also been exploring new learning areas in our classrooms, which we call 'getting busy'.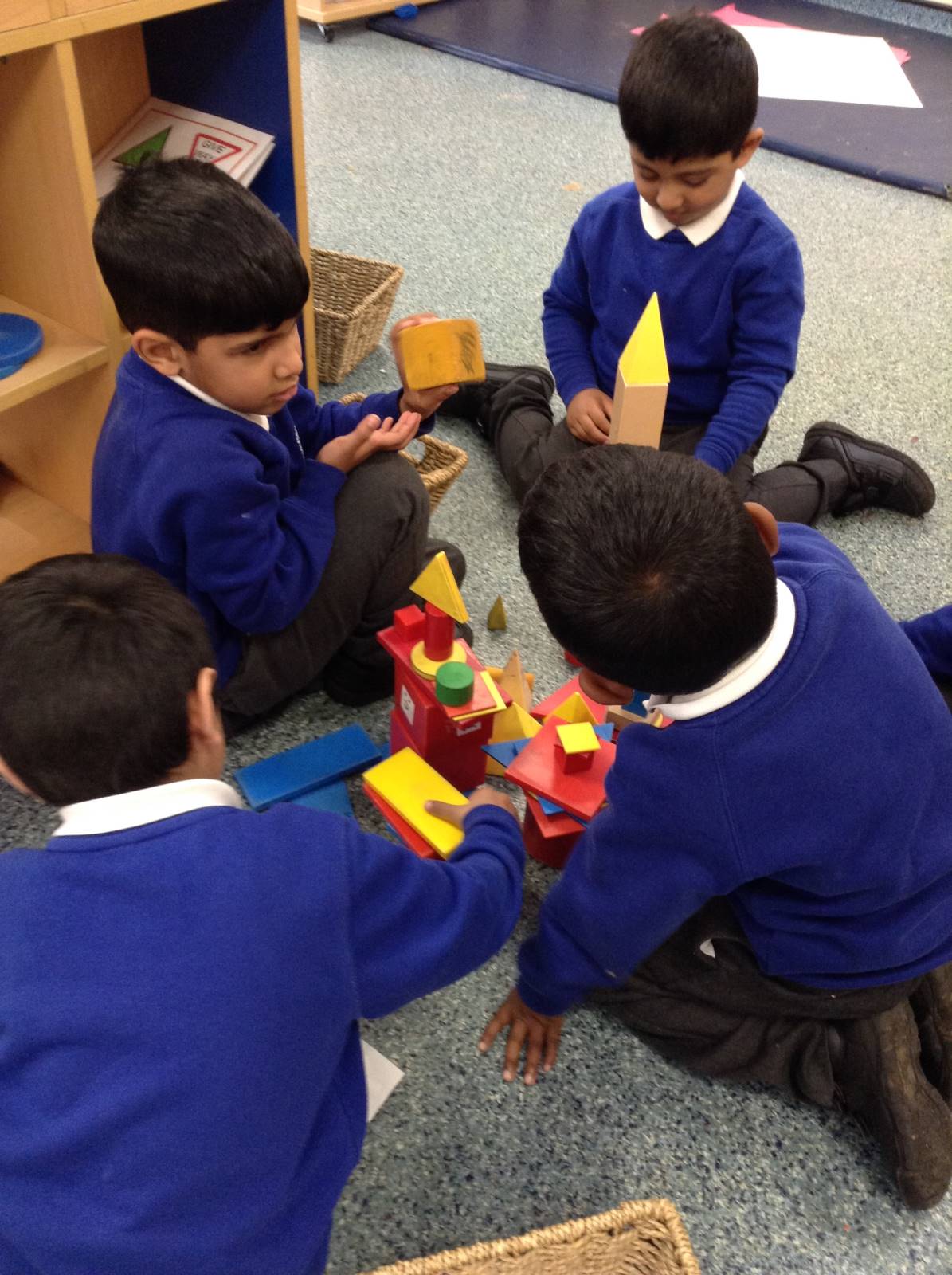 Our topic this term is Goldilocks and the Three Bears and we have been retelling the story using 'Talk for Writing'. The children enjoy using actions and a range of voices as well as learning new vocabulary.
Porridge Tasting
As part of our Goldilocks topic we made and tasted porridge. We could choose what we put on top of our porridge from chocolate, jam or raisins. We really enjoyed pretending to be Goldilocks eating the bears porridge! We then made a pictogram about our favourite topping. chocolate was definitely the most favourite. A few children decided they didn't like the porridge at all!
Autumn Walk
We went for a walk around school to see some signs of Autumn. We made sure that we wrapped up warm as it was cold outside. Children had to listen to instructions carefully to ensure they were safe when walking through the woodland area. The children noticed that the leaves were changing colour, falling off trees and were going "crispy". We had a great time and all showed our best listening. When we got back we used the leaves and twigs we had collected to make leaf men!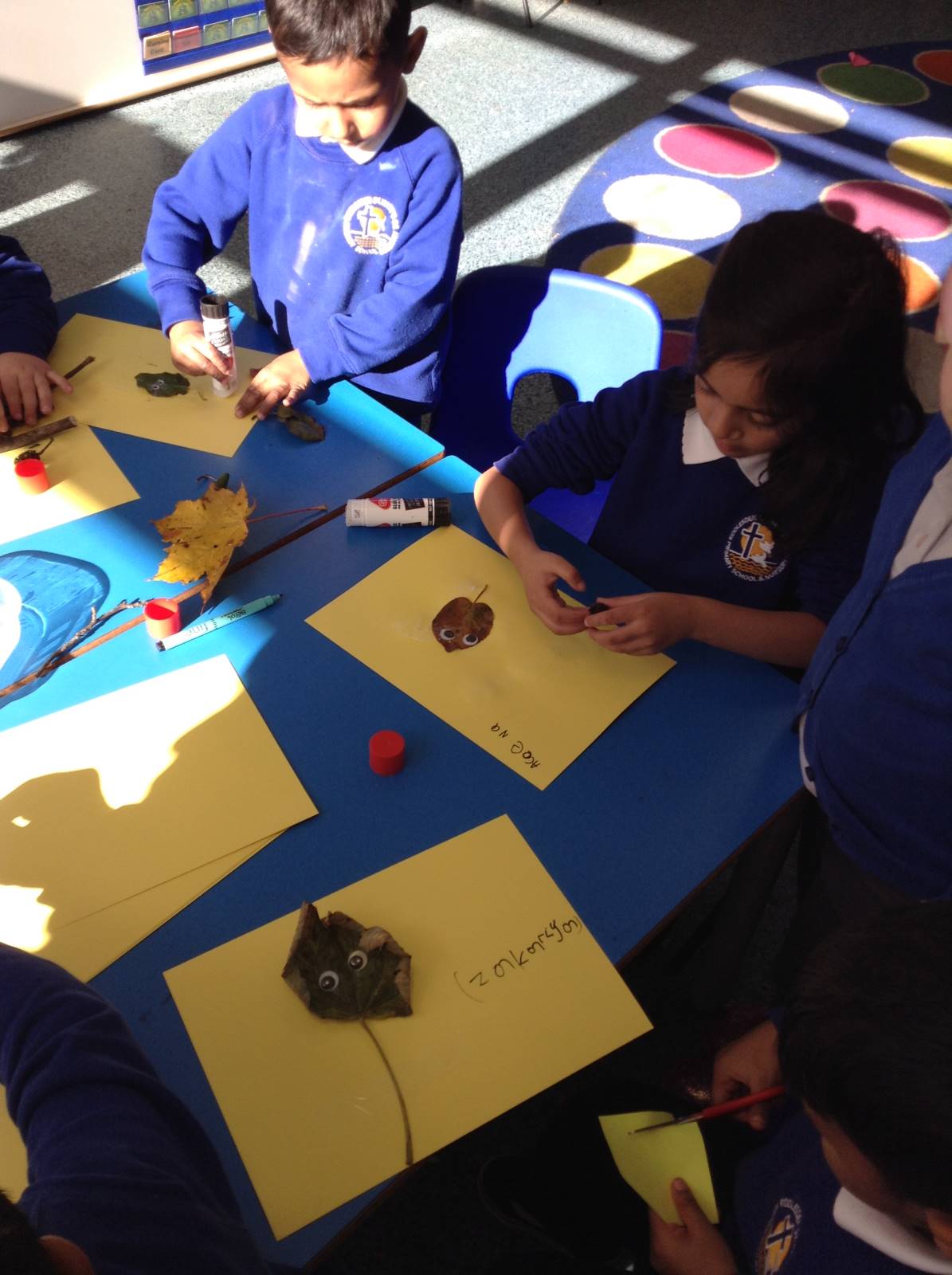 Gardening & Cooking
We are very lucky as our school gardener, Joel, has spent lots of time with us in Reception this half term. We have harvested potatoes, cut them, cooked them and mashed them to make herby mashed potato! We also collected apples and made an apple crumble. they were both delicious! We had to be very careful using the knife to cut the potatoes and apples.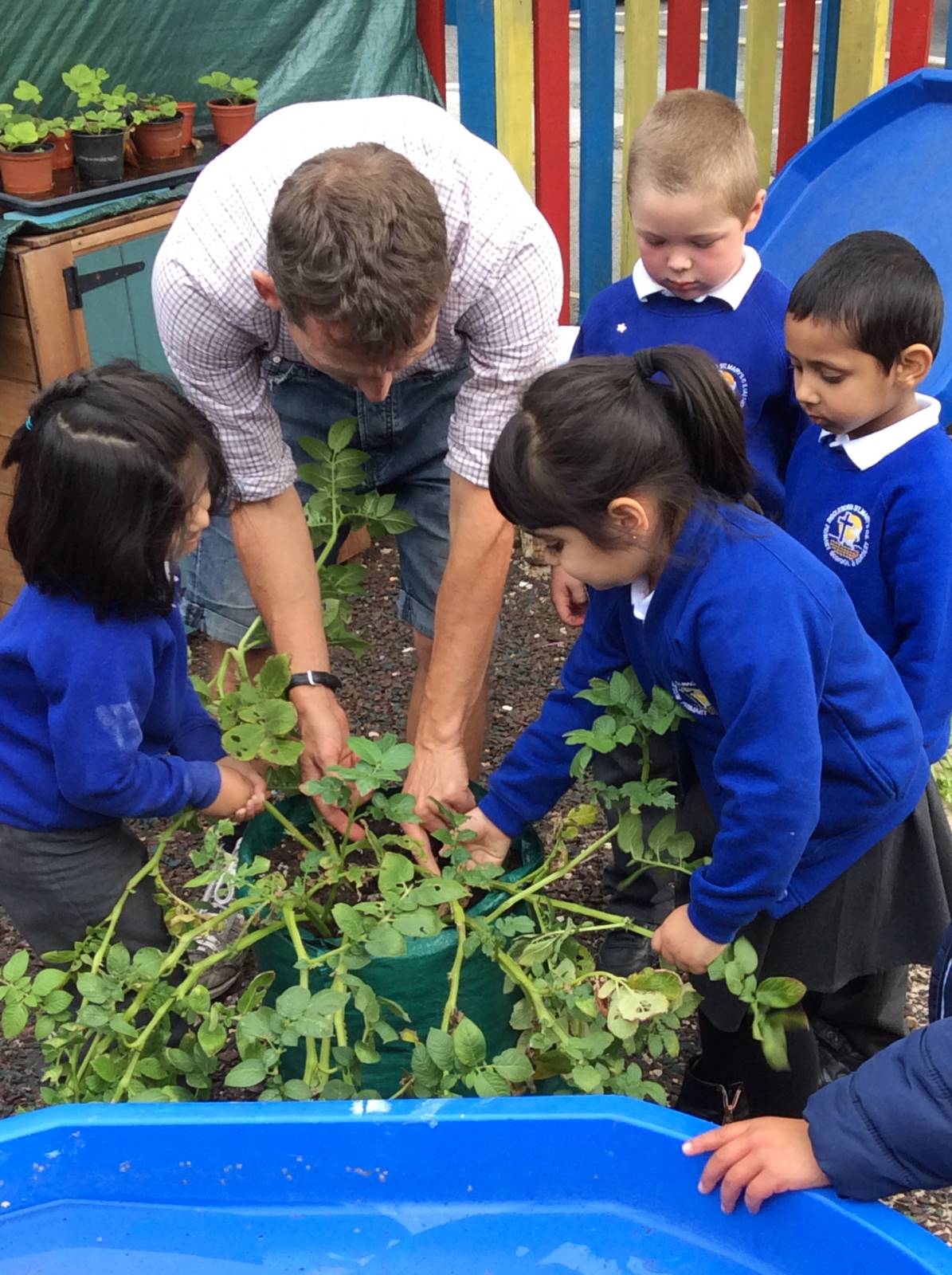 Maths
In Maths this half term we have been exploring number including recognising numbers 1 - 10 and carefully counting with 1:1 correspondence. We also looked at making repeating patterns with autumn objects and different colours.
In Reception we explore Maths everywhere!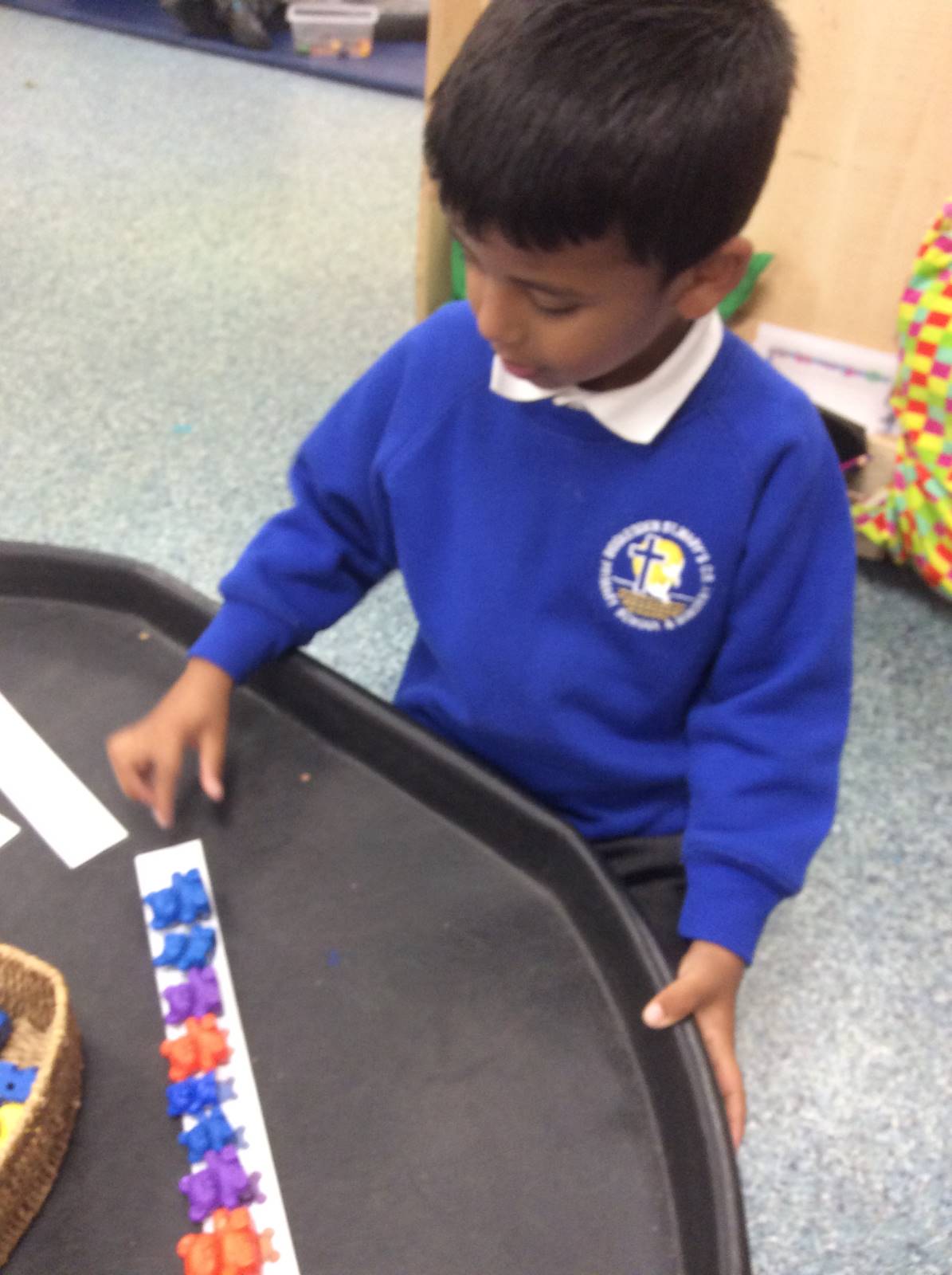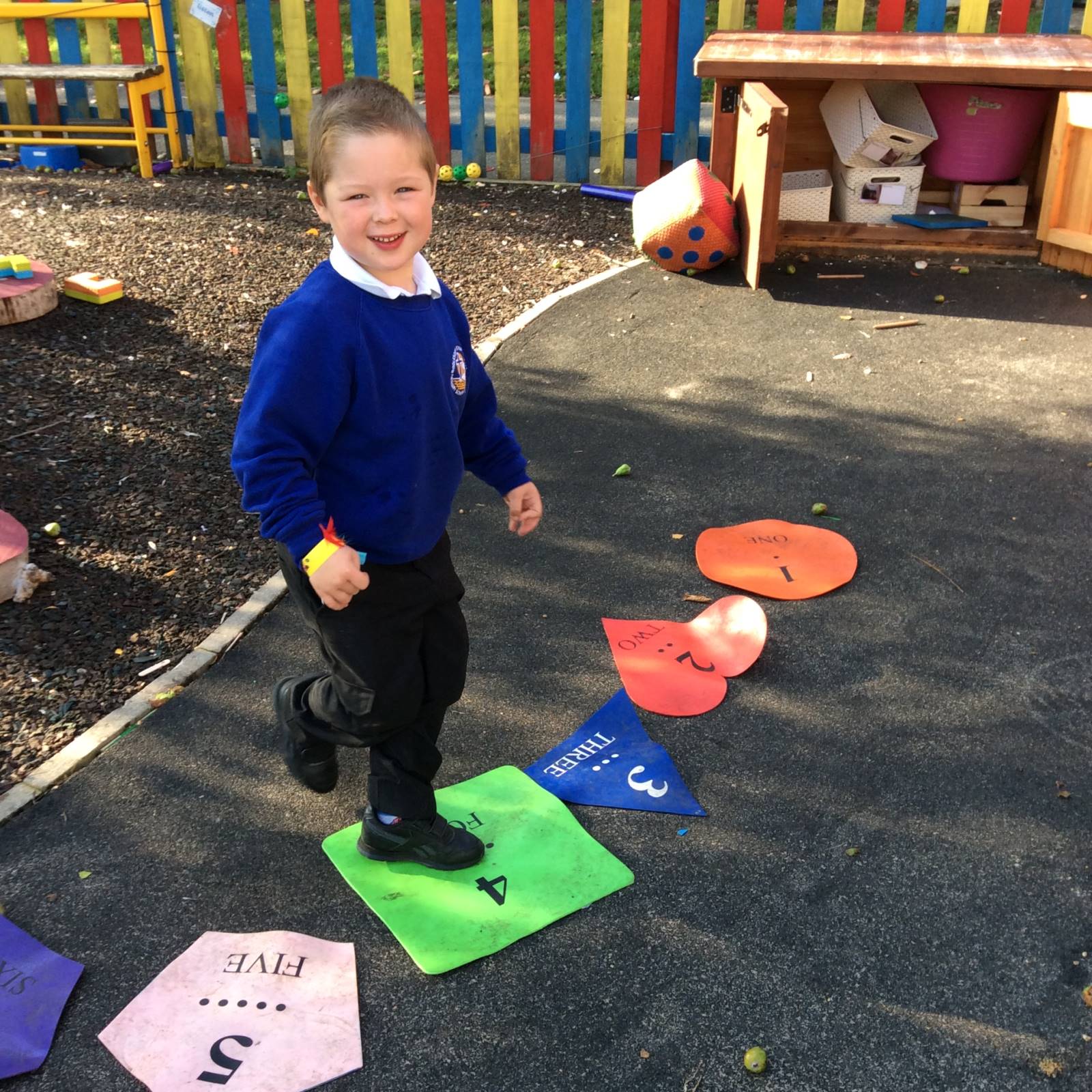 We love collecting the pears from our ornamental pear tree. They provide lots of opportunities for Maths outside; counting, sorting, sharing plus much more!
Archie and Saman enjoyed reading the books they found outside!
We have also had lots of fun in our PE and ICT lessons. Mr Armitage takes us for PE. In PE we have been learning to move in different ways, find a space and understand how to stay safe in the hall. We have been developing our skills in working as part of a team too! In ICT we have been learning to logon using the keyboard and move the mouse to create a picture on a paint program.
Autumn 2
This half term we have been learning the story of The Little Red Hen. We enjoyed baking bread buns and even used the bread maker to make a loaf of bread - it was delicious!
Click here to watch a video of The Little Red Hen
We then looked at an innovated version of the story, The Little Red Hen Makes Pizza. We thought about how the story was the same and different. We followed instructions to make our own pizza. We had to work with a friend and share the ingredients. As part of our Maths we learnt about cutting things in half to share and making sure it is 'fair'. When our pizza was cooked we had to cut it in half so we could both share the pizza.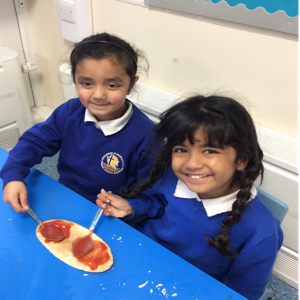 Click here to watch a video of the Little Red Hen.
Bonfire Night
We talked about Bonfire Night and how to stay safe. We know only grownups are allowed to touch fireworks and that we have to always stand well back. Some children used chalk outside to draw their own fireworks.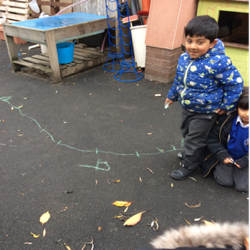 Remembrance Day
We watched this video on CBeebies and talked about how it made us feel. We talked about the brave soldiers and how we wear poppies to remember how brave they were in the war. When we went to the computer room for ICT we used a paint program to draw poppies. Some of us had a go at writing our name.
Diwali
For Diwali we watched a video about a little girl and how she celebrates. We discussed similarities and differences between Diwali and our own celebrations. We made Diva lamps using salt dough and had our own Diwali celebration where we tasted a range of Indian food.