Our Spring 2 Journey
Week One.
Welcome back Acorns, I hope you've had a wonderful week off.
This week we have been singing the Nursery Rhyme 'Two little dickie birds.' We have also been looking at birds in general this week.
On Tuesday we created our own bird masks using lots of different materials including feathers, glitter, paint and bright colours.
On Thursday we went for a walk into the school forest to see if we could hear/ see any birds flying or in the trees. We were able to see a lots of bird nests and birds flying up high, as well as hearing them.
When we were in the Library we found some lovely books based on birds.
We have had a wonderful week filled with fun filled activities.
Week Two.
This week we have been singing 'wind the bobbin up.'
The children enjoyed singing the song alongside doing the actions.
We have spent lots of time outside this week as the weather has been lovely. The children have made many sandcastles as well as creating mud pies in the mud kitchen.
We went on another winter walk around the school grounds to see what we could see. We saw lots of birds in the sky, and people on the canal cycling.
On Friday we made some yummy chocolate buns using chocolate and rice crispies. The children loved making them and couldn't wait to eat them.
We have had another wonderful week.
Week Three.
This week the nursery rhyme we have been singing 'Old McDonald.' This is one of the children's favourite rhymes to sing.
On Monday we celebrated 'World Book Day.' We all dressed in our pyjamas and brought in our favourite story to read. Miss Barber wanted to read 'The Stickman' but the story went missing so off we went around the school to find the story. We found lots of stories hidden around school but not the 'Stickman' this made us sad, so off we went back to Acorns. Miss Kay was sat in class with the stickman story which made us so happy. Miss Kay sat and read the story to us.
On Thursday we celebrated St Patrick's Day, which is a special day for those in Ireland or those with Irish heritage. We explored in a green tuff tray scooping up the different textures and finding the gold coins. We created our own good luck charms using crape paper and glue and practised our own Irish Dancing.
On Friday we danced along to tumble tots and played outside on the bikes. We also had a special visitor on Friday- PCSO Danny, he came to talk to us all about his work in the Police force and even let us try on some uniform.
Its been a very full and exciting week, filled with lots of new experiences.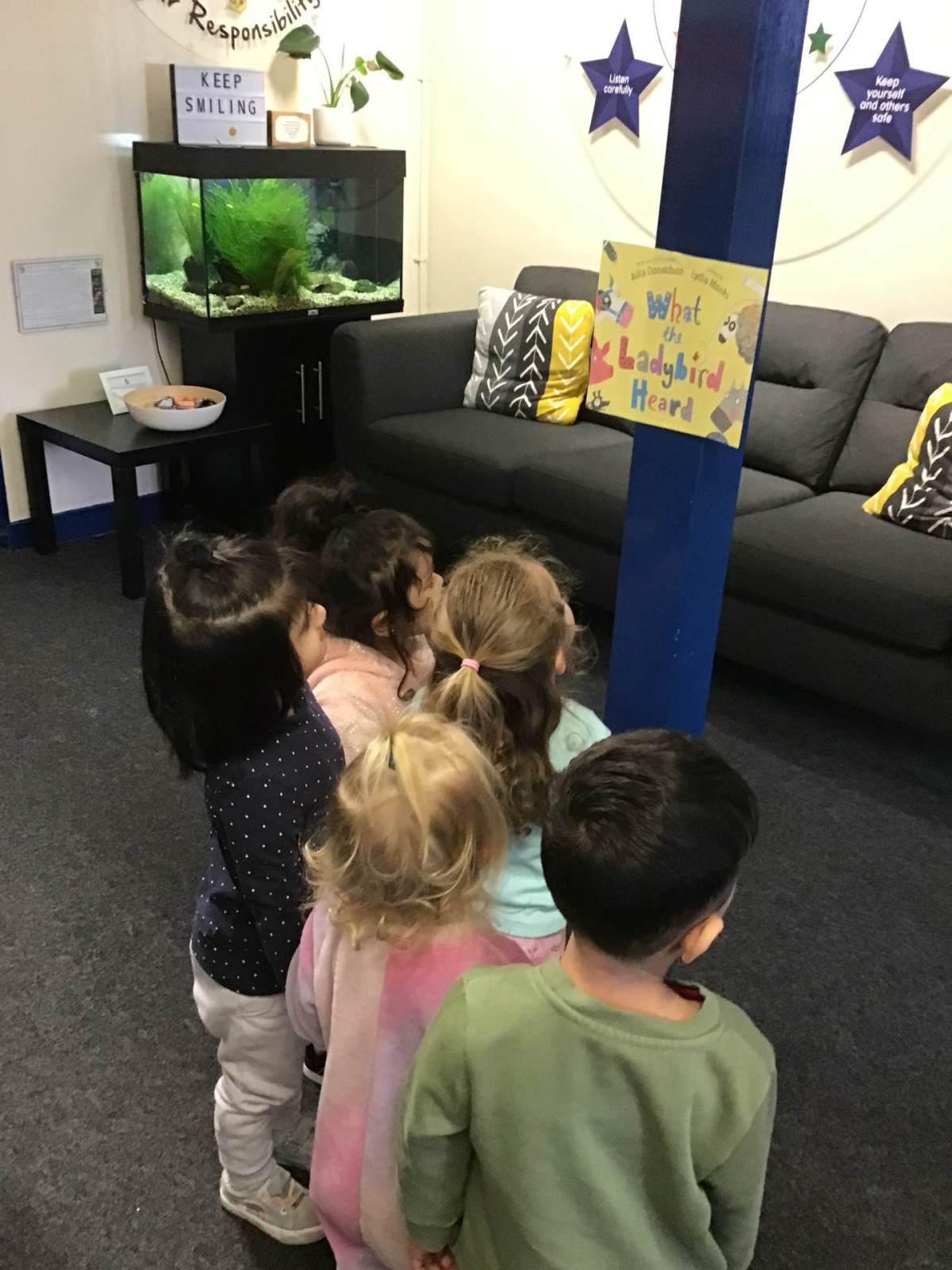 Week Four.
This week we learnt all about the different that live on the farm and their roles. We learnt all about horses, cows, sheep, sheep dogs and pigs. It was exciting to recreate the sounds they made as well as hearing about what they do on the farm.
Our Nursery Rhyme of the week is 'Old McDonald had a farm.' which fitted in nicely with out theme of the week.
We explored in the jelly water that Miss Barber had put in the water tray, it felt funny as it glided through our fingertips.
This week the weather has been AMAZING so we spent lots of time outside playing and exploring in the mud kitchen, sand and water tray.
We are hoping the weather stays nice as we start our new topic 'Spring next week.'
Week Five.
This week we are learning all about what Spring looks like and what happens in Spring. So far we have learnt about what happens to the leaves on the trees and how flowers start the grow. On Wednesday we went on our first Spring walk around the school ground. Before we went Miss Barber showed us pictures from our Autumn walk so we could compare.
On Tuesday we had our very first coffee morning in over two years, it was lovely to be able to invite parents into our classroom and show off all our incredible work. We even took the parents to the library for them to see how we sit and look at stories. It was so much fun and we cant wait for parents to come back soon.
Our Nursery Rhyme of the week is 'Miss Polly' one of our favourites as we love doing the actions and saying bye to the doctor at the end. We created our own dollies in the creative area and washed some babies in the water tray.
We love creating lots of fantastic pieces of artwork at the creative area and paint station to go on the walls for everyone to see.