Our Spring Term Journey
Spring 1 curriculum overview
Spring One - The Rhythm of the rain.
Maths
In Maths this half term, we are focussing on measure. Throughout the half term, the children will learn how to:
calculate and measure the area of a shape
calculate and measure the perimeter of a shape
convert between a 12 hour clock and a 24 hour clock
solve problems with converting between different segments of time
convert between different units of measure
order and compare different measures, including money.
We started our half term by focussing on perimeter as this linked nicely to our previous maths topic of addition and subtraction. We were tasked with working out the perimeter of lots of different rectilinear shapes - some even had missing sides that we had to calculate ourselves!
After working on perimeter, we moved onto calculating the area of a rectilinear shape. In Year four, we find the area of a shape by counting the number of squares within the shape and using the scale to work out the area. We learnt this half term that area must be followed by the measurement squared e.g. cm².
We then focussed on time as an area of measurement. We recapped how to read the time from an analogue and digital clock and we focussed on converting time from 12 hour time (1-12 twice a day) to 24 hour time (0-23). Some of us have found this tricky but we have shown true perseverence.
Our final objective in our measure unit was to order and compare amounts of money. During our money lessons, we looked at converting between pounds and pence and ensuring our knowledge of different coins and notes was secure. We compared a variety of amounts of money using the < and > signs, as well as putting amounts of money in ascending and descending order.
We have now completed our measure unit of maths and the children have made some amazing progress over the half term! We will be moving onto look at multiplication and division in Spring 2.
English
In English this half term, we are exploring a new book - 'The Rhythm of the Rain'. This book links to our Geography topic of 'The Water Cycle' and our science topic 'states of matter'.
Throughout the half term we will be looking at:
Making inferences and predictions from the text,
summarising the story using sentence openers,
using the information from the story to produce a story map,
using point, evidence explain (PEE) to explain why we think a statement about the book is true or false,
using a variety of conjunctions in our writing.
deepening our knowledge of expanded noun phrases,
using a variety of fronted adverbials to show time, manner or place
We have used all of the skills and knowledge we have accumulated over the half term to write an adventure story. We thought carefully about where our characters could go on their adventure and a problem and subsequent resolution they could encounter. We have then edited our work using editing stations before publishing our final piece.
Science
In Science this half term, we will be focussing on 'states of matter'. We will be looking at what happens to different materials when they are heated and cooled, and discussing what happens to the atoms/molecules as this happens.
We started our science topic by learning about solids, liquids and gasses. We were then tasked with sorting a variety of different materials into these three categories based on our new knowledge.
We then completed an experiment to identify what happens to water when it is put into a freezer and used vocabulary such as freeze, solid, liquid, particles and temperature to describe how the water changed states in our experiment.
Geography
In geography this half term, our topic is all about water, with a specific focus on the water cycle. We will be learning about:
the different stages of the water cycle and why evaporation and condensation are important,
Over the half term, we have become familiar with the different stages of the water cycle and can describe what happens in each stage, including the state of matter the water is in at each stage.
flooding and how floods may be caused,
We researched what would happen to our classroom and the resources in our classroom if we were to have a flood of 1cm/10cm/1m. Our research allowed us to write letters to Mrs Wright informing her of our discovery - something that we found could have been very helpful if our school had flooded during the recent storms!
We have also written a story pretending we were water travelling through the water cycle - through evaporation, condensation, precipitation and finally collection on land.
Linking schools - Nell Bank
On January 26th, 4H and 3/4W went on a very special school trip to Nell Bank. Throughout Year 4, we will be linking with another school from the Bradford area - Sandal Primary School. Our trip to Nell Bank was the first ever time we were going to meet some of these children and some of us were a little nervous.
When we got to Nell Bank, we played lots of games and completed lots of activities to allow us to get to know someone from our partner school. We then came back to school and wrote a recount all about our trip!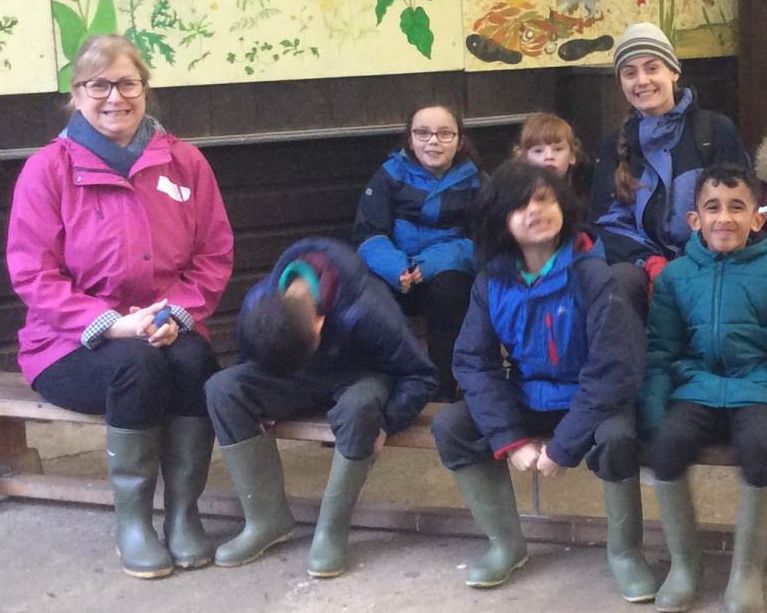 We will be meeting the Sandal children again later in the Year when we go visit their school, and they come visit us!
Marvellous Me - Parents open morning
On Tuesday 28th January, we had a PTA coffee morning at school which was run by our PTA. During the coffee morning, we launched our new relationships education module which is named 'Marvellous me' and is all about exploring who we are as individuals and as part of different communities.
Before the coffee morning, each of us were given a plain white T-shirt and some fabric pens and we produced T-shirts that showed off all of the things that we loved, and that made us unique. Have a look at some of our T-shirts below!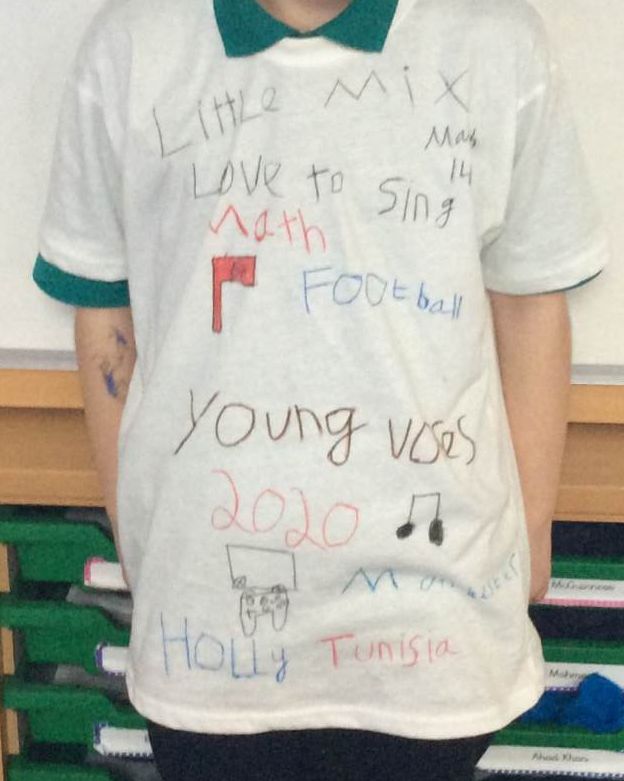 Spring Two - Everest
English
During English this half term, we will be focussing on the book 'Everest' by Alexandra Stewart and Joe Todd-Stanton; a book that captures the story of Edmund Hillary and Tenzing Norgay.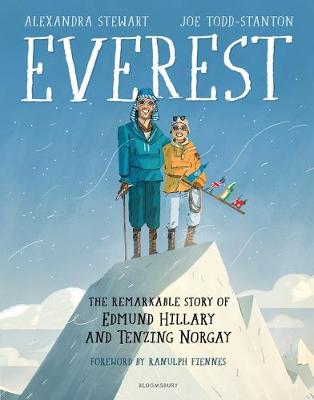 Topic - Geography
In Geography this half term, we will be focussing on mountains across the world and map reading.
Spanish
In Spanish, we will be looking at some physical geography and the Spanish terminology, as well as looking at describing the weather.
Maths
In Maths this half term, we will be focussing on Multiplication and Division.
Science
In Science, we we will be focussing on living things and their habitats.