Our Autumn Term Journey
Find out about what we have been up to in class and see some examples of our amazing work.
Autumn 2:
Week 4:
This week we have started to learn how to use column addition adding 2 digit numbers together.
You can revise this skill at home using the following video to help you. It goes slowly through the method showing the calculation using Dienes as well as in digits just like we learned in school.
In RE, we have been thinking about important parts of the Nativity story and how things could have been different if characters had made different choices. We thought that one of the most important parts of the story was when the three wise men chose not to tell King Herod where the baby Jesus was born because if they did, they knew that Jesus would have been harmed.
Week 3:
This week we have started to practise our sign-along Christmas concert. Yes, we mean sign, not sing!
Here are the videos so you can learn from home too!
Do they knows it's Christmas time?
Mary's Boy Child
Week 2:
This week we learned much more about Florence Nightingale. We read more of our book in English and used our Maths knowledge to help us create a timeline of the significant events in her life.
You can find out more from the video below:
In English, we have been working hard on our reading comprehension skills and have been working like news reports, looking for and writing about the facts found in the text.
In Maths, we have been finding 10 more and 10 less then using this skill to add and subtract multiples of 10. We used our 100 square to help us and we discovered a special rule for adding and subtracting 10. Do you know what the rule is?
Week 1:
This week, we have started our new Topic. We explored a mysterious bag full of strange objects and had to guess who it belonged to.
When we had made our predictions, we found out the things belonged to a lady called Florence Nightingale.
In English, we are working in the Reading Phase and are focusing on understanding new vocabulary and retrieving information about young Florence.
In Maths, we are continuing our Addition and Subtraction topic. We have learned how to find related facts and fact families using our knowledge or numbers of 100 to help us.
PE this half term will focus on Yoga. Miss Kennedy will lead our sessions and teach us a range of yoga poses to help build our core strength and flexibility as well as help us relax and become more mindful.
Here are some of the poses we will be learning: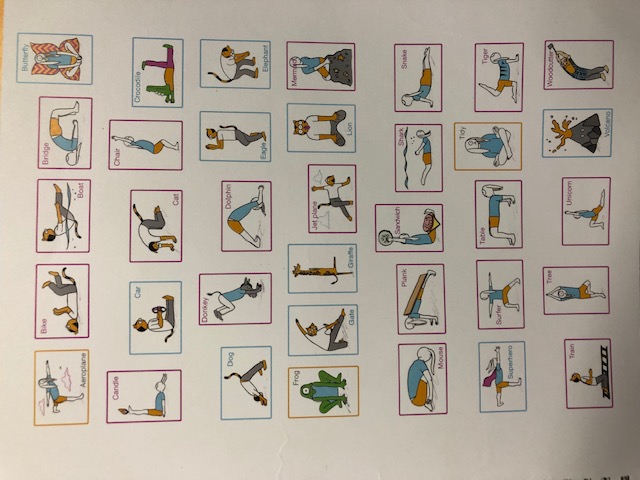 We have also been thinking about Bonfire Night and how we can be safe around fireworks.
Here are some photos of us working!
Autumn 1:
Week 7
Music week! This week we immersed ourselves in music. We listened to some music actually recorded in the Arctic which was linked to climate change. We drew what we imagined when we listened to it and then appraised the music.
We learned about 'timbre' and how to describe different sounds made by percussion instruments. We even made our own! As well as using our instruments to create rhythms in class, we combined out PE skills with music to express ourselves in the style of polar bears in the way we moved and used the instruments to make accompanying rhythms.
Week 6
This week we wrote and published our own setting descriptions. We used all our grammar skills that we had learned in the Toolkit Phase to write our own descriptions of the Arctic. We really tried to paint a picture in the reader's mind by using exciting vocabulary.
In Art, we began creating our polar bear sculptures. We experimented with making different textures in the dough and crafted our bears from one single piece of dough. It was quite a challenge but our end results are absolutely fantastic!
Our class teachers then baked the dough so it became solid and we could paint, glaze and decorate our sculptures into our final piece.
Week 5
In Maths this week we tackled the tricky challenge of number lines. We really persevered and after a few sessions, we cracked it!
This week we did our final monitoring of our cress. We had kept it watered and most of us chose a sunny spot to keep our cress. Nearly everyone's growing investigation was a success and had grown lots over the two weeks. We took our cress home and hopefully some of us used it in cooking with our parents.
Week 4
In Maths this week have introduced learning the 3 times table. The video below is really useful for practising at home!
In English, we have written our first setting description. Our teachers really helped us and we used a WAGOLL so that we could show off all the skills we learned in the Toolkit Phase.
In Geography, we made our own maps of the world labelling the oceans and continents. We loved using the songs to help us remember the names.
Week 3
This week we have been continuing our Maths and English units. We have started to look at different word classes including: nouns, adjectives, verbs and adverbs. In Maths we have been working on our times tables including 2s, 5s and 10s.
Counting in 2s:
Counting in 5s:
Counting in 10s:
We also had a gardening session with Joel where we picked then took home some fresh vegetables. We explored the allotment and discussed how Autumn brings changes to plants. We love gardening with Joel!
We started our own growing investigation in class. We planted cress and chose what we thought would be the best conditions for it to grow.
Week 2
This week we have been continuing our Maths and English units. We have been developing our knowledge of number and the value of digits using different types of equipment and visual representations. In Reading we have been reporters and detectives using our retrieval and inference skills to answer questions. We have also received our new home-reading books (these need to be brought into school on the days listed on the reading folder).
In Science, we have learnt more about the life cycle of plants including germination. We acted out the life cycle of a sunflower to really understand the process. We have also started our own investigation into what seeds need to germinate. We discussed what we think plants need to grow and each set up our own seeds in chosen location in the classroom. Some people chose to put theirs in a dark place to see what happens; others chose high up in the window where there is more sun.
Week 1
This week we have been settling back into school and getting used to our new routines. We have all settled straight back in and are loving being in our new classrooms. We have created our class charters and have got to know our new teachers.
In Maths and English we have got stuck straight into learning, have started our work on place value and have read our new book Leaf.
We have launched our new Topic and Science units and went on a walk around the school grounds to hunt for the different types of plants that grow in our environment.