Our Autumn Term Journey
English
This half term, our English text is 'The Egyptian Cinderella'. We have enjoyed the story and are fully immersed with the text. At the beginning of the unit, we entered the reading phase where we predicted what the story could be about based on a variety of words from the text. Then, we read the story and picked out unfamiliar vocabulary which we then found out the definitions during our vocabulary lessons. This helped us collect interesting vocabulary so that we could use this when we write our own adventure story based in Ancient Egypt. We also inferred how the characters felt through the completion of an axis of emotion. This allowed us to understand how the characters felt during key events and collate some adventurous vocabulary which were added to our vocabulary wall.
During the toolkit phase, we collected the necessary tools needed in order to write an adventure story. During some lessons, we worked within our mixed ability groups to sort out words into the correct word classes, as well as replacing nouns with pronouns (so we can avoid repetition). We also wrote a character description of Rhodopis so that we could apply our grammar knowledge. We still have some more learning to do before we can write our own adventure story. We cannot wait to share some of our stories. Watch this space!
Maths - Number and Place Value
In Maths, we have been learning the value of each digit in a four-digit number and how the different ways we can represent the number. Once we were able to do this, we went on to practise and apply our knowledge of:
ordering and comparing four-digit numbers
finding 1000 more and 1000 less than a number
rounding four-digit numbers to 10, 100 and 1000
roman numerals
negative numbers
At times we found some of our learning tricky, but through resilience and support from our teachers and friends, we were able to understand place value.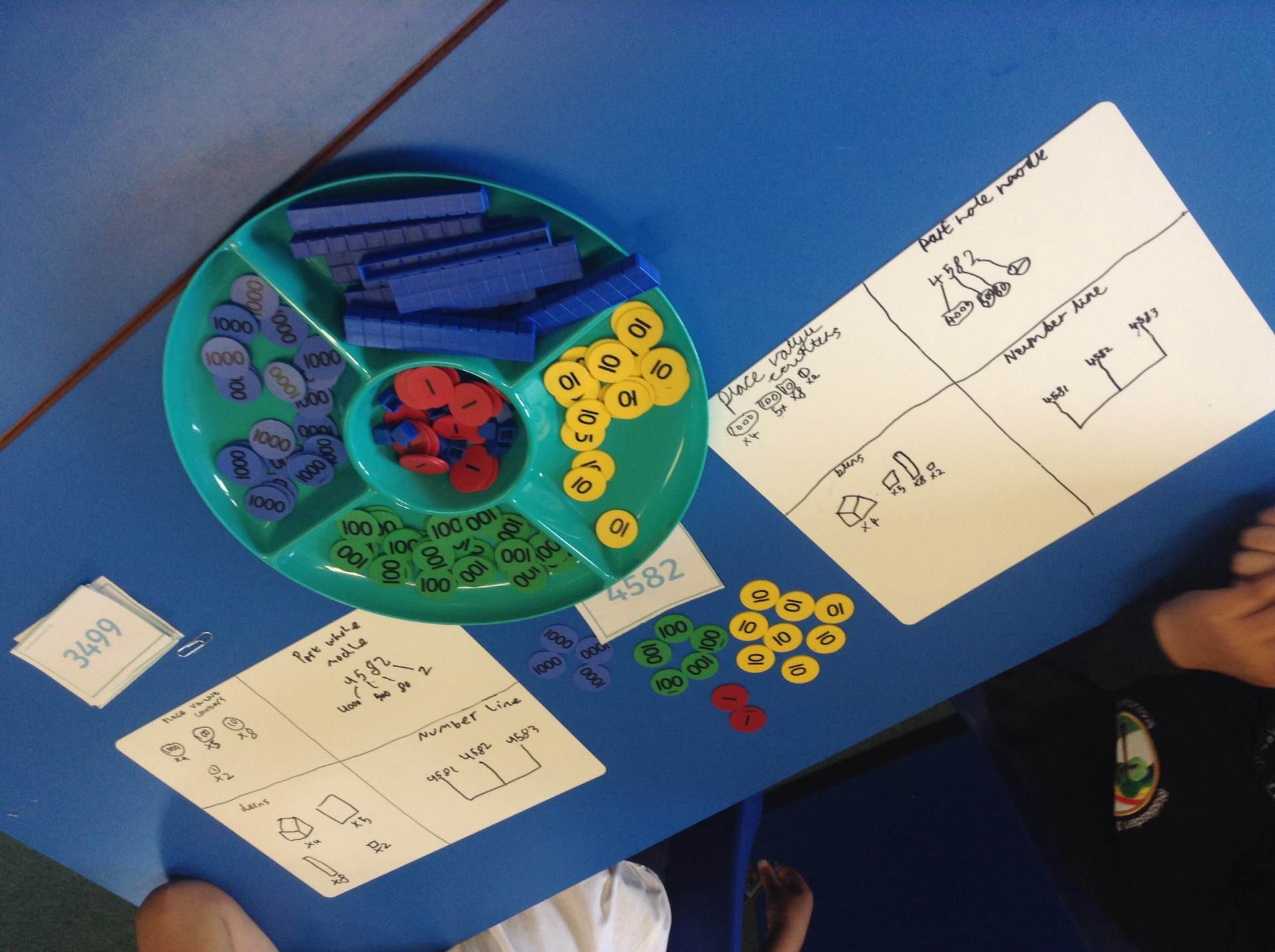 Science
This half term we have been learning about electricity. Not only have we learnt what the different components of acquit are called, but we have looked at images of various circuits which were both complete and incomplete. We worked with our partners to decide whether the lightbulb will light or not. We gave our reasonings before building our own circuits to test out our prediction.
History (Topic)
Our topic this half term is history focussed. To launch our topic,we received a letter from an Egyptologist named Zahi Hawass, Within the letter, he explained who he was and that our teachers wrote to him to explain that we were learning about Ancient Egypt. He also wanted us to become archaeologists for a short amount of time and provided our teachers with some images of artefacts discovered. Therefore, this afternoon, our classroom transformed into the tunnels found in the Great Pyramid of Giza. Our task was to crawl through the tunnels (with a torch) and look at the images on the sides of the tunnels. Once we exited the tunnels, we drew what we saw and presented our findings (as a group) to the whole class.
Over the weeks, we have been learning lots of amazing facts about the Ancient Egyptians. We have ordered the events, researched information about Egyptian artefacts and watched the Prince of Egypt. Once we watch the Prince of Egypt, we compared and contrasted the lives of both the wealthy and poor Egyptians.
Values
How can we respect our environment?
Our key question this half term is 'How can we respect our environment?'. To start of our discussion, we discussed the term 'respect' and 'environment'. As a group, we shared the ways we can respect the environment and tried to think of examples of when we contributed to this. Some of us started to talk about how harmful rubbish is to the sea creatures and animals in the wild.
In the next lesson, we watched 'A whale's tale' and reflected on the animation. We shared our thoughts and talked about how it made us feel. After, we made posters to remind people the different ways we can respect the environment. We showcased these in our collective worship, which we presented to Key Stage 2. Below is a PDF of our collective worship.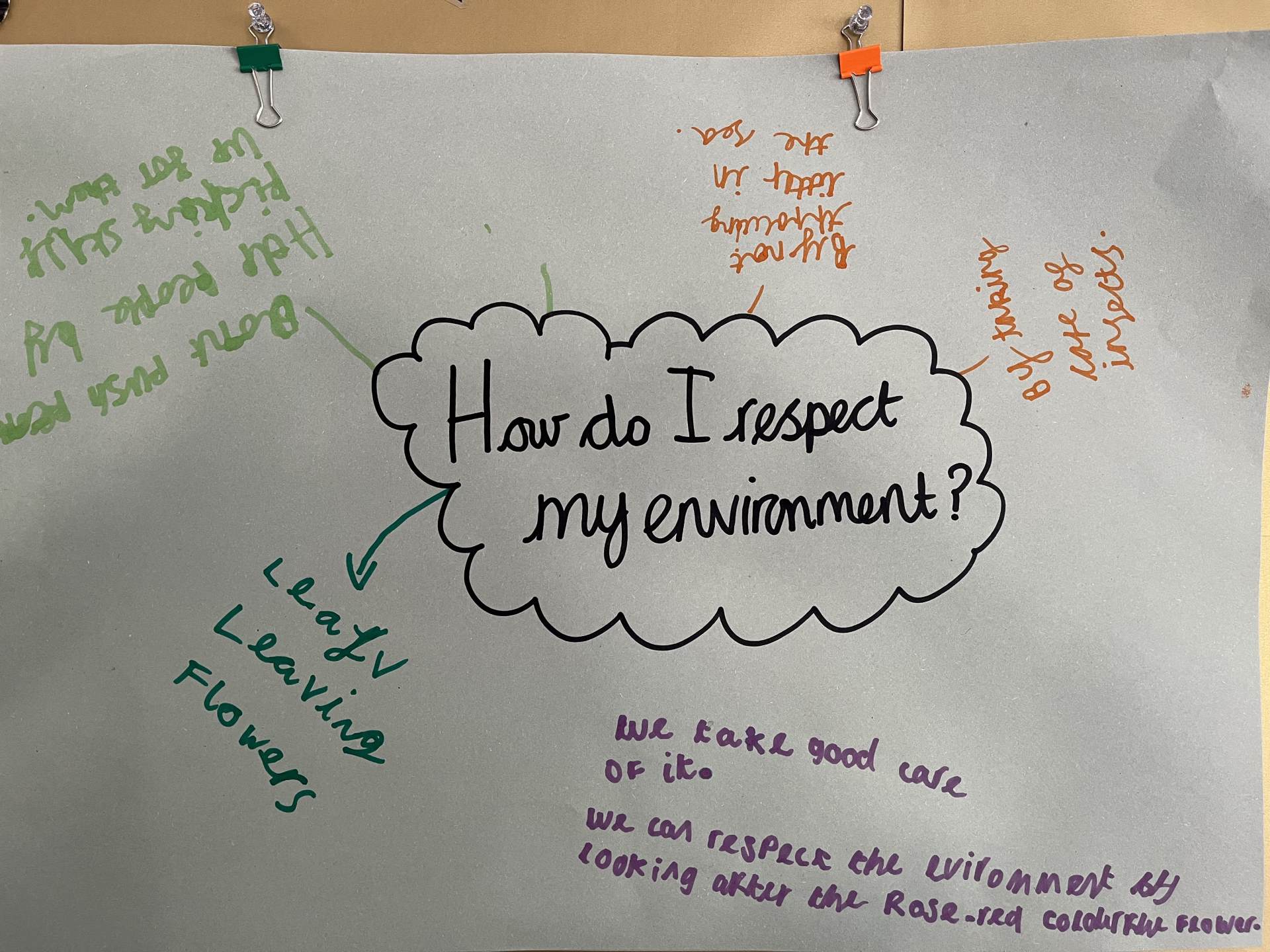 Emmeline Pankhurst
In addition to our key question, we learnt about our key person 'Emmeline Pankhurst'. We found out that she was a suffragette who campaigned tirelessly so that women had the right to vote. We looked at what lfe was like for women and found out that they were not able to vote but stay at home. However, because of World War 1, women had to replace the men's roles (as they went to fight in the war) and contributed to Emmeline's campaign. We learnt so much about her that we created our own information poster about her. Watch this space to see our completed work.
Relationships Education
In RSE, we have been learning about digital wellbeing and how we can keep our information safe online. Each lesson, we discuss the key question and share our thoughts. We have thought about our own online habits and how we use the internet and what for. Some of us realised that we use the internet too much and this is not great for our mental health. We also had a open morning session which involved some of our parents watching a lesson. They contributed to the discussions and were reminded that all private information needs to be kept safe. We also talked about the virtual world and the real world. We could explain the difference and learnt that we should be respectful online AND offline.