Our Spring 1 Journey
Our Spring 1 Curriculum Overview
Don't forget to complete some of our '10 things to do at home' challenges. How many can you complete? Email any photographs to YearR@rsmps.co.uk
Winter
We were so excited to find ice in our classroom. We enjoyed touching the ice and were able to describe how it felt. We noticed that the ice had started to melt when in our classroom but not outside, we realised that the temperature was much warmer inside than out and, that was why it had started to melt.
We found out about some countries that are extremely cold. We used the globe to find where the North and the South Pole is before finding out about some of the animals that live there.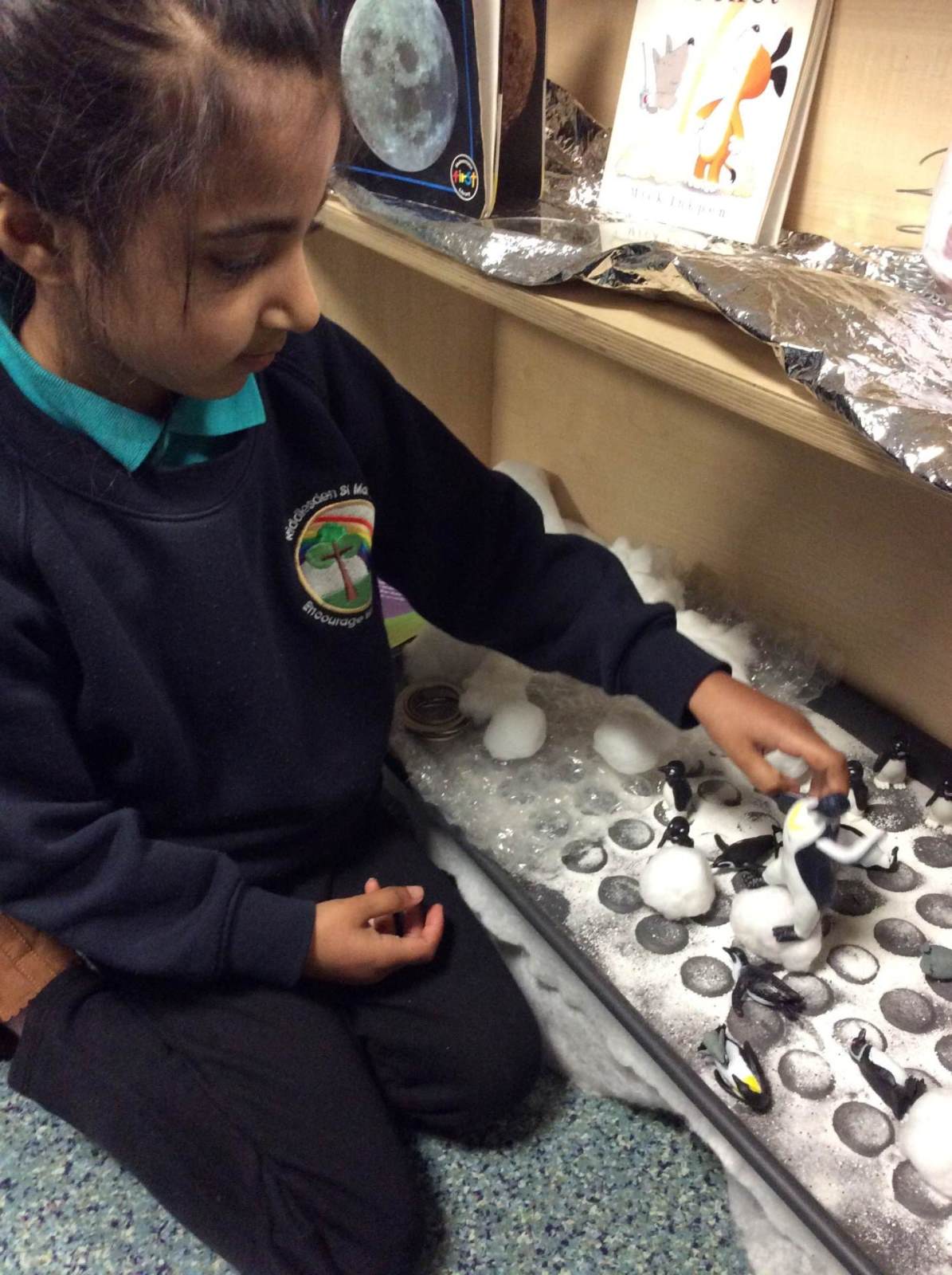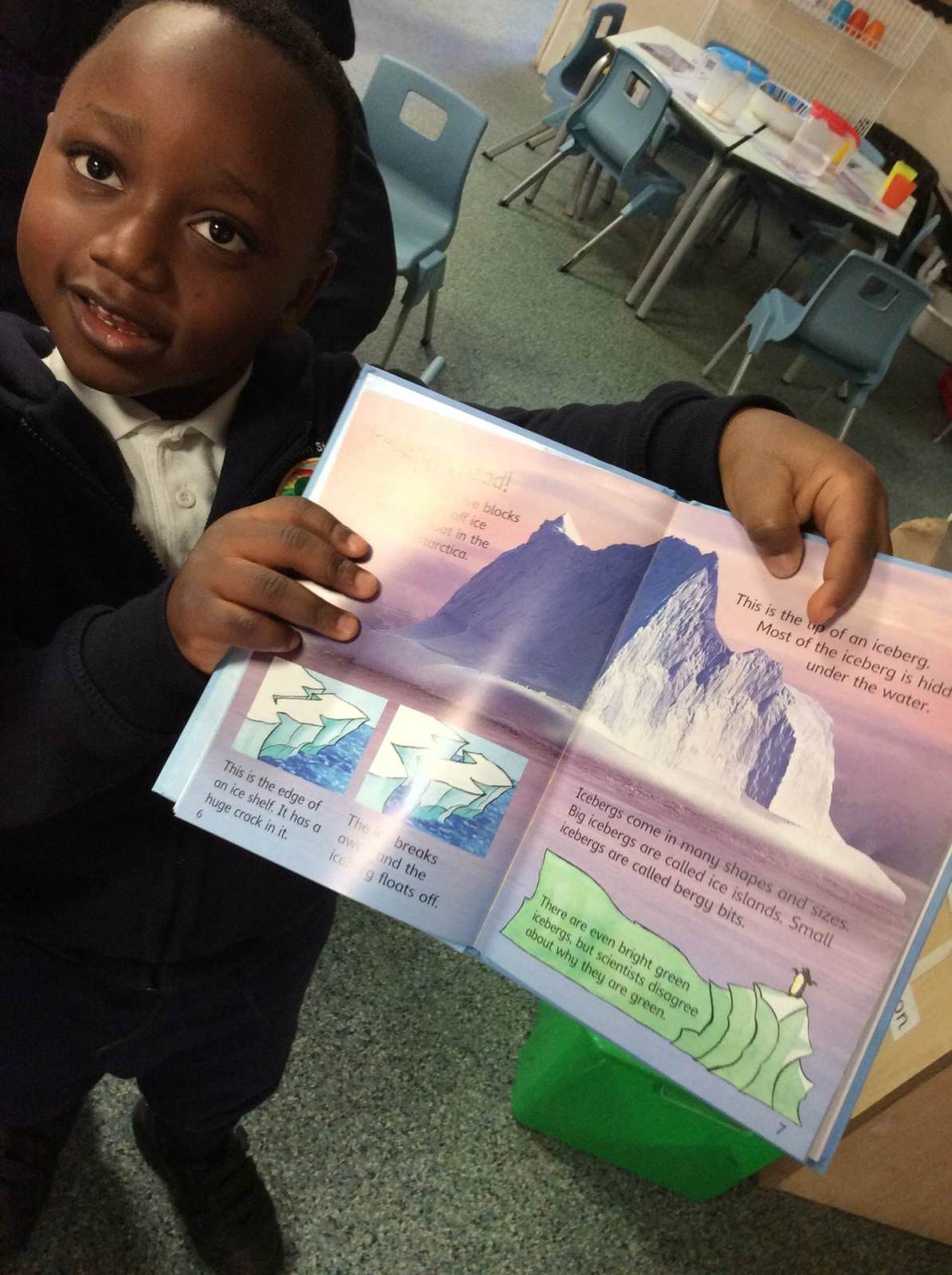 Space
When we arrived at school we found a tray filled with objects, these included, some silver boots, a collinder, a box covered with paw prints and a brown bear. What could it be?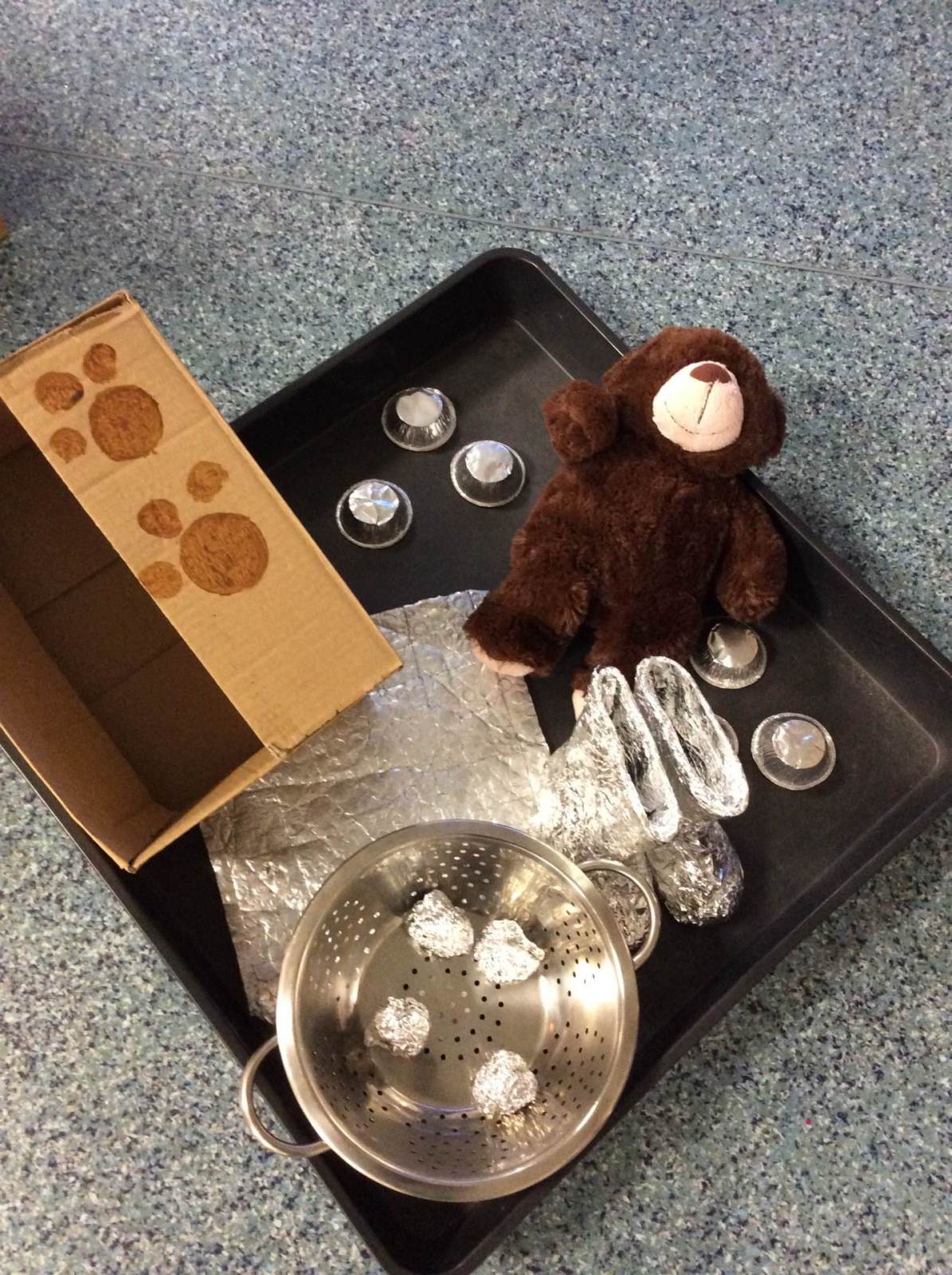 We predicted what it might be.
I think Baby Bear likes the colour silver.
It is Baby Bear's bed.
Baby Bear has been eating some cupcakes and left the wrappers.
We enjoyed exploring the new resources in our classroom.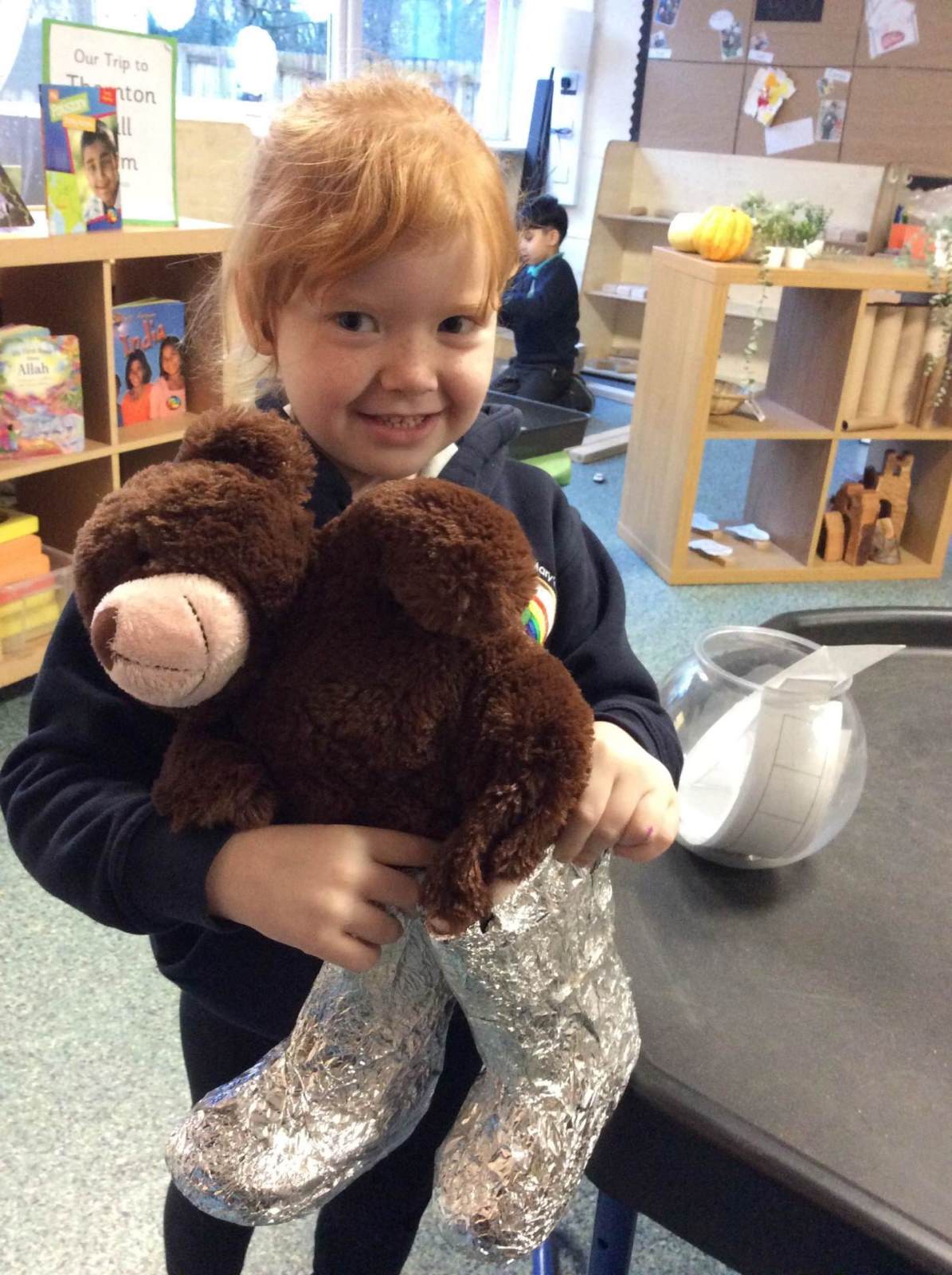 Later in the week, Baby Bear sent us a letter to tell us that he had been on a journey to the moon in a rocket! He wore space boots and a helmet, just like an astronaut.
Baby Bear also sent us a story called 'Whatever Next' about his journey. You can listen to the story below.
We even learnt a song about Baby Bear's journey to the moon, you can join in with it below.
We have been listening carefully and going on a journey to the moon during our PE lessons.
We read the story 'Look Up' and started to find out some non-fiction information about Earth and beyond as well as what it takes to become an astronaut.
We found out about Neil Armstrong, the first man on the moon and about Mae Jamison who was the first African-American woman in space.
We were extremely excited to feel like an astronaut ourselves and look through a real telescope!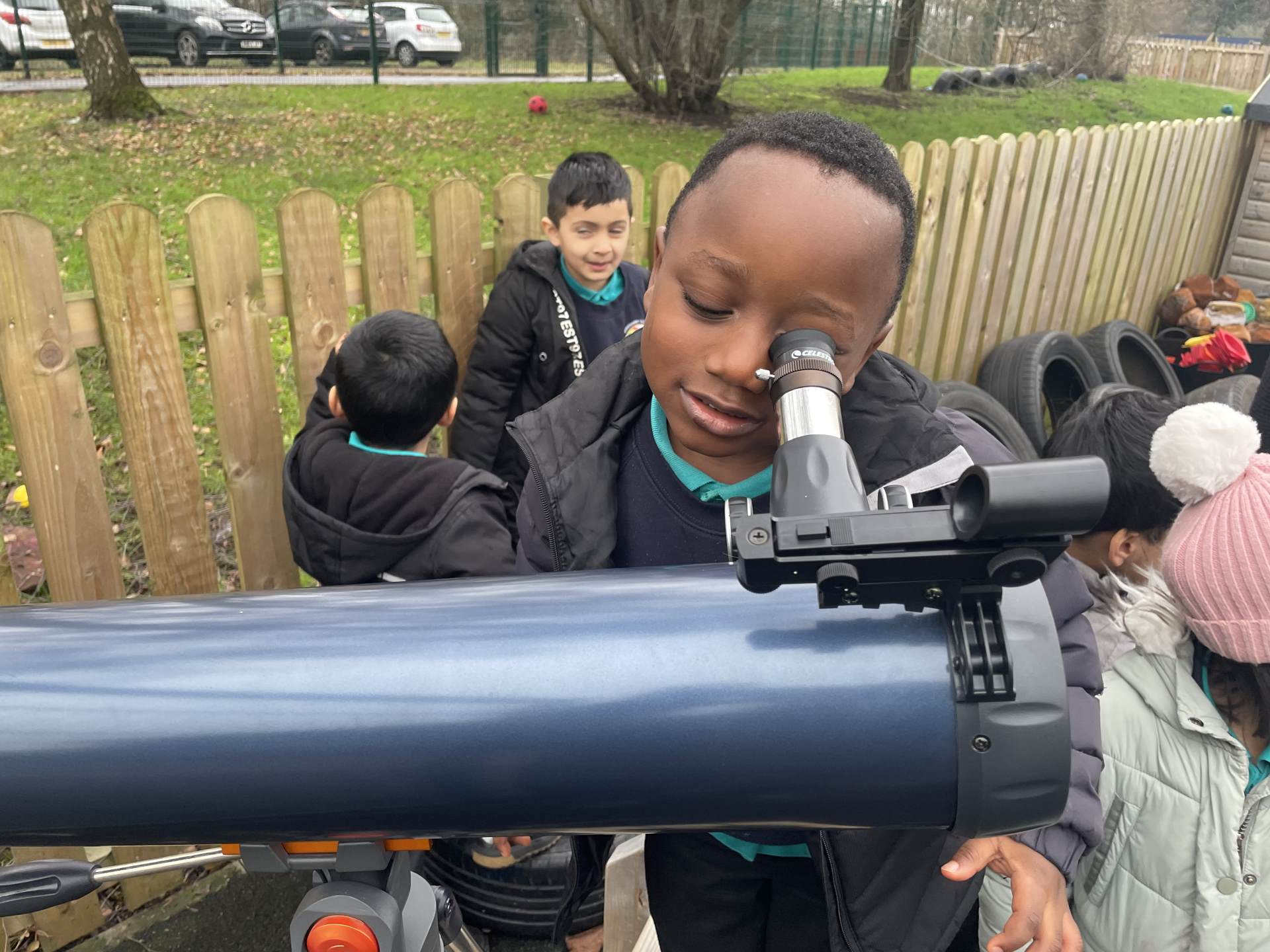 Chinese (Luna) New Year
We have been finding out how people around the world will be celebrating Chinese (Luna) New Year.
We noticed some similarities and differences to the festivals that we celebrate too and, found out that the colour red is thought to be lucky in the community celebrating Chinese (Luna) New Year.
Here we are exploring and tasting some foods for Chinese (Luna) New Year.
Here you can watch a video about Abbie and her brother preparing for Chinese New Year.
Maths
This half term we have been looking at the composition of numbers to 5 and combining two groups to find the total. We used a 'Tell me the story' process to help us understand this further.
Two frogs are in the pond and two frogs are on the grass. Four frogs altogether.
Three frogs are hopping on the grass and two frogs are in the pond. There are 5 frogs now.
We played a game to help us recall number facts to 5. We had 5 beanbags to try and throw into a hoop and counted how many landed inside, and how many landed outside of the hoop. We recorded our results on paper by writing numerals.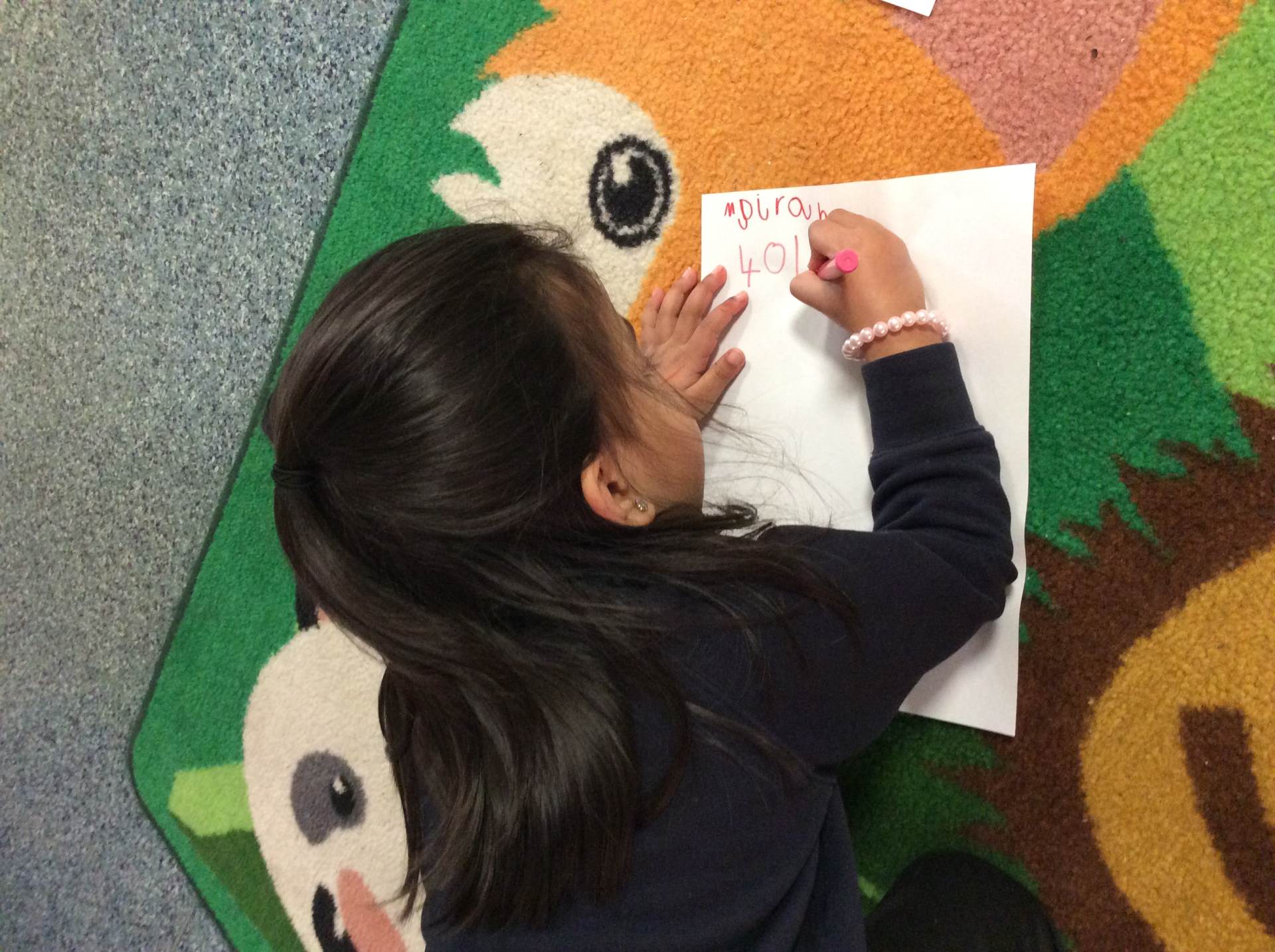 1 is inside the hoop and I missed 4. 1 and 4 makes 5.
Numberblocks - The Whole of Me. This Numberblock episode helps with seeing numbers in parts.
https://www.bbc.co.uk/iplayer/episode/b08dr1l3/numberblocks-series-1-12-the-whole-of-me
Courage
Our value this half term is 'Courage'
We read the book 'Be Brave Little Penguin' to help us think about what having courage means.
You can listen to the story here.
We have also been learning a song about courage.
We shared a time when we have been brave and showed courage.
I was brave when I fell off my bike.
It was scary when I had an injection but I was brave and got a sticker.
I sometimes get scared of going swimming but I like it and am brave.
Police Visit
We have been finding out about the job of Police Officers and how they can help to keep us safe. We had a visit from our local PCSO's who let us try on some of their uniforms! Many of us were inspired to work for the Police when we grow up.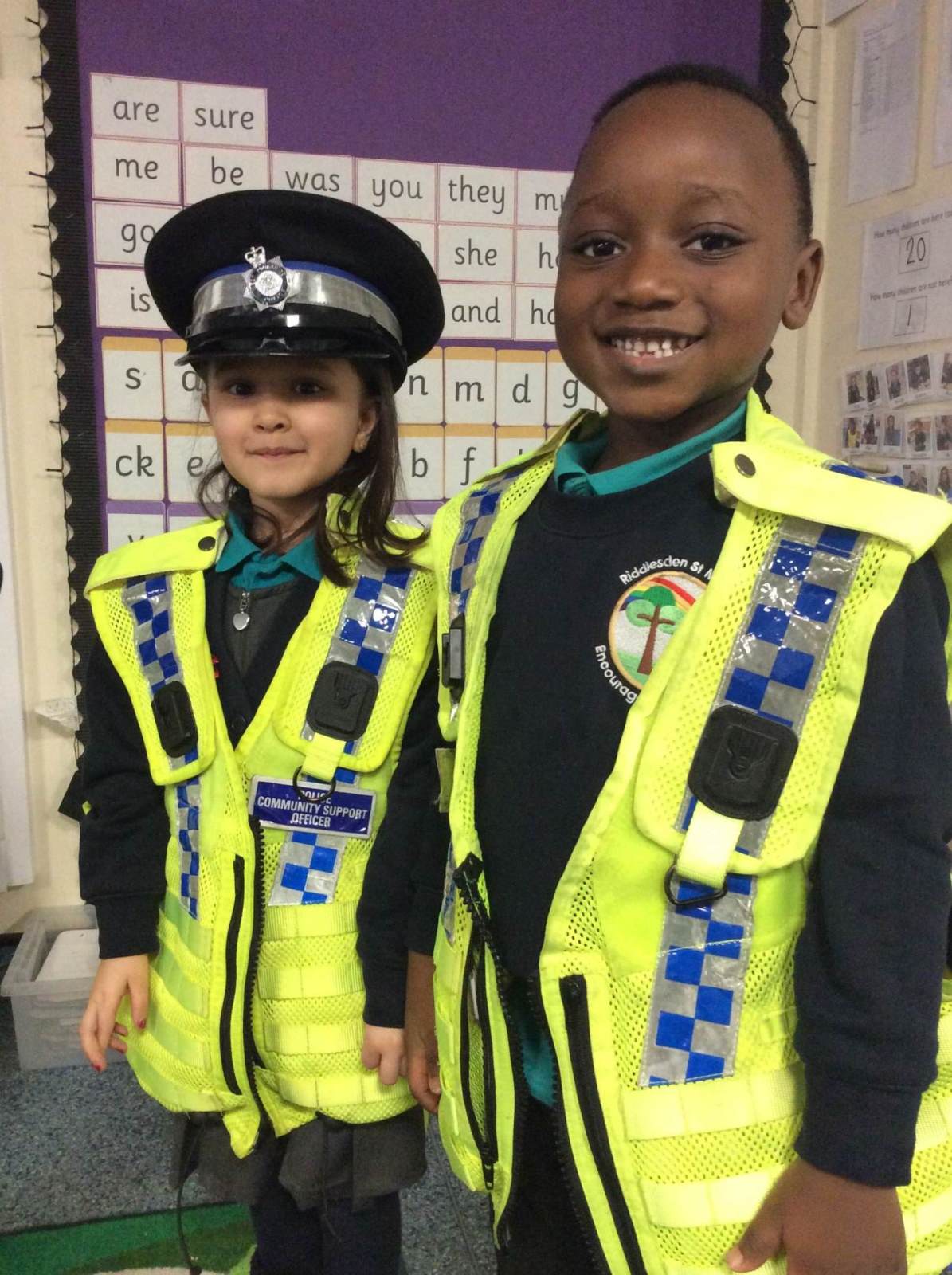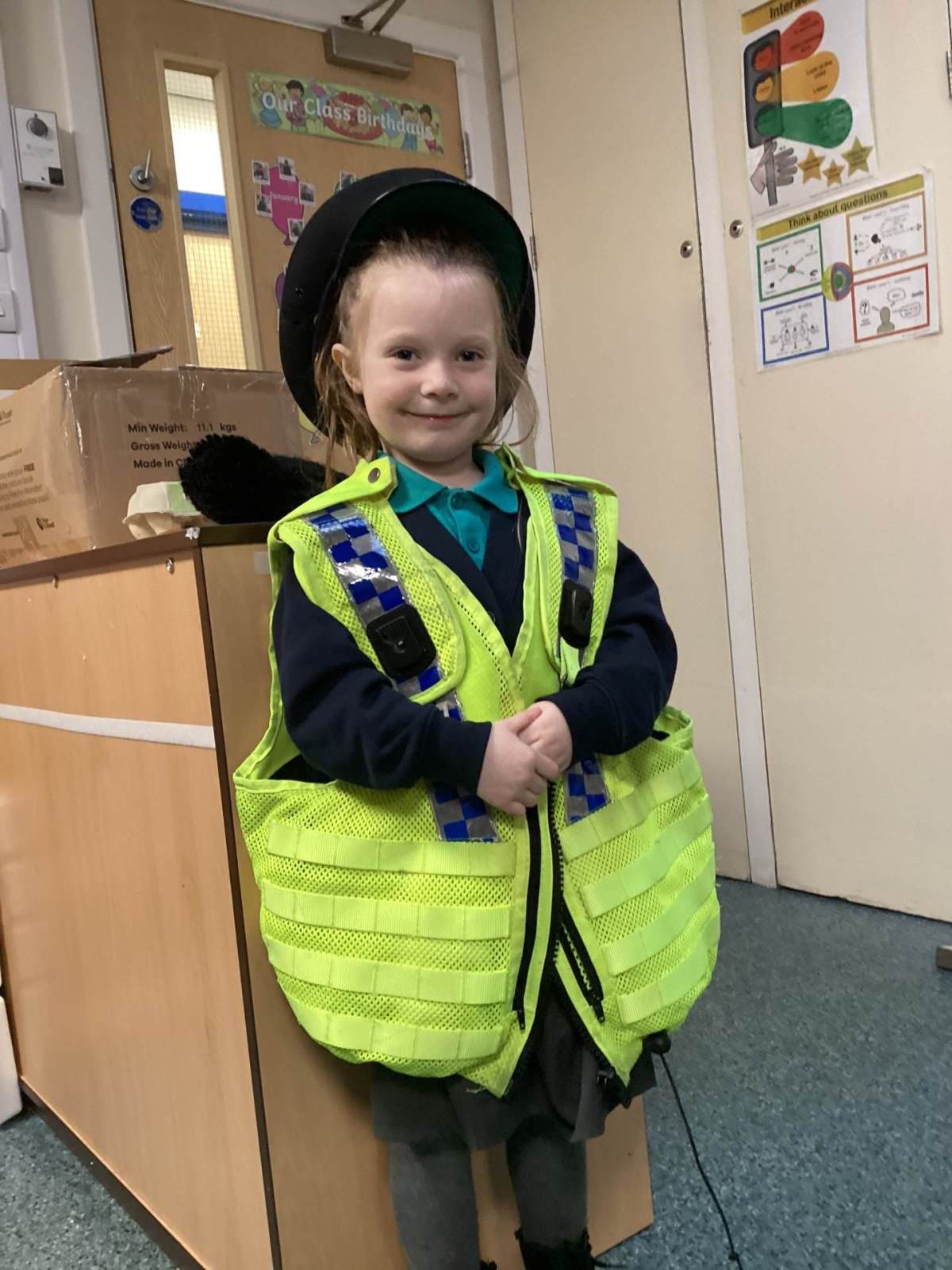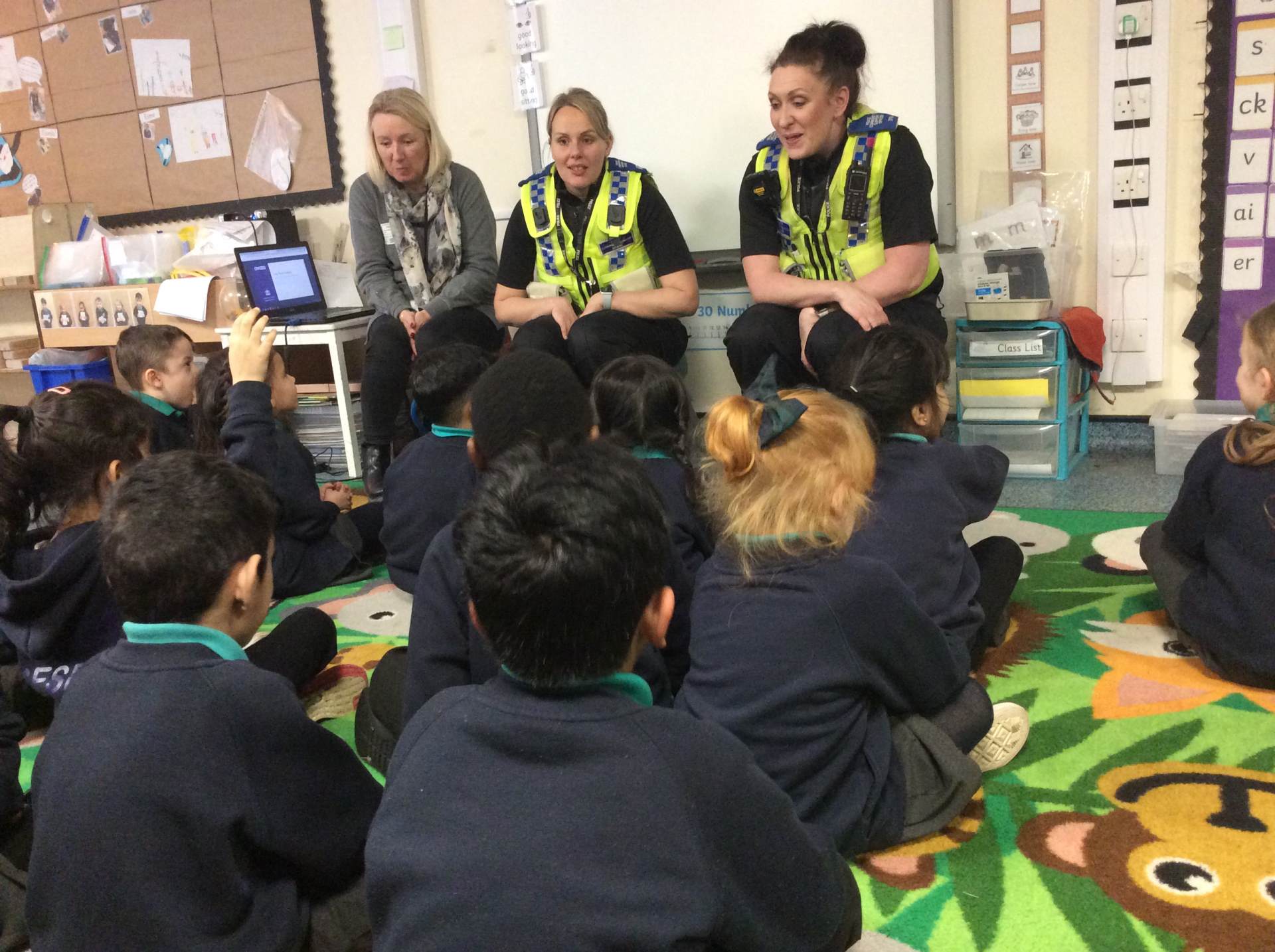 Forest Adventure
We love our forest school, forest school is really cool!
'We're Going to Find a Monster' Story Session
We had a wonderful morning with our Reception parents as they joined us in class for our story session using the fantastic book by Malorie Blackman 'We're Going to Find a Monster'.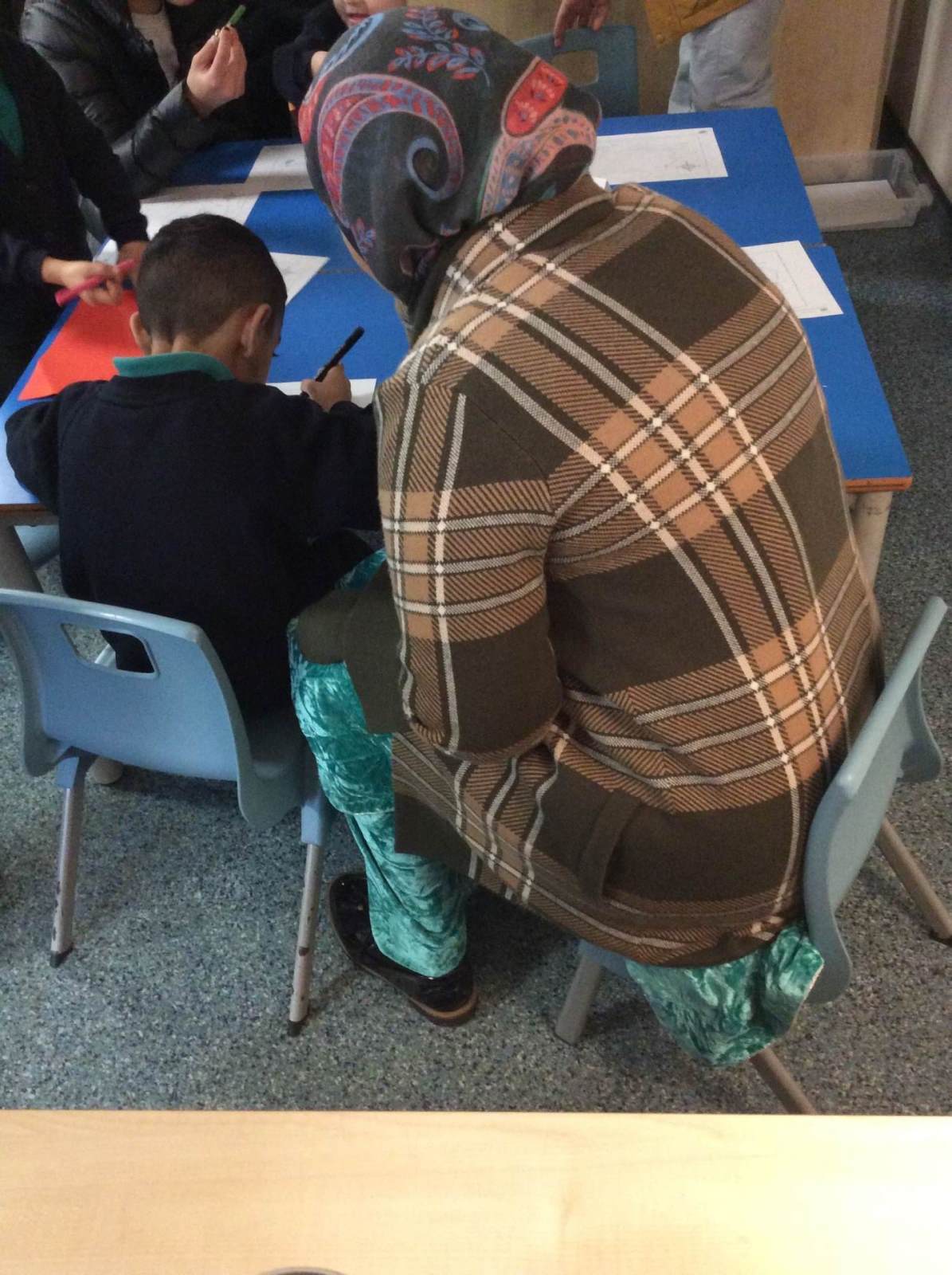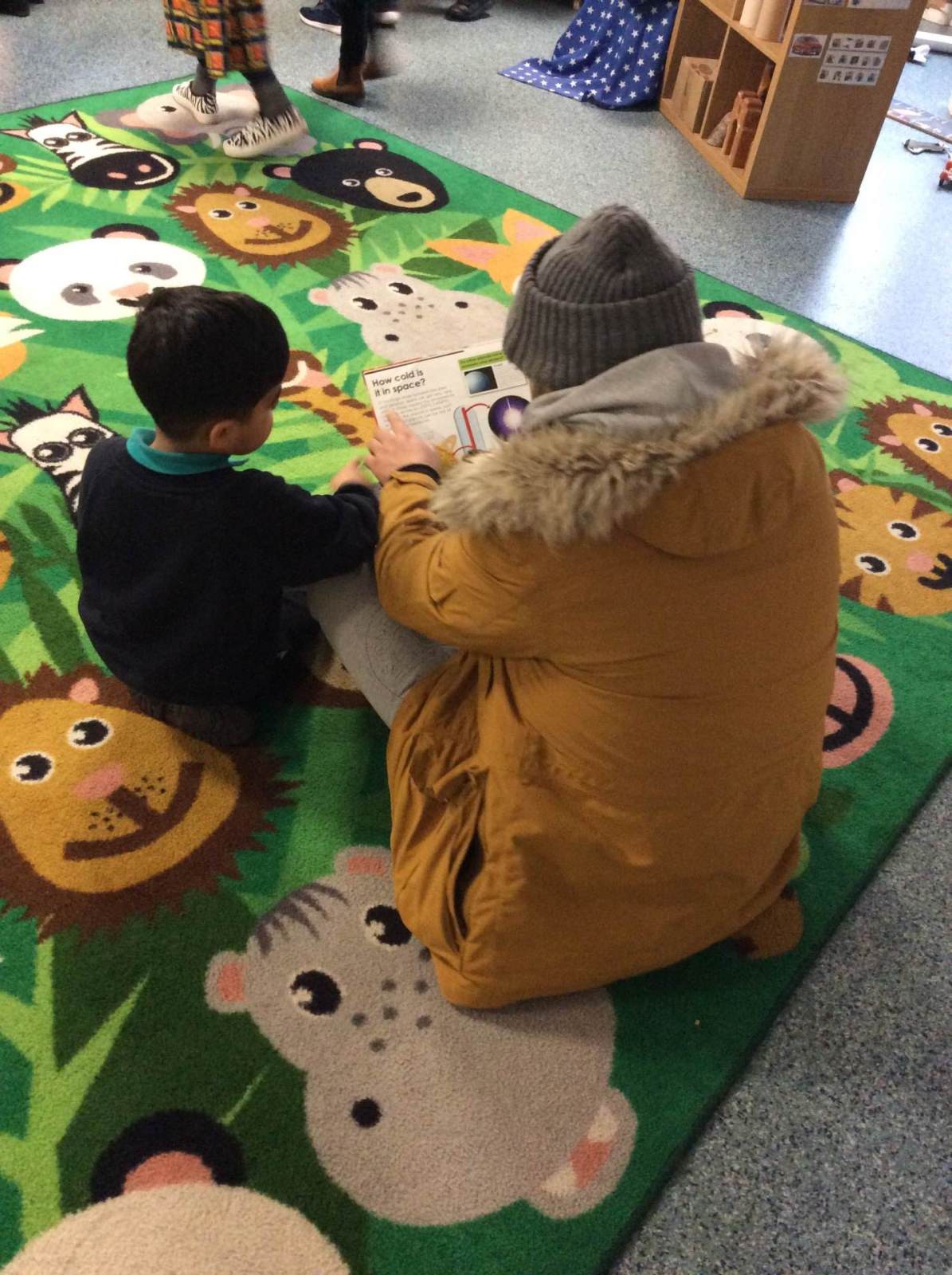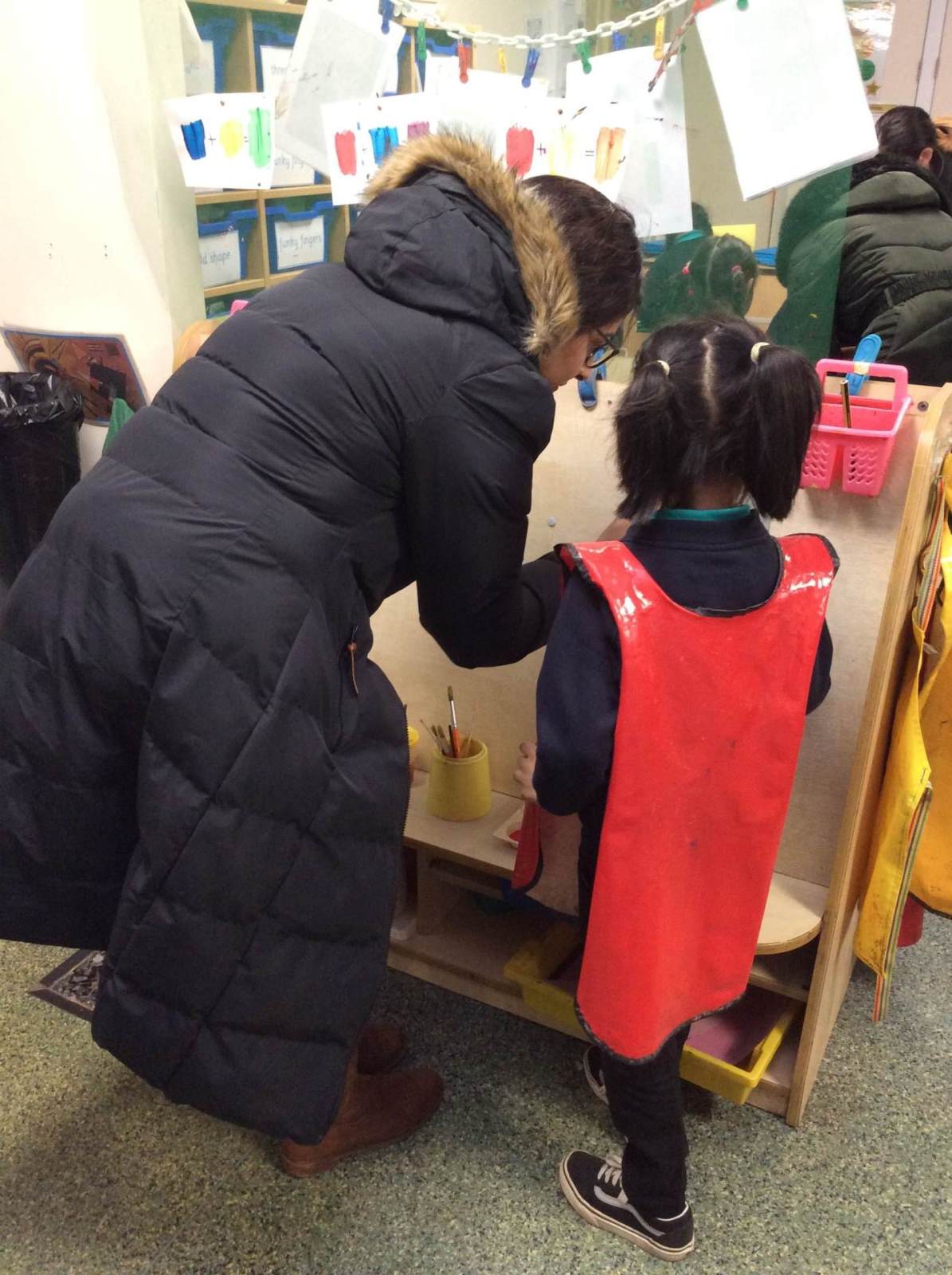 Children were excited to continue their learning at home with their very own copy of the book!
You can listen to Mr Midgley reading the story here.
Observational Painting
We have been learning how to do some observational painting. We took inspiration from the Artist Henri Matisse who painted a picture of a fruit bowl. Here we are being Artists ourselves.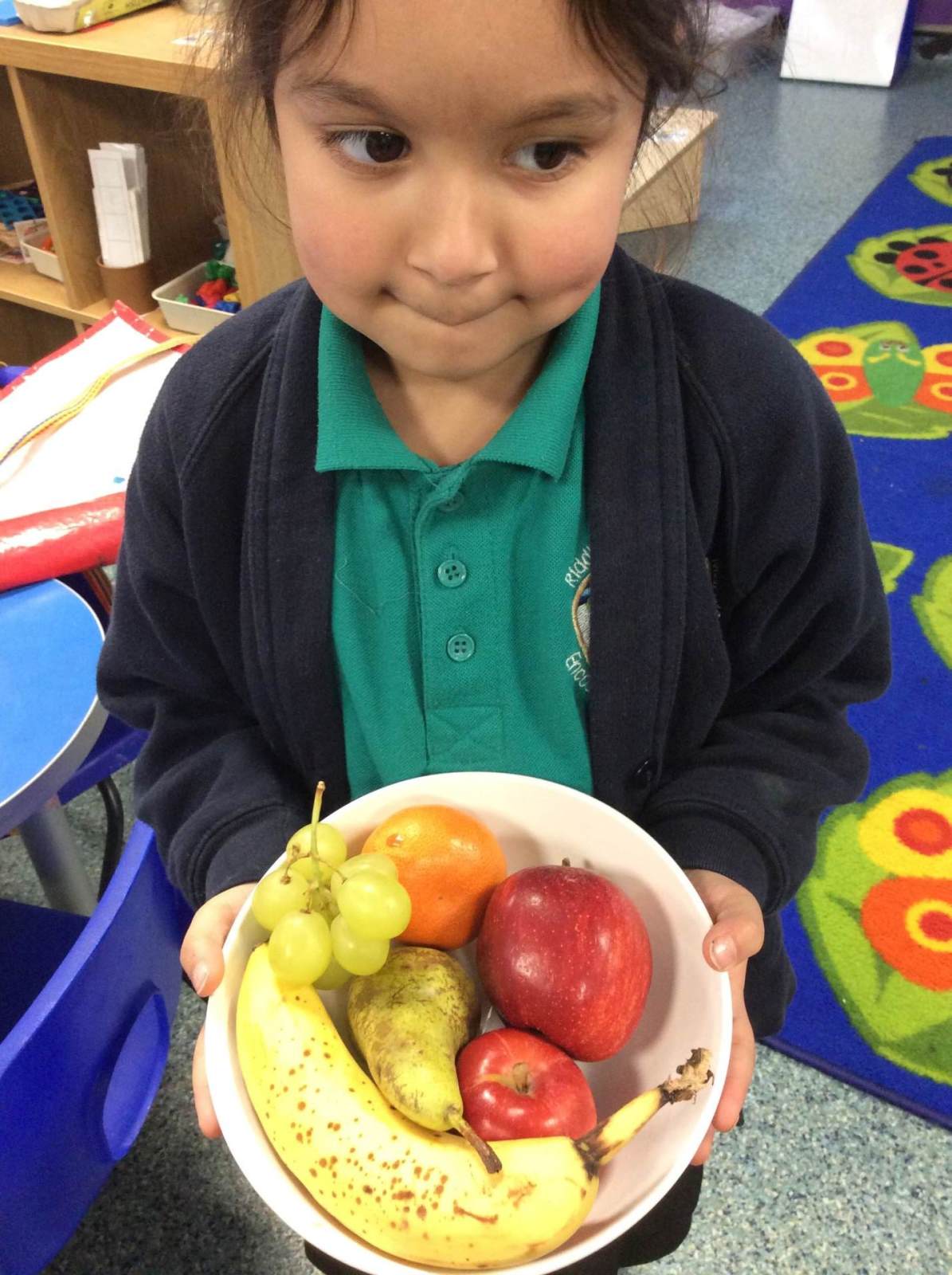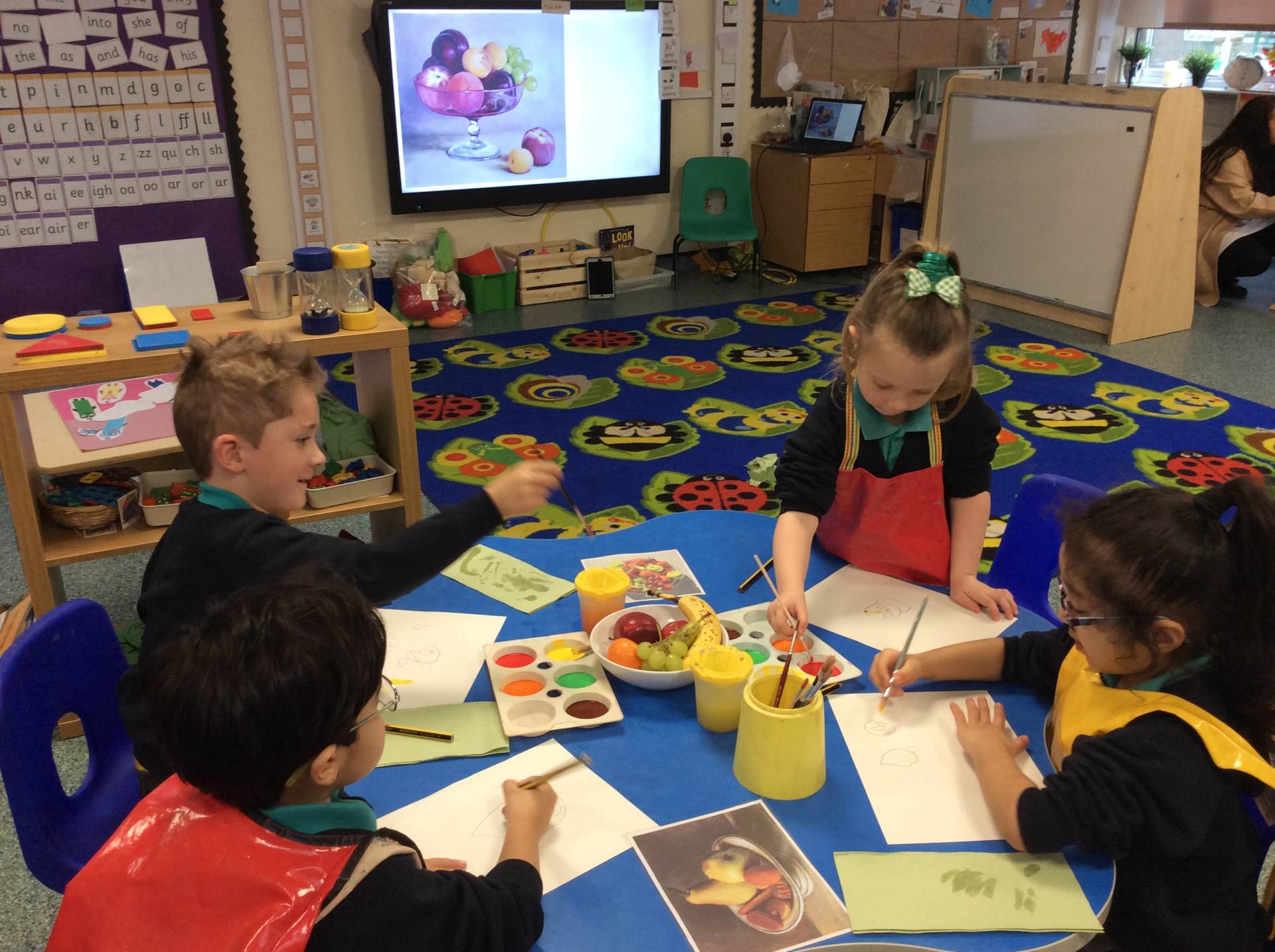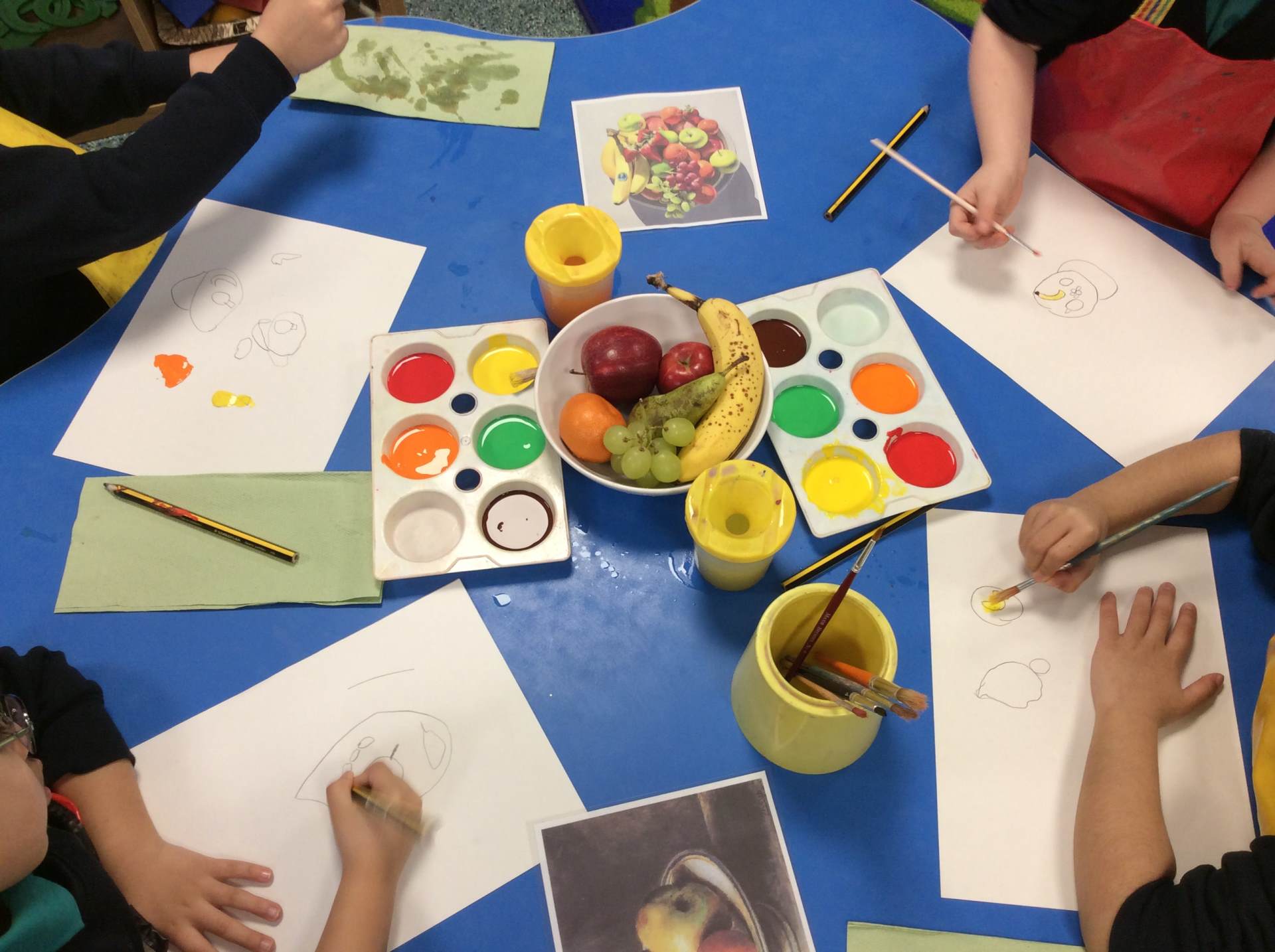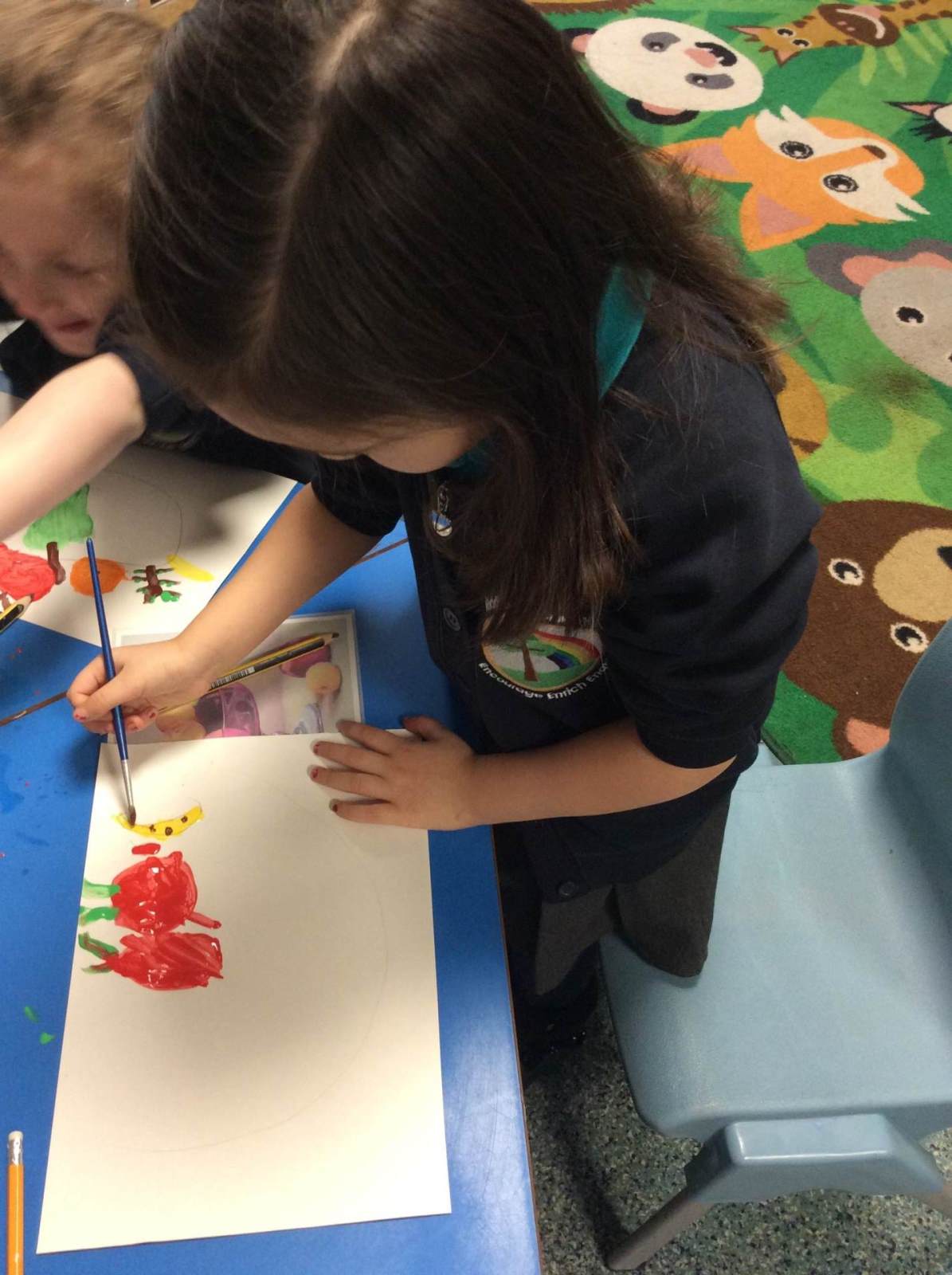 Church Visit
Reception children had a wonderful visit to St Mary's Church. Children were excited to meet Revd Tony and Revd Rob and enjoyed exploring inside the Church. We loved singing a song as Revd Rob played the organ, some of us even had a turn ourselves!