Pupil Parliament
What is Pupil Parliament?
Pupil Parliament is a democratically, peer elected group of pupils representing each of our classes. The purpose of the Pupil Parliament is to provide a voice for all of our pupils , enabling all to have an active role in matters that affect their lives both in school and the wider community.
How is it different from the School Council?
The new Pupil Parliament is structured much like the government as it consists of Members of Parliament and made up of different sub-committees.
Each Member of Parliament will be elected through a whole school election process, which then a further election process will take place to vote in a Prime Minister and Deputy Prime Minister. The aim of mirroring the process of how we vote in the United Kingdom is so that children are aware of the process and how their votes can make a difference.
The different sub-committees within Pupil Parliament will consist of ministers. In November, each sub-committee will have two ministers who will be elected through the Pupil Parliament. Each committee is designed to have a specific focus on improving Riddlesden St Mary's Primary School.
How Pupil Parliament Works
The Pupil Parliament will meet at least once a week to discuss up and coming events and any issues raised by their peers.These meetings usually run for half an hour, during lunch time. After the meetings, the Members of Parliament, where necessary, will then feedback to the class the outcome of the meetings. MP's are occasionally asked to attend meetings and speak to visitors to promote our school.
The Role of an MP
MP's play a vital role in the day to day running of school as they are the voice of the children.
Pupils who are elected, are expected to:
attend meetings
feedback and discuss with their class any ideas and issues raised at meetings
share opinions with other Members of Parliament
be confident to speak in front of people
respect and take into consideration other people's thoughts and feelings.
Our Pupil Parliament Journey 2019-2020
Monday 1st July - Wednesday 3rd July 2019
Mrs Whitaker successfully applied to become a Teacher Ambassador for Parliament's Education Service. She was one of 70 teachers from across the UK to be selected for the role after outlining the importance of democracy in her application and describing how she would spread the word about democracy.
Following her acceptance onto the programme, Mrs Whitaker took part in three days' training at Parliament's education centre. As well as a tour of the Houses of Parliament, she met the Speaker of the House of Commons John Bercow and MP Tracy Brabin.
Mrs Whitaker plans to apply to become a Gold Ambassador for the school and set up a pupil parliament with Years 2 to 6. Watch this space!
Pupil Parliament 2019 - 2020
Pupil Parliament election results 2022-2023
Meet our Members of Pupil Parliament
Awaiting photo
We are proud to announce our RSM Members of pupil parliament 2022-2023
Read on to find out more about each of our RSM MP's.
Content coming soon
Pupil Parliament Events
A visit from Robbie Moore - April 2022
Robbie Moore, our local MP, came into our school to talk about his role in government gave us an insight into what he does in London. He also answered our tough questions about the war in Ukraine and explained how his government would help the people of Ukraine. He also listened to our views about issues which affect our local community and explained how he will address these. He was very impressed with our Christmas fundraiser and congratulated our hard work. All of us found his visit useful and we look forward to welcoming him into our school again. Click the link below to find out what Robbie Moore said in the Keighley News.
https://www.keighleynews.co.uk/news/20085084.pupils-quiz-keighleys-mp/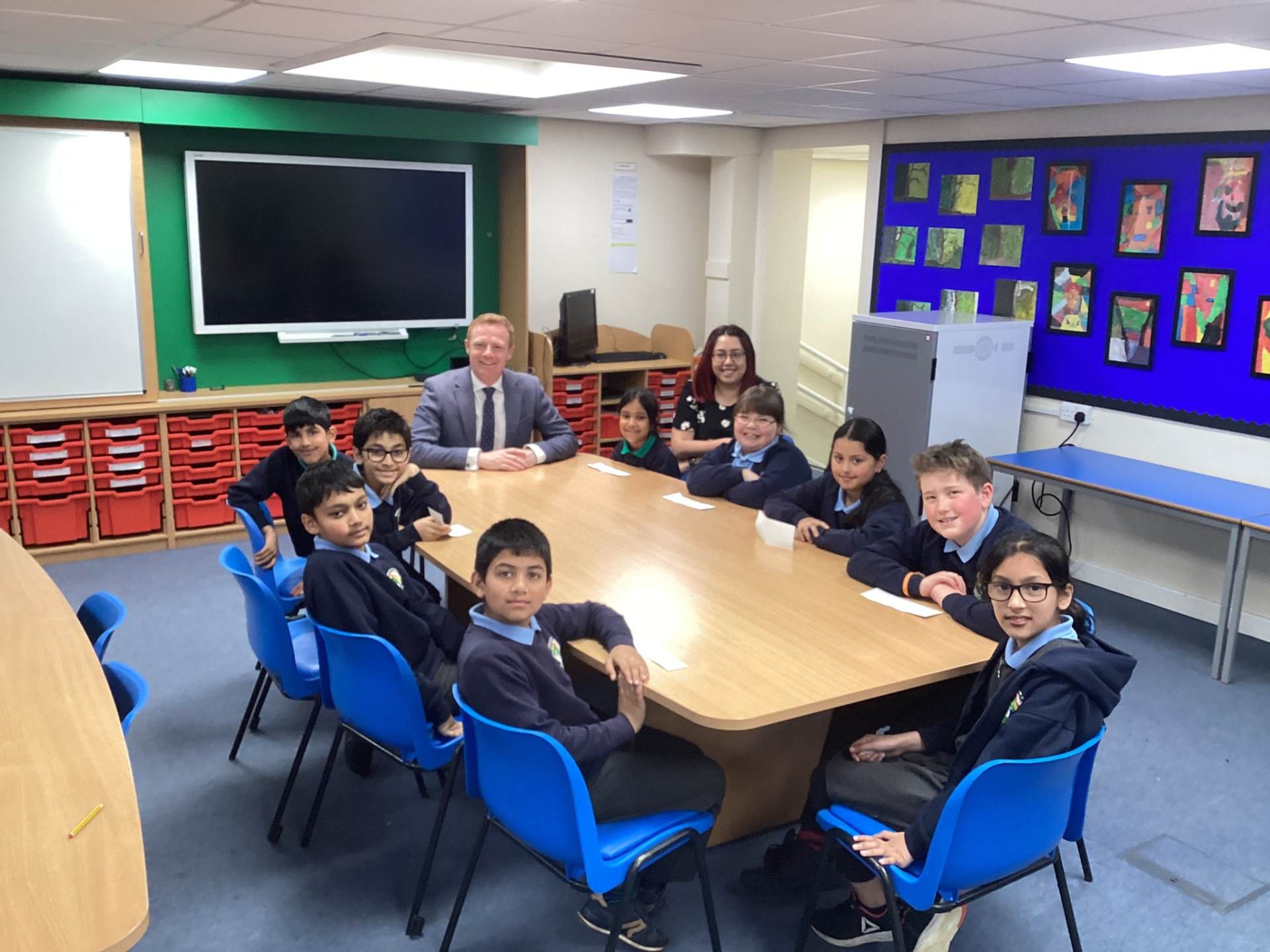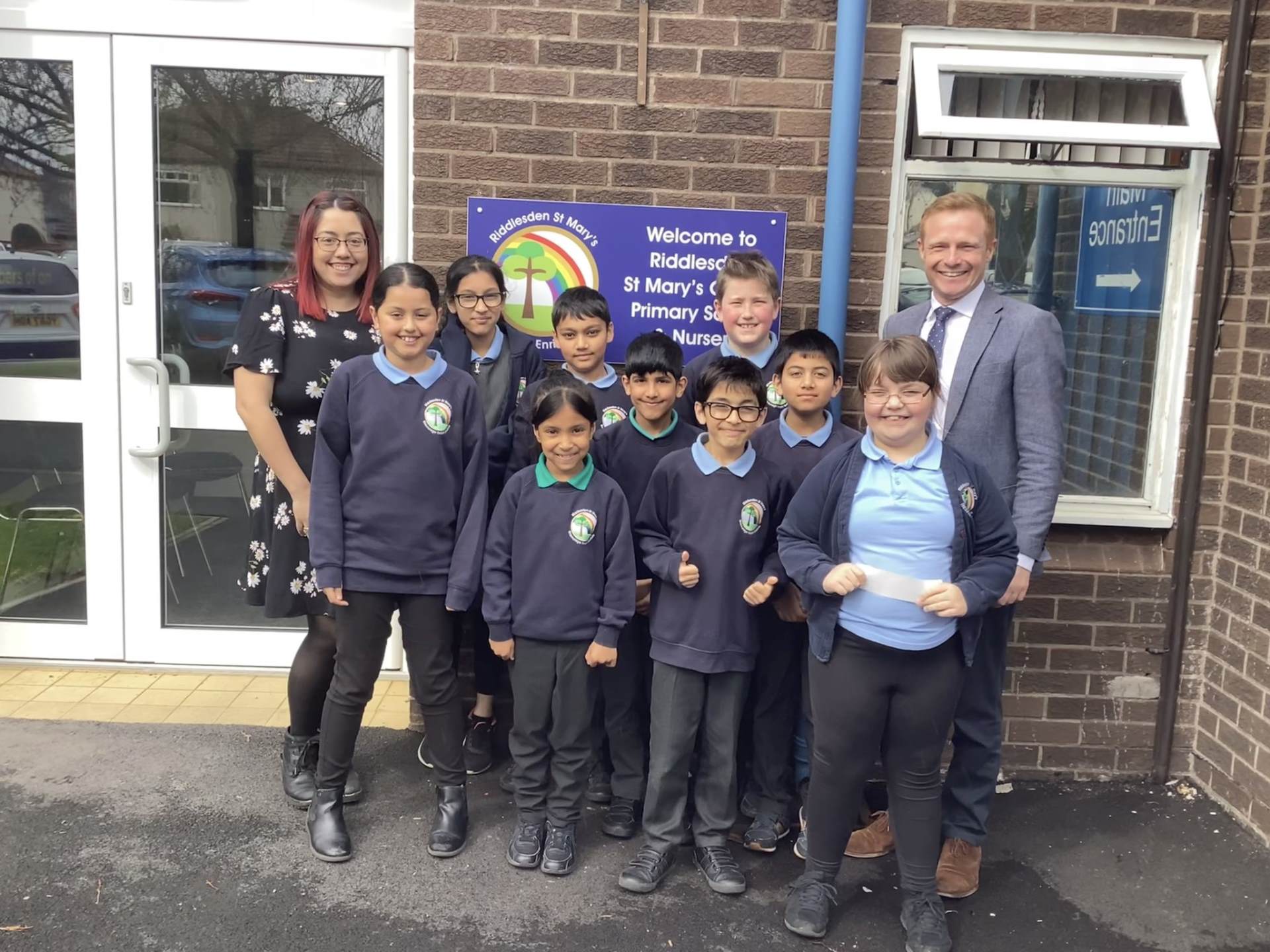 Our christmas Fundraiser December 2021 £671.83
We would like to thank our St Mary's family and the PTA for helping raise money for our two chosen charities. We raised an amazing total of £671.83. This amount has allowed us to buy toys for the children who will be spending Christmas in hospital, as well as sending a donation to The Salvation Army. A representative from Airedale Hospital Community Charity came into our school to express her gratitude and thank the members of Pupil Parliament. Finally, we would like to thank clairbears toybox for donating £20.00.
Thank you again for your kind generosity and we hope you have a wonderful break.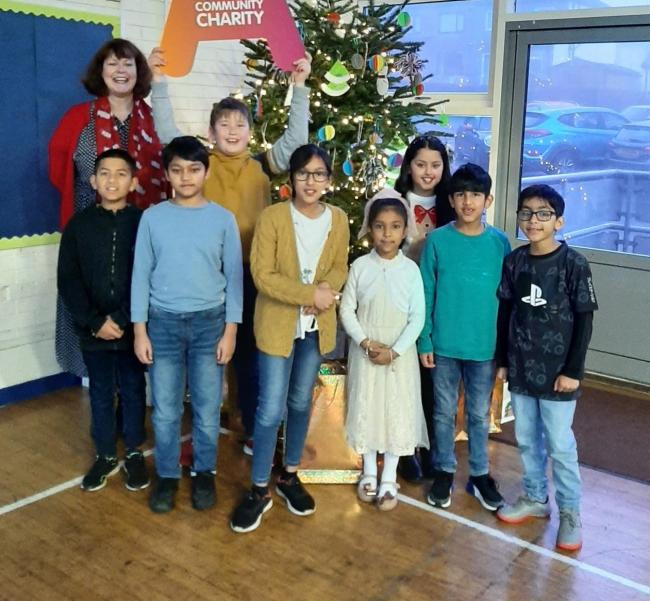 click on the link below to read the article in the keighley news!
https://www.keighleynews.co.uk/news/19805641.riddlesden-pupils-festive-gifts-young-airedale-hospital-patients/
Pupil Parliament's Christmas Fundraiser 2021
In Pupil Parliament, we have been thinking of many ways to help charities or people who are not as fortunate as us. There were so many good causes to choose from but we have decided to raise money and donate some to the Salvation Army as well as buy presents for children who will be staying in the Children's ward during Christmas time.
In order to fulfill our mission, we delivered a collective worship session to explain to the school as to why we are having a non-uniform day. Then, we made contact with a representative from the children's ward at Airedale Hospital who was delighted with our idea and gave us information on the types of Christmas presents they would like. We also contacted the owner of Clairbears toybox in Keighley. We wanted to buy the toys from a local business so we could support people in our community. Claire (the owner) donated £20.00 to our fundraiser. We looked at the toys and worked out what we could buy and how much it would cost. Once we received the total amount from our fundraiser, we were able to buy the toys.
Next, we had to wrap the presents and this was really exciting. Some of us have not wrapped any presents before, so it was a useful skill to learn. Finally, Katie from the Children's ward came to school to meet us and collect the presents. In the future, we will have a permanent link with the Children's ward and Airedale hospital, therefore we hope to have doctors, nurses and other members of staff come to our school to deliver some assemblies. Katie also expressed her enthusiasm to liase with us on future projects.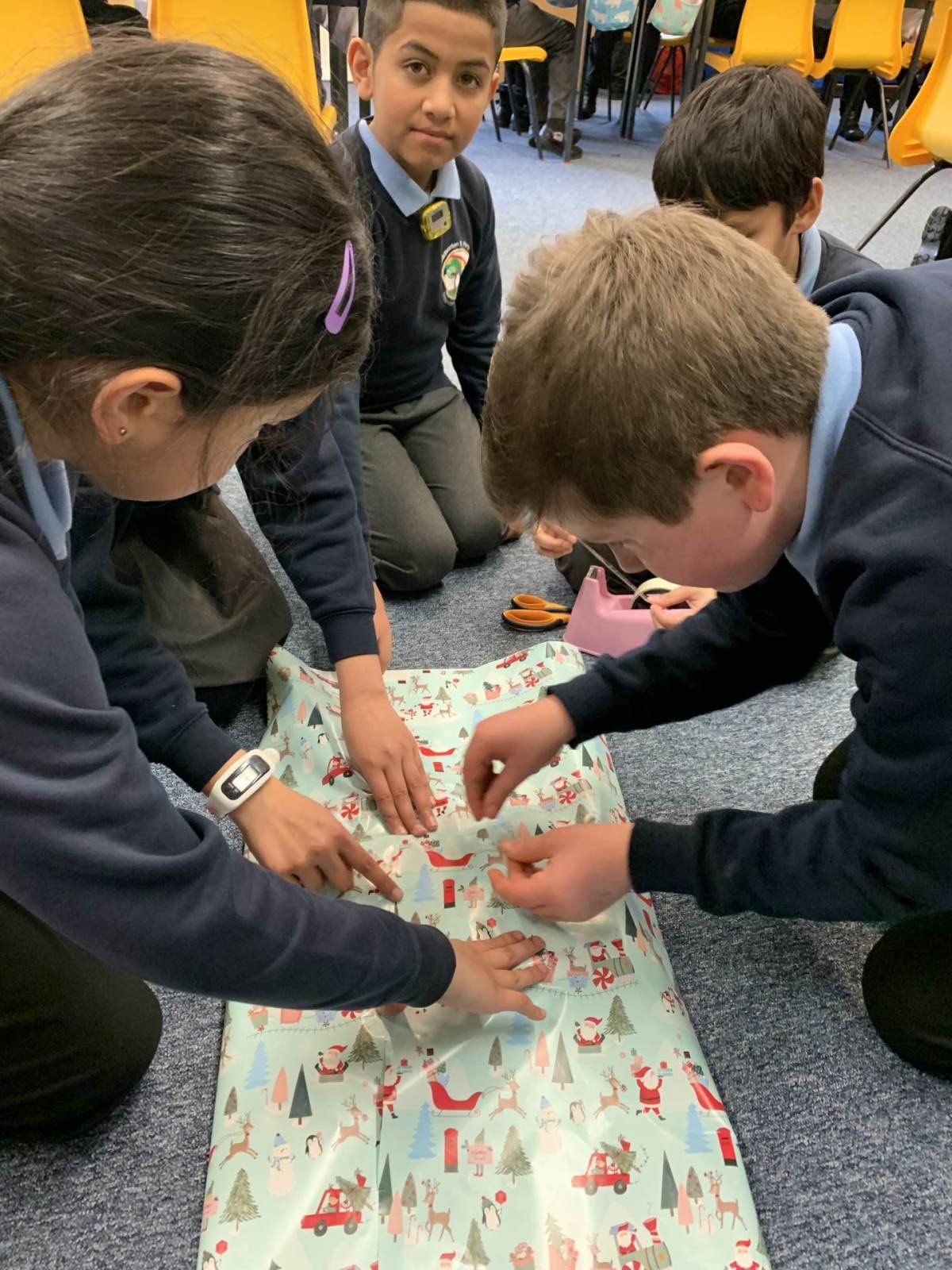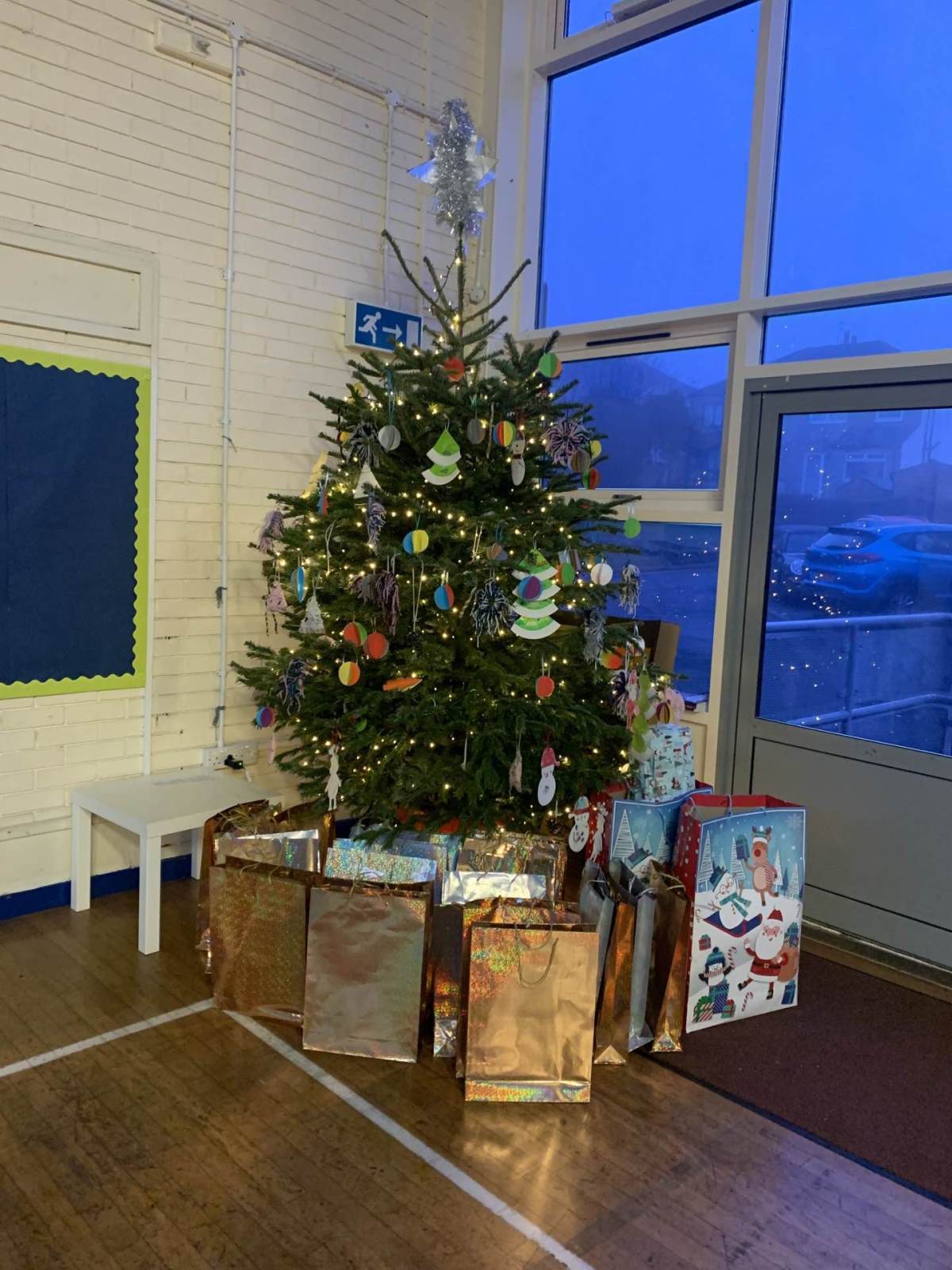 Our Fundraiser Collective Worship