Nurture Provision
We are delighted to announce, that in July 2021, we were successful in gaining the National Nurturing Schools Award.
What does nurture mean?
It means to help someone or something grow, develop or succeed.
What does a Nurturing School mean?
Nurture groups and nurturing approaches are increasingly being introduced across primary and secondary schools. Research shows nurture has a positive impact on attainment as well as social and emotional aspects of learning. At the heart of nurture is a focus on wellbeing and relationships and a drive to support the growth and development of children and young people. The concept of nurture highlights the importance of social environments and its significant influence on social emotional skills, wellbeing and behaviour. Children who have good nurturing experiences tend to do well in school, attend regularly, form meaningful relationships and are significantly less likely to offend or experience physical or mental health problems. The nurturing approach offers a range of opportunities for children to develop their social and emotional skills and do well at school and with their peers, develop their resilience and their capacity to deal more confidently with the challenge's life may bring.
Riddlesden St Mary's follows the Six Principles of Nurture: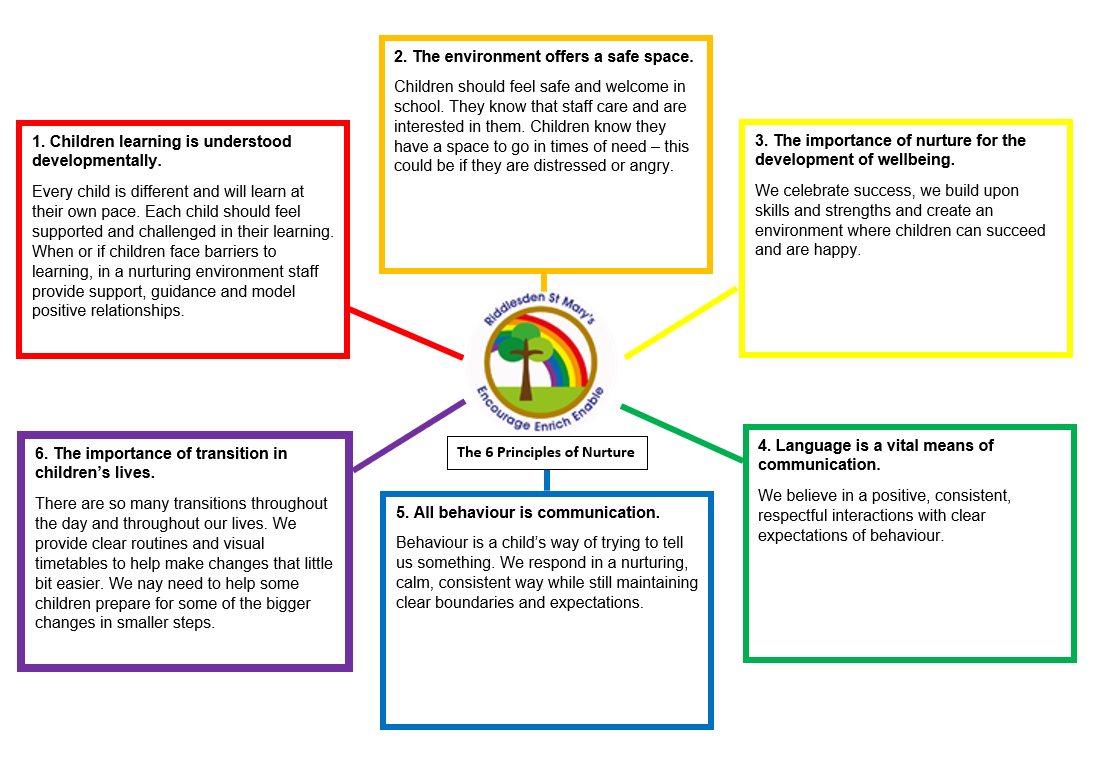 The Hive (our nurture group).
The Hive is run by two members of staff. It offers a short term, focused intervention in a small group. It addresses barriers to learning arising from social, emotional or behavioural difficulties, in an inclusive, supportive manner. Children and young people continue to remain a part of their own class group. The Hive promotes a social environment to: develop emotional skills, teach them resilience, the capacity to deal more confidently with school life, to encourage good language and communication and staff are good role models.
We are even lucky enough to have our own school dog Evie. She is amazing at putting children at ease and making them smile. She even likes to help children read.