Our Autumn 2 Journey
Week 1
Our start to learning this half term has been very exciting. On our first day back to school 'Disco Joe's Magic Show' came to perform some magic tricks to us. We were absolutely amazed! Watch the video below to see how great he was!
Disco Joe left us a book about magic which we are going to be focussing on this half term it was called 'Box of Tricks'. In the story the little girl, Ava turns into a magician.
We have been thinking about how to stay safe on bonfire night. We thought it was really important to wrap up warm and stay with a grown up, as well as wearing gloves to hold sparklers. The children watched a video of a firework display and talked about all of the different colours and noises they heard and saw. We used pastels, paints and shaving foam to make our own colourful firework pictures.
Week 2
When we came into school this week, our classroom provision areas had changed. Everything looked so magical! We have a potion making station, a clay table, a wizard's kitchen, our self serve drink dispensers and some exciting enhancements in the outdoor area.
On Monday 11th November we learnt about Remembrance Day. We thought about how brave the soldiers were and looked at where the poppy tradition came from. The video below helped us understand this further.
We were really excited to show our respect on this day by making our own poppies in a variety of ways.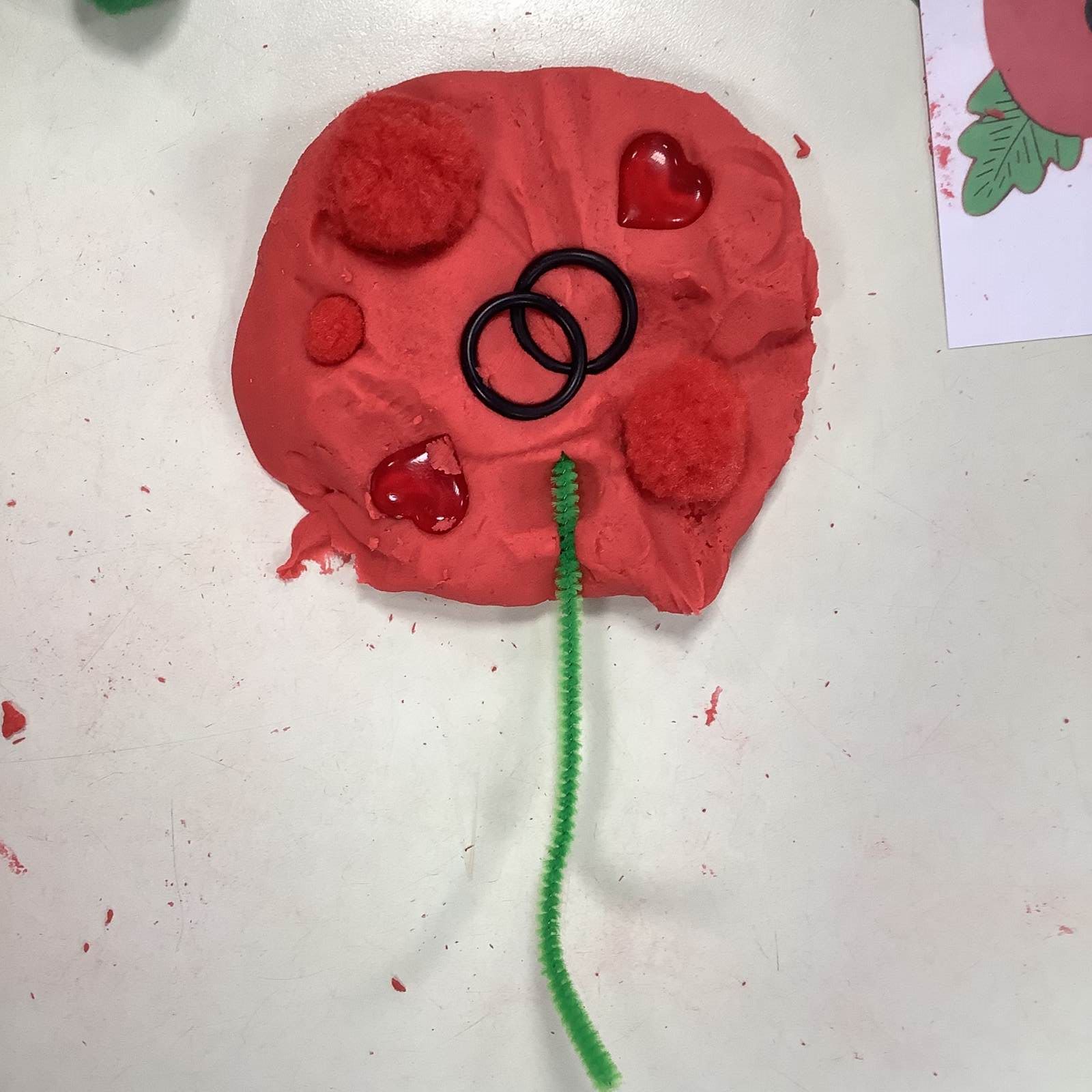 East Riddlesden Hall
As Part of our Magic theme we went on a visit to East Riddlesden Hall to their Fairy Garden. On our way we found where some of us lived, looked for different shapes and numbers and talked about the importance of road safety. We knew to stop when the light was red and wait for the green man. We enjoyed exploring our local area.
We were amazed when we saw how large the lake was and wondered who might have lived in such an enormous house.
We enjoyed investigating the hidden passages in between the plants and trees.
When we finally got to the fairy garden we saw a special sign, after reading it we realised we would have to be really quiet so we didn't scare the fairies away. We searched high and low but unfortunately didn't find any, we decided they must have been hiding in their tree houses.
We took bags with us and were given the challenge to collect 10 special natural objects to take back to school with us. We found seeds, autumnal leaves, fir cones and even nibbled apples!
Nativity
This half term we have enjoyed learning our Nativity story. We split into 2 groups; narrators and actors. The narrators learnt a talk for writing version of the story and the actors performed the story on stage. We then performed this for the rest of school and our parents. This helped develop our speaking and listening skills and also our confidence.
Christmas Party - Phonics Fun!
We decided to use our Christmas party as an opportunity for children to consolidate their phonics learning.
The first game we played was 'Find that Sound'. Children danced to the music and then when the music stopped had to choose a sound, one sound was called out and if you had that sound you got a sweet.
We then played pass the parcel but hidden in between the layers of paper were simple CVC words for children to read. Children loved finding out what word they had to read!