Our Autumn Term Journey
All of our learning this term is wrapped around the text 'The Man Who Walked Between The Towers' by Mordicai Gerstein. We are using this text as a stimulus for the wide range of subjects that we study.
English lessons:
In the 'reading phase' of this unit of work, we have used the text to:
- make predictions about events and characters
- explore the vocabulary used within the text, learning some impressive new words
- retrieve information from the text
- infer about characters - their thoughts and feelings
- apply our inference to role play, taking on the role of the characters from the text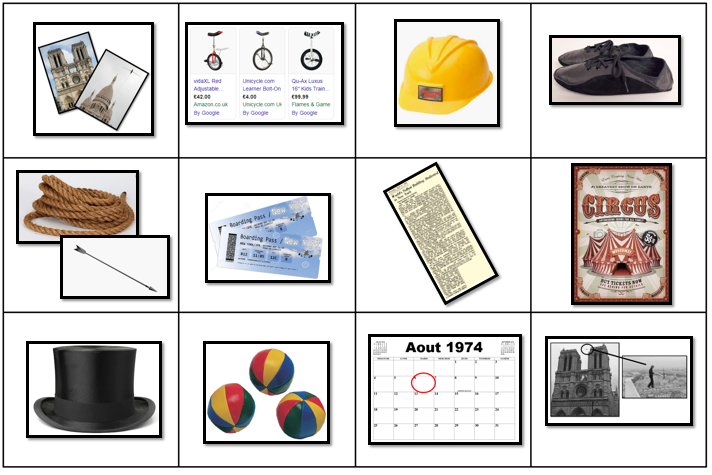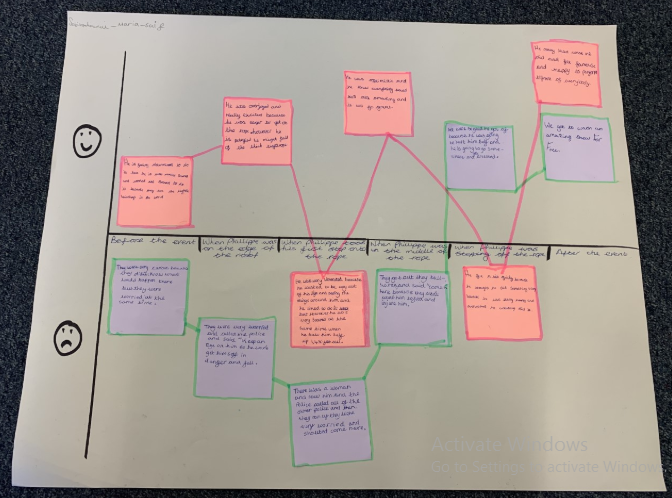 We have now moved onto the 'toolkit phase' of this unit of work, where we are:
- revising word classification using our grammar skills
- learning a wide range of exciting new sentence types to include in our writing
We will soon be moving onto the 'writing phase' of this unit of work, where we will take on the role of two contrasting eyewitnesses from the text, to write eyewitness accounts. Watch this space as we will showcase some of our wonderful pieces of writing!
Maths lessons:
We have focused on recapping and then further challenging ourselves with our place value knowledge. This has included:
- using range of visual representations for numbers up to one million (including dienes, place value counters, number lines and part whole models)
- identifying the value of digits within numbers
- applying out understanding of the value of digits within numbers to count within powers of 10
- comparing and ordering numbers up to one million
- writing numbers up to one million in words
- rounding numbers to the nearest 10,100,1000,10,000 and 100,000
- interpreting negative numbers both in context and by counting over zero
- Roman numerals
All of these maths' objectives have been applied to world famous buildings in order to link it to our current topic and text.
Science lessons:
We are studying forces this term and using the text/topic as the context to study and scientifically investigate:
- Gravity
- Air resistance
- Water resistance
- Friction
Geography and History lessons:
We have wrapped the topic of 'World Famous Buildings' around our map skills (geography) and studying the history of these buildings.
Art lessons:
We have created a range of different cityscape pieces of art learning a range of new skills:
- free hand sketching
- background washes using water colours
- shading using chalk pastels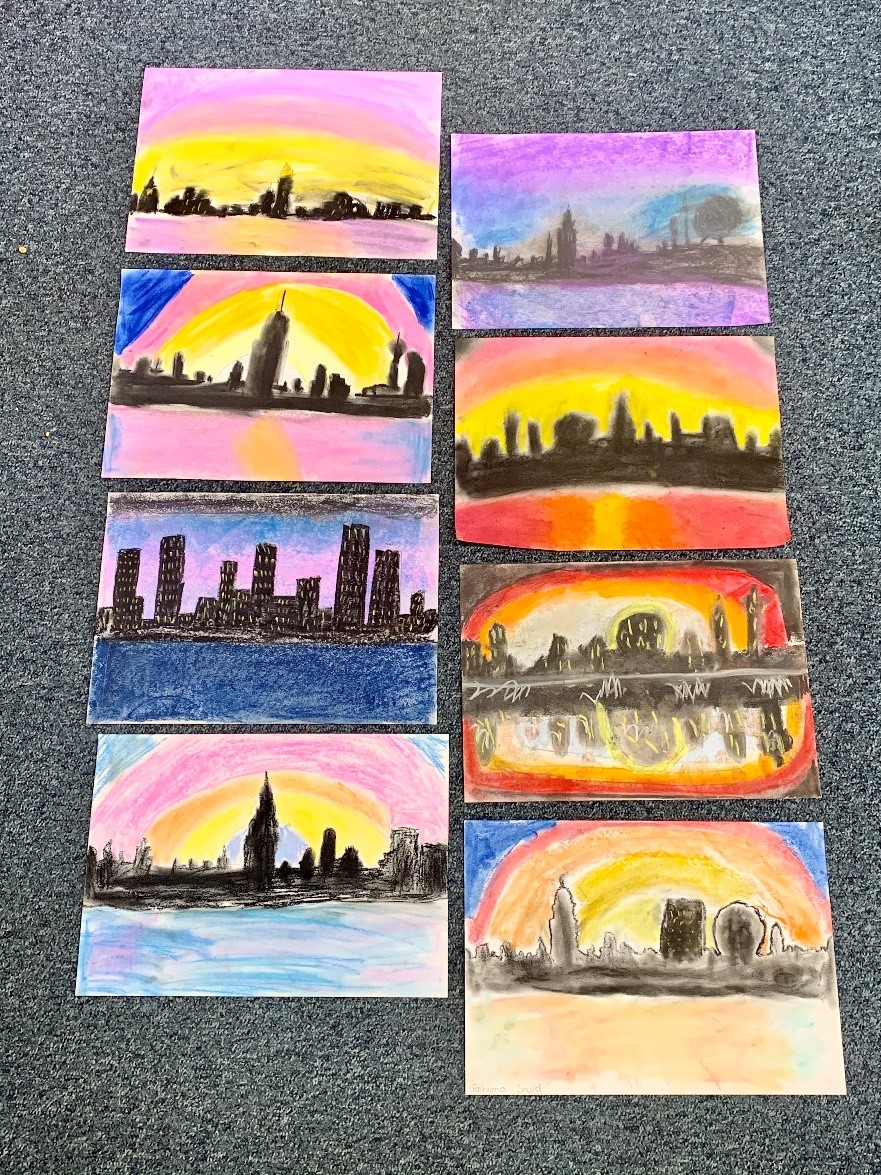 Values lessons:
Maya Angelou
Autumn 1:
The school value this half term is 'Respect'.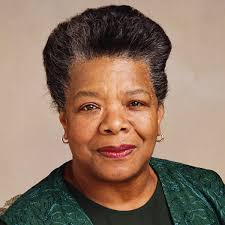 In line with our school value and Black History Month, we have been learning about Maya Angelou. She was a woman who over her life became an author, poet, civil rights activist, actress, director, composer, singer and dancer. During our sessions, we found out more facts about her and discussed the message behind her famous quotes and her poem 'A caged bird sings'. It was towards the end of the half term, that we created a PowerPoint which showcased everything we had learnt.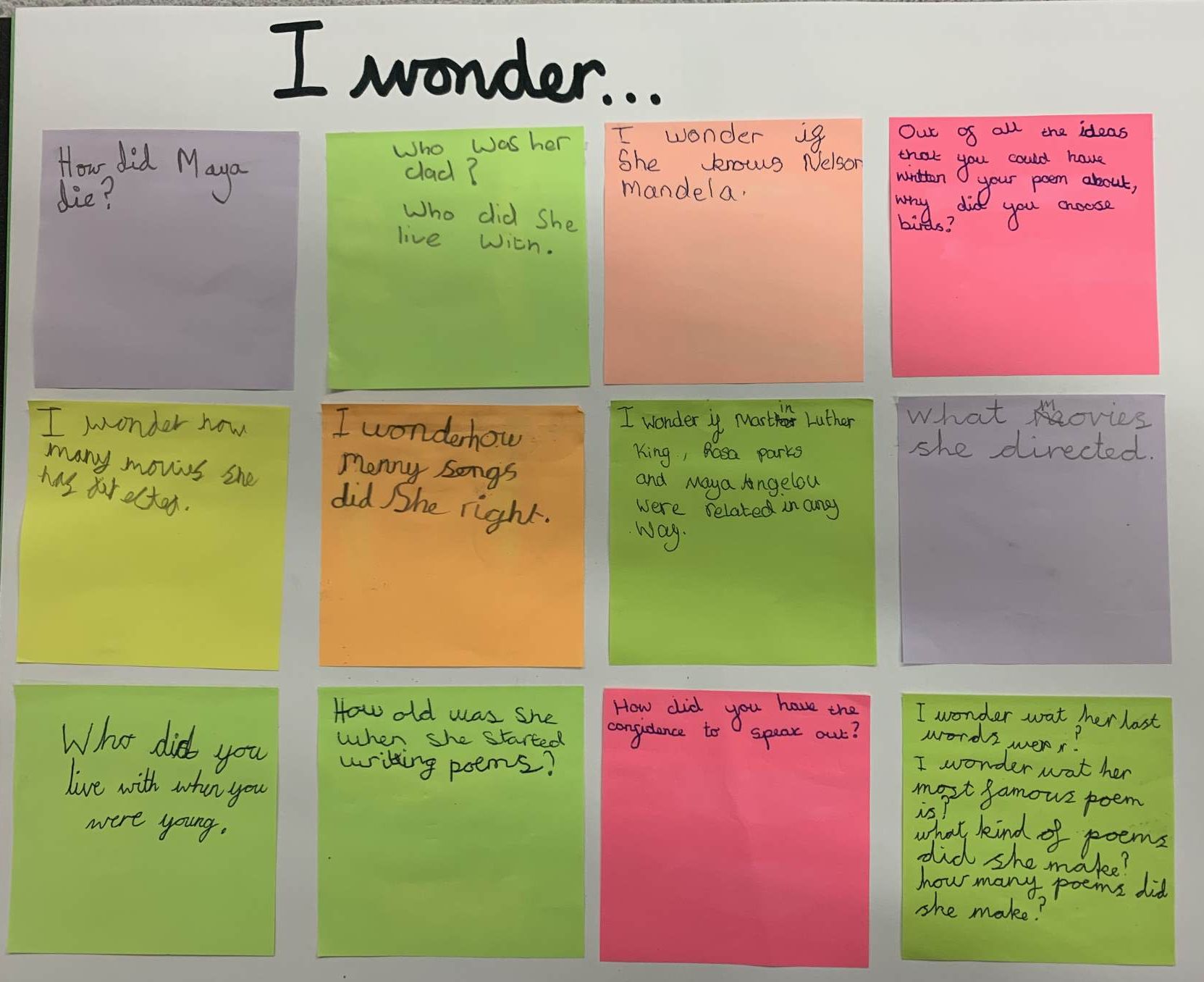 Our key facts about Maya Angelou
Below are examples of two Year 5 children's work where they were asked to interpret the images they imagined whilst listening to the poem 'Caged Bird'.
Here is the video version of the PowerPoint. Enjoy :)
Music lessons:
To tie in with Black History Month, all of our music lessons focused on the history of black music. This linked in with concepts such as segregation, integration, equality and inequality. We studied black history to start the unit which gave us the foundations of understanding a lot of the inspiration behind black music. This also tied in with the 'Black Lives Matter' campaign that gained a lot of attention over the summer.
We then studied a range of different genres within black music, explored a range of popular songs by black music artists and then even learnt to play one on a musical instrument.
Spanish lessons:
This half term, we practised our Spanish conversational skills . We worked with our partners each week and learnt how to:
understand and say classroom instructions
greet someone correctly and address our adults properly (Señor, Señora and Señorita)
introduce ourselves by saying 'Hello, my name is...' (¡Hola! Me llamo…)
ask and answer the question 'What is your name' (¿Cómo te llamas?)
At the end of our half term, we completed a 'gallery of what we have learnt in our Spanish lessons'.
RE lessons:
Relationship education lessons: