Our Spring Term Journey
This term we have read Lost and Found by Oliver Jeffers.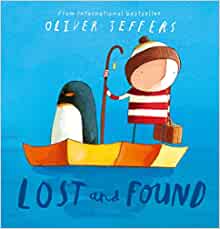 This is all about a boy and one day a penguin arrives on his doorstep. The boy decides the penguin must be lost and tries to return him. But no one seems to be missing a penguin. So the boy decides to take the penguin home himself, and they set out in his row boat on a journey to the South Pole.
But when they get there, the boy discovers that maybe home wasn't what the penguin was looking for after all.
It is a great story full of resourcefulness, resilience and friendship.
This book has helped us with our Maths, English and Nurture in The Hive.
We have focused on good listening and communicating using the book Socially Speaking. How do you know someone is showing you good listening? What would you see? What would you do?
Good eye contact

Turn taking

Sitting appropriately

Showing interest and communicating with each other we did this by playing
Our Wow Wall just shows how hard we have been working...
We have learnt through role play, discussions, activities such as baking and games...